Holt SAC 8th Leg Summer Accumulator (Report)
Sunday 25th June 2017 - Bacton

In total contrast to the river it was back to the sand at BACTON on Sunday 25th June for the currently penultimate 8th Leg of the Summer Accumulator. Forecast was overcast with the odd shower later on plus a light south westerly and they just about got it spot on with the very light rain holding off until the last ½ hour. Draw was as usual in the Castaways recently completed Cliff Top Inn and many thanks again to Anna and Richard for the use of their facilities. Excellent job you are doing with the rooms above, smashing views there'll be laying in bed watching the waves thundering or rippling in just yards away. Commissioning in 2 months time and they could make it a cracking small events venue, if the fish are there!
With a 11:00 start a reasonable turn out for Bacton turned up nice and early for the odd bacon roll and coffee. No new members this week but the usual contenders from Cambs., Suffolk, East Norfolk and the one lone ranger from North Lincs. plus just one local lad. With pegs drawn it was the usual short walk down the Gas Site slope to the match stretch. For this one it was in the bay just west of the 1st pipe with all being squeezed into this section of the beach in front of the Gas Site.
A stretch of cliff that is now protected by those pristine caged flints which with one good northerly will be battered into submission like the rest of the attempts to protect this part of the coast. It was also noticed that the tides had done it's own job since our last match here and raised the sand by at least a metre behind the revetments which will all disappear on the next set of strong North Easterlies. Although not the thinking behind the Council's proposal to spend millions building the beach up with sand taken from off Gt. Yarmouth. Well it's one way to increase the size of Blakeney Point! Ironically there was a bunch of school kids doing a survey on all this beach protection and asked club members their thoughts on this during the match. The "consultant" certainly made his views to them about what a waste of money these current protection schemes were.
An almost flat sea with just a hint of a swell with plenty of colour, ideal conditions for those Bacton Flounders. A big, very big tide with plenty of water and even 2 hours after high the water was still lapping the revetments. Fortunately, it had dropped just enough for all to be in front of the revetments at the whistle. The beach changes for every match here and you can see where all that sand has come from with a slight gully now immediately in front of you. The sand then raised up again into a bar about 30 yards out before sloping down into a gully along the line if the end of the pipe. At the start the first gully was then too shallow for any activity so all were testing out just beyond the would be sand bar at the time.
No frantic action at this stage but the odd small Flounders started to appear which at least showed it wasn't barren. With such a big tide the water started to disappear very quickly and most were soon out on the so called sand bar although the pipe end pegs had to wait a while longer with more depth of water at this end. Expectations were high as the water receded but the odd flounder became even odder so time for a change of tactics by Dave Burr (Peg 4) who hadn't even recorded a fish. Walking out as far as he could he blasted his fresh peelers to the horizon resulting his rod almost being lifted out of his rod rest and a nice 86cm (7lb) Hound on the beach and 334 points on his card. This was now game on for everyone else , it was going to take a lot of Flounders to crack this one if nothing more serious was available.
With the water now receding even faster the chase was now hindered by the dreaded weed which increased as low water approached and even that horrible stringy May weed stuff joined in make matters even worse. Flounders were far and few between although the Dabs started to appear at a little range with Albert "Piffy" Randlesome on Peg 10 finding a double shot to save his blank. Joe Bettinson on Peg 6 managed to find a 28cm Bass which surprisingly was the only one recorded. John Carter on peg 5 thought he was still on the river when his first fish was a 27cm eel. Paul Tovell on Peg 8 thought with his distance he could find those Hounds but only managed his favourite species, a small 20cm Dab although he did eventually pick up a 34cm Flounder.
Mike Watts on Peg 9 knew it was going to be a challenge if he was going to overhaul the Hound but he was going to have to rely on Flatties to do this as he only had lug tipped squid and the odd bit of frozen crab. Ivan Allison had drawn the hot Peg 12 next to the pipe and it certainly proved "hot" as his first fish was a 36cm (1lb 3oz). On an equally advantageous Peg 11 was Tony Thomas but the high expectations from this peg did not materialise with just 4 reasonable Flounders. Also on a Flattie theme was Charlie Frary on Peg 7 but could only find 2 Flounders and a Dab but one of the Flounders was 30cm. Neil "Smarty" Smart thought it was going to be his day when was told he had been drawn his favourite end peg 3 from where he won the last match at Bacton. Unfortunately, his luck had run out this time as he failed to find a single fish, better luck next time Smarty!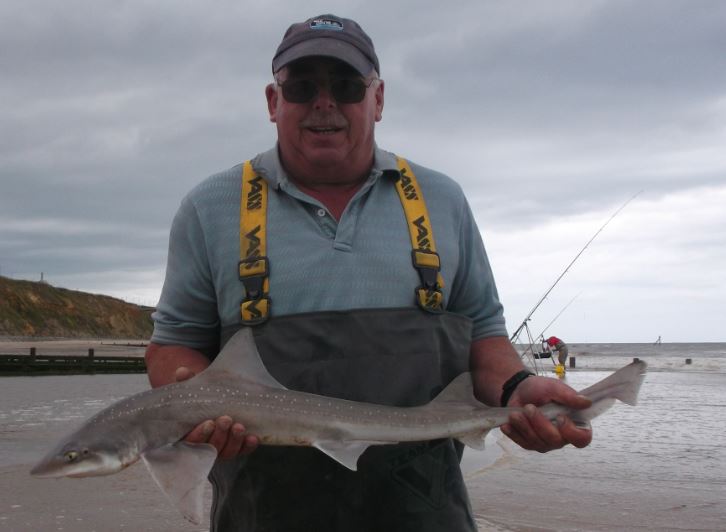 In the end it was that Hound that did the business for DAVE BURR who managed to find another 3 small Dabs and a Flounder for 8lb from 5 fish. He tried his hardest to catch him but MIKE WATTS had to be content with runners-up slot with 3lb 9oz from 11 fish. Final podium slot went to hot peg IVAN ALLISON who managed to find a 34cm Flounder to go with his 36cm specimen resulting in 2lb 14oz from 5 fish. Heaviest Flat fish was IVAN ALLISON's 36cm (1lb 3oz) Flounder and heaviest Round DAVE BURR's 86cm (7lb) Hound. Altogether 40 fish (20 Dabs, 17 Flounders, 1 Bass, 1 Eel and 1 Smooth Hound) were recorded weighing 20lb 4oz.
An interesting match which really didn't come up to expectations particularly with the lack in quantity of those stonking Bacton Flounders. With one Hound early on there really should have been more but the water receded so quickly it probably pushed them off. The big downside on this match was the weed which really did spoil a very pleasant day.
With currently just one match left of the Club's Summer Accumulator Series the outcome of this match leaves this league delicately poised with current leader MIKE WATTS on 366 points, TONY THOMAS on 360 points and ALBERT RANDLESOME on 315 points. It probably is now a two horse race which can go either way in the next match.
The next Club match and Final Leg 10 of the Summer Accumulator is again at BACTON via Castaways on SUNDAY 9TH JULY fishing 11:00 to 4:00 HW 7:30 LW 2:23 4.7m . Draw from 9:30 in Castaways Cliff Top Inn. Following the match there will be a short Committee Meeting to determine Autumn Fixtures list, Autumn Open matches and organise the North Norfolk National Sea League for 2017/18 so can Committee members please attend if they can … Tony T
Top 5 Individuals (on the day) …
1…Dave Burr.………..7lb..15 2/3oz…( 5 fish)
2…Mike Watts.…….…3lb..9 1/3oz…..(11 fish)
3…Ivan Allison….……2lb..14oz………..( 5 fish)
4…Paul Tovell…..……1lb..9 1/3oz……( 3 fish)
5…Loe Bettinson..….1lb..4oz………....( 4 fish)
Top 5 Summer Accumulator …
1… Mike Watts………………..…366 Points
2…Tony Thomas……………….360 Points
3…Albert Randlesome……..315 Points
4…John Carter………………….260 Points
5…Neil Smart…………………...242 Points
------..------