Holt SAC 10th Leg Summer Accumulator (Report)
Sunday 9th July 2017 - Bacton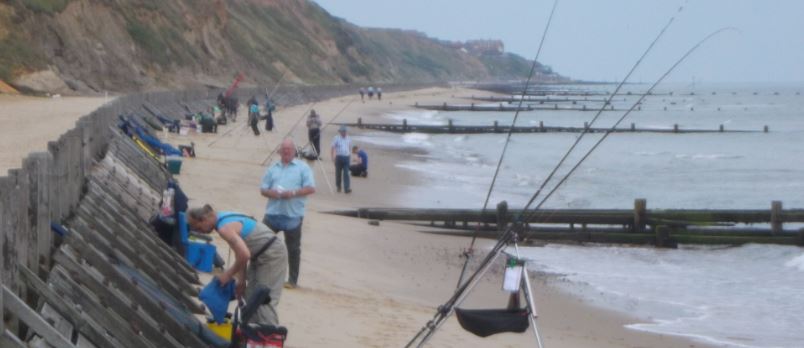 It was back to BACTON on Sunday 9th July for the 10th Leg of the Summer Accumulator and final Club League match of the Summer. A quite remarkable match which was almost identical in outcome to the last match at Bacton just 2 weeks earlier in more ways than one. Forecast for the day was moderate Southerlies with the odd chance of some of the wet stuff which they sort of got right with a fresh South Easterly and the sky looking a bit iffy at the end.
A late 11:00 start again with the "consultant" there nice an early and after giving the school kids a lesson on the new Bacton sea defences in front of the Gas Site he was given his own private lesson. One about the £4m being spent by the County Council to build up the sand in front of the Gas Site with sand shipped in from off Gt. Yarmouth only to be washed out by subsequent big tides to cover and protect the gas pipe lines coming in from Europe. Surely that is that is what the oil company should be funding not us tax payers! Then there was the "asian ace" who even without his favourite peelers decided to forgo his carvery for some of Anna's delicious bacon butties and a shot at those stonking Bacton Flounders.
These were soon joined by the usual contenders from Cambs., Suffolk, East & South Norfolk and again that lone ranger from North Lincs. plus again just one local lad and a good turn out for this time of year. The pegging this time was again in the bay west of the 1st pipe but it was too tighter squeeze to get everyone there so two overflowed into the next bay and two east of that 1st pipe. No real distance again, so with pegs drawn it was the usual short walk down the Gas Site slope to the match stretch. Again it was noticeable that the sea was already doing the Council's job of depositing even more sand behind the revetments with at least another foot being added since our match 2 weeks previous.
An even flatter sea than last match and a very slight swell with plenty of colour and once more ideal conditions for those Bacton Flounders. This was a big tide but not like the previous match and even the pegging could be done in front of the revetments. It was a matter of chasing the tide from the whistle and everyone was soon on the sand and moving their tripod and gear out. The inshore gully of last match had been filled in somewhat and everyone could focus on fishing rather than the water and their gear. For some it was going to be a patient wait for the rod to start and for a few even this activity never materialised.
However, those at the pipe end did manage to find the odd decent Flounder in the first few casts which again demonstrated how a good pipe draw is so important at this venue. However, it was that North Lincs. guy again who was to defy this requirement from end Peg 1 at the opposite end of the stretch to the pipe when "the sirens went off" within minutes as he hauled in a cracking 87cm Hound worth 348 points or 7 ¼ lb which was a cm longer than his Hound in the previous match. His tactics again was to wade out as far as he could and place his prime peelers at distance, his favourite Skeggie way. Ironically all of this was almost identical to his success in the previous match and even the state of tide was the same and he was only 3 pegs away from his peg in that match. He then confounded everyone by locking onto a slightly smaller one of 84cm worth 306 points on his very next cast using identical tactics.
With Hounds around the contest was effectively over within the first few casts as the majority had no crab just lug, a few maddies and rag along with bits of squid. It was therefore then a fight for the minor placings. Even this became tough as the flatties decided to become rather elusive as the serious ebb began. This became even more frustrating as the weed decided to make an appearance not just close in but at distance as well. Nothing really serious but just a nuisance taking gear around onto other's lines but the main problem was again just the lack of numbers of fish.
With the ebb easing off a few flatties particularly Dabs started to show amongst the Flounders but this was "Few" with a capital "F". To add to this lack of fish the vermon became increasingly active with bait being stripped in minutes. Although we probably just had ½ hr of it, the start of the flood normally creates some real action but this time it just resulted in the odd Dab and nothing serious. At the end for some the fish were elusive or should we say non-existent particularly for the "asian ace" Peter (L) (Peg 2), Bev (S) (Peg 6) and Albert (R) (Peg 7) although Bev did manage a 15cm Sole. For them, they decided to keep their cards for next match but at least they were able to witness the Hounds coming ashore.
Of course, it was the Hound man that Lincs. poacher DAVE BURR (Peg 1) who did the business in his first couple of casts with those two Hound but he wasn't finished there. Later on as the tide bottomed he found a small one of 32cm and then a real specimen of 95cm worth 467 points or 9 ¾ lb followed by a Schoolie Bass of 30cm to give him 24lb 5oz from just 5 fish. Some distance away was runner-up as in last match, MIKE WATTS (Peg 5) who had to rely on 4 Dabs and 2 Flounders for his score with 1lb 13oz for these 6 fish. Beaten into 3rd place by a 19cm Dab on Mike's last cast was IVAN ALLISON (Peg 10) with 3 Flounders and 2 Dabs for 1lb 12oz from the 5 fish. Heaviest Flat was a 33cm (15oz) Flounder to TONY THOMAS (Peg 9) and Heaviest Round that 95cm (9lb 12oz) Hound to DAVE BURR (Peg 1). Altogether, just 35 fish (15 Flounders, 10 Dabs, 5 Smooth Hounds and 2 Bass) were recorded weighing 34lb 12oz.
Not quite making it to the podium was Tony Thomas (Peg 10) in 4th place with just 2 good Flounders for 1lb 9oz. Luke Pearson (Peg 11) was trying his hardest to find fish from his close pipe peg but could only entice 3 Flounders and a Dab to his bait for 1lb 5oz and 5th place. Paul Tovell (Peg13) was in his usual rangy Dab mode finding 6 of them for 1lb 4oz but needed a decent Flounder from his pipe peg to make the podium finishing in 6th place. A couple of reasonable Flounders came to the rescue of Charlie Frary resulting in just 13oz for 7th place.
A decent 31cm Flounder helped to save end peg Neil Smart (Peg 14) a blank for 12oz and 8th place. Joe Bettinson (Peg 12) couldn't take advantage of his hot pipe peg finding just 1 reasonable Flounder and a small Schoolie Bass for just under 12oz for 9th place. John Harvey (Peg 3) thought he was going to be in the Hound Fest being just 2 pegs away from the action and having the range along with fresh crab but had to settle for a single slightly smaller Hound of 30cm for 5oz and 10th place. Saved by his last cast and a 22cm Dab was John Carter (Peg 8) recording just over 3oz and final 11th place.
Yet another interesting Bacton match where the podium was identical to that of the match 2 weeks previous and the winner again determined by the presence of Hounds. Slightly less fish this time with more participating but the biggest surprise was yet again the Hounds. A venue where you now definitely need crab for any Summer match although lug and maddies still work but you need to target those big fish to be competitive.
This match also determined the outcome of the Club's Summer Accumulator. At the start Mike Watts was 6 points ahead of Tony Thomas who had to at least beat Mike (1 point) and have a Heaviest fish (5 points) to tie the Accumulator. Tony managed the heaviest fish points but failed with the other objective requiring just one good fish to secure a better match position. In the end MIKE WATTS took the title with 415 points from TONY THOMAS on 412 points and ALBERT RANDLESOME on 320 points, well done Mike!
After the match there was a short Committee meeting where the Autumn Fixtures and others were determined as follows …
The final two TO BE DETERMINED Summer Club matches will now not take place.
The CHARITY OPEN has been moved to 17th Sept. from 10th and there will be no Club match on the 10th.
The NATIONAL SEA LEAGUE FINAL will be Organised by Holt SAC in conjunction with Anglers Den Pevensey Bay at Eastbourne on 18th/19th Nov.
The NORTH NORFOLK NATIONAL SEA LEAGUE will be run by Holt SAC and the six rounds will start at Bacton on 8th Oct.
Holt SAC will be running 8 OPEN MATCHES during this period which includes the 3 rounds of the North Norfolk National Sea League.
All Open matches will also be Club matches and there will be additional 8 pure CLUB MATCHES during this period.
A Full AUTUMN FIXTURES LIST is available on the Club's website at Holt SAC Autumn 2017 Fixtures
The NEXT CLUB MATCH will be the MACKERAL BASH at CLEY on WEDNESDAY 26H JULY fishing 6:30 to 9:30 HW 9:08 4.9m with draw from 6:00. This date is different to that advertised due to requiring HW during the match. The next Club match will then be the Charity Open in September … Tony T
Top 5 Individuals (on the day) …
1…Dave Burr.……….24lb..4 2/3oz…....( 5 fish)
2…Mike Watts.……..…1lb..13oz….......( 6 fish)
3…Ivan Allison….…….1lb..12oz………….( 5 fish)
4…Tony Thomas.…….1lb..9 1/3oz…….( 2 fish)
5…Luke Pearson..…..1lb..4oz…………...( 4 fish)
Final Top 5 Summer Accumulator …
1…Mike Watts…………………..415 Points
2…Tony Thomas……………….412 Points
3…Albert Randlesome……..320 Points
4…John Carter………………….301 Points
5…Neil Smart…………………...285 Points
------..------