Holt SAC North Norfolk National Sea League Round 1 and Bumphrey Shield (Report)
Sunday 8th October 2017 - Bacton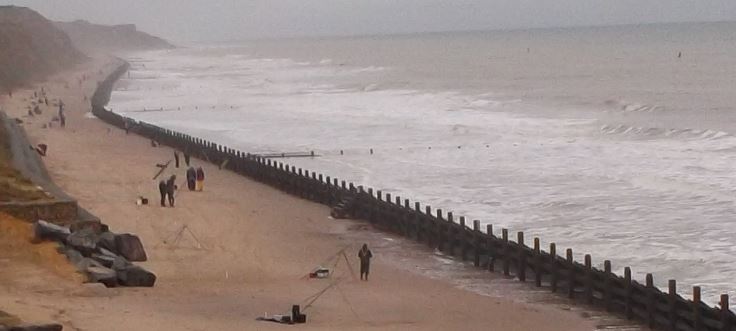 The Holt SAC North Norfolk National Sea League Round 1 and Club Bumphrey Shield match was fished at BACTON via Castaways on Sunday 8th October fishing 11:30 to 4:30. Many thanks again to Anna and Richard for allowing the Club to use their facilities and the ready supply of bacon butties, etc. The usual teams were back again to meet the challenges of the league albeit some had new rather creative names. The league this year has been strengthened by two new teams in NORFOLK BOI's under Russell Taylor and the return of a strengthened CHARLIES ANGELS under Charlie Needham. Welcome to the league and welcome aboard Holt SAC for those that have joined the Club and also welcome aboard to a couple of long distance travellers from the west in Gordon Hewitt and Dave Shorthouse.
Pegging for this one was 5 Zones of 10 in front of the Gas Site. Zone A was west of pipe 3, Zone B west of pipe 2, Zones C & D between pipes 1 & 2 and Zone E east of pipe 1. This was a very big tide and with HW at 8:32 and it was going to be close to have everyone infront of the revetments at the 11:30 whistle which did quite not happen. The proposed 1/2hr delay in the start would have been a better decision in more ways than one. The big tide also presented pegging problems with the water repeatedly lapping the cliff behind the match stretch but eventually the water receded enough to get this done, many thanks to Henry and Luke.
Forecast for the day was clear skies and dry but ended up overcast with some wetness at the end. The North Westerly had increased slightly overnight creating a 3 - 4ft swell with good colour in the water. Even before the off this wind had eased from moderate to light and by the end the swell had reduced to 1 – 2ft which was helped by the ebbing tide. However, this overnight wind and the persistent northerlies over the previous few days had served up that horrible red weed. Weed that coved the whole match stretch up to about 60 yards out which could not be avoided.
At the "air horn" it was obvious that the red weed was going to play a major part in the outcome of this match. Within minutes of the start rods could be seen being held up with this weed covering lines right to the surf and been pushed eastwards either towards a groyne or pipe or the next angler. Not much chance of real fishing as lines were being furiously wound in to avoid lost gear and other catastrophes. For some the odd Whiting and Dab appeared for others it was time to contemplate what to do. Any distance which normally fixes this problem resulted in even more of the red stuff and close only put the bait in the red soup. The traditional hot spots were reversed with the pipe pegs suffering the most from quantity of red weed as it just had nowhere to go.
In some Zones the dilemma deepened as the red stuff thickened particularly in Zone D just west of pipe 1 which is normally renowned for its stonking Bacton Flounders. Here it was so bad that even some of the leagues most experienced match anglers had to park their rods for nearly 2 hours. Other Zones were slightly more fortunate with Schoolie Bass and Flounders starting to be recorded. Rods held high helped to avoid some of the close in weed at the expense of a reduced casting rate. The tide eventually started to be sucked away leaving the usual expanse of sand to follow but the odd sudden unpredictable surges up the beach caught a few out with bucket and bait tubs being grabbed by the sea.
Fortunately, the approaching ebb helped reduce the quantity of weed being picked up and most were able to start doing a bit of proper Bacton fishing. This still didn't stop the sea having its own say with the tide going one way one minute and the other the next as if to show who was boss. With the resemblance of fishing now being possible, maddies started to do the job for some with Schollie Bass and Flounders showing in slightly better numbers. Finding the close in holes found some stonking Flounders but the usual holding ground for this species along the pipes was just full of vermin with bait completely stripped within minutes. In contrast, on the open beach bait was recovered untouched except for those that found the odd Bass and Flounder. At the final "air horn" many were glad to be able to rest their rather aching arms and grateful to have come through the fishing challenge that nature had thrown at us.
In the end it was those that were fortunate with their peg draw along with the experience of handling the conditions who triumphed. It was DAVID READ (HAS BEENS) (peg 22) who showed this experience to take the match with 3 Bass and 4 Flounders including one of 34cm (1lb) for 3lb 11oz (176points). Runner-up was PAUL MARSHALL ("Team Maver") (peg 3)with a late run to find a Dab, a Bass and 5 Flounders for 3lb 7oz (165points). Final podium slot went to KEVIN GREEN (NORTH NORFOLK LADS) (peg 13) with a Bass and 4 Flounders including one of 35cm (1lb 1oz) for 3lb 1oz (147points). Heaviest Flat was a 35cm (1lb 1oz) Flounder shared by KEVIN GREEN (NORTH NORFOLK LADS) and LUKE BRIERLEY (ANGLING ADDICTS) (Peg 8) and heaviest Round a 55cm (1lb 5oz) Dogfish to DAVE BURR ("Team Maver") (Peg 33). Altogether 110 fish (37 Flounders, 33 Bass, 19 Dabs, 19 Whiting, 1 Codling and 1 Dogfish) weighing 46 ½ lbs were recorded.
In the Zones there was contrasting results with the amount of weed determining the outcome. Zone A was taken by PAUL MARSHALL ("Team Maver") (peg 3) with 7 fish for 3lb 7oz and JEFF STANNARD (GORLESTON TACKLE) (peg 4) runner-up with 5 fish for 2lb 13oz. This was one of the better zones with just one angler failing to score. Zone B was taken by KEVIN GREEN (NORTH NORFOLK LADS) (peg 13) with 5 fish for 3lb 1oz followed by HENRY RANDELL ("Team Maver") (peg 20) with 4 fish for 2lb. Another relatively successful zone with just one person failing to score.
Zone C was taken by the Overall winner DAVID READ (HAS BEENS) (peg 22) with 7 fish for 3lb 11oz and runner-up DAVE SHORTHOUSE (NORTH NORFOLK LADS) (peg 30) with 8 fish for 2lb 2oz. This was a tough zone with 3 anglers blanking. Zone D was taken by DAVE BURR ("Team Maver") (Peg 33) with 2lb 13oz from 7 fish with runner-up JACK AKESTER (INDIVIDUAL) (peg 31) with 2lb 3oz from 4 fish. By far the worst zone with 4 anglers blanking. Zone E winner was RICHARD JACOBS (HAS BEENS) with 8 fish for 2lb 2oz and runner-up MIKE TOPPING (GORLESTON TACKLE) (peg 50) with 4 fish for 1lb 7oz including a 34cm (13oz) Codling. Usually this is the worst zone but this time was competitive with just one blanker.
The teams event was taken by NORTH NORFOLK LADS with a zone win, 2 zone 2nd s and a zone 4th for 9 Penalty Points on count back of best dropped score of 4 points. Second was "Team Maver" (to be renamed) with 2 zone wins, a zone 2nd and 5th also with 9 Penalty Points but with an inferior dropped score of 7 points. Third was last year's winners HAS BEENS (new name!) with 2 zone wins, a zone 3rd and 5th for 10 Penalty Points. The Club match winners were the same as the Overall results with DAVID READ taking the Bumphrey Shield. The top three also earn Sea Angler Penn Points.
A very tough match to kick off this year's league with weed dictating the result and an element of nature we can unfortunately not control. It was particularly tough for the new teams and hope it does not deter them from participating in future rounds, they can be assured it will not get any worse although probably the wrong thing to say in this game. Good to see the very odd Codling and there also a bigger one on Monday night so maybe they're coming back. Round 2 of the North Norfolk National Sea League is at GORLESTON on Sunday 11th November fishing 10:00-3:00 HW 3:43 4.2m.
Next Holt SAC Club match is for the H. MACK Cup on Sunday 15th November at CLEY fishing 10:00-3:00 LW 10:29 4.2m … Tony T
Top 10 Individuals (on the day) …
1…David Read…….....3lb..102/3oz….(7 fish)..(Has Beens)
2…Paul Marshall…...…3lb..7oz………...(7 fish)..("Team Maver")
3…Kevin Green ……….3lb..1oz………...(5 fish)..(North Norfolk Lads)
4…Jeff Stannard ……..2lb..13 1/3oz..(5 fish)..(Gorleston Tackle)
5…Dave Burr………….…2lb..13oz……….(7fish)..("Team Maver")
6…Luke Brierley …..….2lb.. 6oz……….(5 fish)..(Angling Addicts)
7…Jack Akester ……....2lb..3 1/3oz...(4 fish)..(Individual)
8=.Richard Jacobs ……2lb..1 2/3oz...(8 fish)..(Has Beens)
8=.Dave Shorthouse…2lb..1 2/3oz.…(8 fish)..(North Norfolk Lads)
10.Henry Randell……...1lb..15 2/3oz..(4 fish)..("Team Maver")
Teams (on the day) …
1...North Norfolk Lads ………...9 penalty points (dropped score 4 points)
2..."Team Maver".….…………... 9 penalty points (dropped score 7 points)
3…Has Beens …………............10 penalty points
4…Gorleston Tackle…...…….…15 penalty points
5= Angling Addicts…...…………20 penalty points
5= Holt Crack Offs ………………20 penalty points
7…Charlies Angels..…………....23 penalty points
8…Norfolk Boi's……………..…....26 penalty points
------..------