Holt SAC North Norfolk National Sea League Round 6 (Report)
Sunday 15th April 2018 - Bacton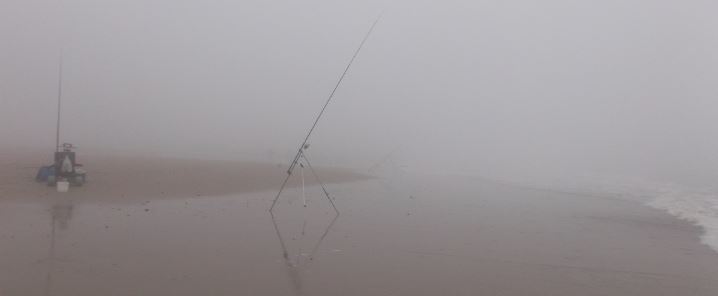 The final much delayed Round 6 of Holt SAC North Norfolk National Sea League and 1st Leg of the 2018 Summer Accumulator was played out at Bacton on Sunday 15th April fishing 10:00 to 3:00. The HQ for this match was again the Cliff Top Inn at Castaways Holiday Park and we must thank Anna and Richard for allowing us to use their facilities and opening up early for the draw and providing the usual breakfasts, bacon butties and hot drinks. Being the final round of the league the match was followed by a buffet, raffle, presentation of the season's winnings and the Shingle Ridge Shield. There was also some rather macabre entertainment on the beach which will be mentioned later.
Forecast for the day eventually arrived at overcast with a light south easterly and a 1-2ft swell and none of this bitterly cold of late. At 7:00 they had got it almost spot on although the swell was considerably more than 1-2ft but there it was high water. However, within an hour things changed dramatically as this time the "mist from the east" rolled in cutting visibility down to 20-30 yards throughout the match although the yellow globe made a few attempts to break through from time to time. In total contrast, just a few miles along the coast they had brilliant sunshine and as the match ended the mist started to clear, does make you think that the gods have got it in for our match fraternity .
Pegging was as usual around the three pipes in front of the Gas Site, Zone D & E around Pipe 1, B & C around Pipe 2 and A to the west of Pipe3 and a good healthy walk. Unfortunately, the mist played havoc with the pegging as it was impossible to see the Pipe posts so determining which groyne was the Pipe was hit or miss. It certainly was a miss for Pipe 2 when Zones C& D overlapped but a quick re-pegging of Zones B&C soon sorted that. Many thanks to Henry for pegging distant Zone A and actually finding the right Pipe groyne. This pegging delay meant not being at the end of the draw, many apologies for this and thanks to all those that sorted it out.
A long walk for some and all well nearly all were able to make it to the pegs well before the whistle. By then, the tide had dropped significantly for everyone bar a few in Zone E to be in front of the revetments at the start. Fishing the ebb meant chasing the tide but it wasn't a big tide so it was just a steady comfortable move forward. First few casts showed that there was weed around but at that stage nothing really serious. After the weather of late everyone was full of pessimism and expecting it to be really dire but thankfully the fish were there as buckets were soon filled and match cards came out.
The first few casts brought a surprising mixture of fish including Flounders, Dabs, Whiting, Bass and Codling, yes Codling you remember what species this is. At this stage finding where the fish were feeding was key and a bit of distance at the start helped. Unfortunately, the mist was getting worse so it was impossible to see where baits were landing so the only option was to whack it. For some the first 2 hours was a steady flow of fish but for others a struggle but most importantly everyone caught.
Surprisingly the beach at this part of the venue had remained almost intact with plenty of sand unlike the beaches even a few hundred yards east and beyond being scoured out. This meant easy progress forward with the tide but the dropping water concentrated the weed to an extent it became a real problem. Easy stuff to get off but plenty of it with the majority of it in the gully not a problem for the range men but a real nuisance for those that have to fish close.
With the vast expanse of sand now showing and the mist closing in even more it was time for that bit of macabre entertainment if you can call it that. This is a popular beach for dog walkers who can release their animals for the freedom of acres of sand but difficult to control them if you cannot see them. One such situation dubbed a Serengeti moment in Zone D by Mike Watts as out the mist came this muntjac yes a deer being chased by a big mutt. A mutt that was certainly not on a catch & release mission but on an act of catch & kill. It caught the creature by the throat and promptly despatched it just six feet away from his tripod and proceeded to haul it up the beach into the mist. The owner eventually appeared but we do not know what happened to the mutt or even the deer as that disappeared. Surprisingly, nobody in Zone D had the gaul to stick the knife in to take a fresh piece of venison home.
Back to the fishing which was easing off as the mountains of weed started to appear on the beach. Fish were still coming in albeit in smaller numbers, wrapped up in the loose red weed but this was the quiet period as the tide slackened off. The fish had moved into the gully although they were probably there all the time but with all the weed it was difficult to fish properly at that close range. Even so for some a drifting lead in that gully found a few of those stonking Bacton Flounders and as the tide started to flood and move again they were joined by a few of their younger cousins providing some healthy points on the cards. Unfortunately, the final whistle came just too early to take full advantage of this feeding activity on the incoming tide.
For some the whistle could not come soon enough and for others they realised how far they had to walk back as the mist started to disperse and reveal the Pipes and Castaways way in the distance. Then at Castaways the theatre had not quite finished as Richard Ling wanted to have Ling added to the Specimen Fish list. The reason for this was he wanted to enter a big one he had caught on his specimen card. Well not quite an aquatic creature just himself as he displayed a finger complete with hook well embedded which prompted Peter Morse to ask if it was a 1/0. A Ling that would not have escaped until it was removed later that evening at the Queen Elizabeth Kings Lynn.
Back again to the fishing with LUKE CHILDERHURST (CHARLIES ANGELS) Peg 15 taking the Individual Honours by finding 3 Bass which included one of 39cm and another of 37cm plus a few good Flounders for a total of 5lb 113oz from 14 fish. Runner-up was PAUL HARVEY (ANGLING ADDICTS) Peg 6 who found some of those stonking Bacton Flounders which included one of 37cm giving him 5lb 7oz again from 14 fish. Final podium slot went to HENRY RANDELL (BIG CATCH TACKLE) Peg 2 who caught steadily for the first 3 hours before losing the fish but a double shot of Flounders on his last cast secured 3rd place with 4lb 15oz from 20 fish.
The Teams result on the day was far closer with a resurgent ANGLING ADDICTS with a Zone win two 2nds and a 5thand NORTH NORFOLK LADS with two Zone wins and two 4thssharing the top spot both with 10 penalty points. Third place went to BIG CATCH TACKLE with two Zone 2nds, a 3rd and 4th for 11 penalty points. It was also close further down the leader board which made the final league table very competitive. Altogether 399 fish (160 Dabs, 154 Flounders, 70 Whiting, 13 Bass, 1 Codling and 1 Herring) were recorded weighing around 105lb 10oz.
In the zones, Zone A just west of the 3rd Pipe had the 2nd most fish but heaviest total weight of 27lb 8oz and a zone full of good Flounders. PAUL HARVEY (ANGLING ADDICTS) Peg 6 took the Zone helped by the 37cm Flounder followed by HENRY RANDELL (BIG CATCH TACKLE) Peg 2. Zone B just west of the 2nd Pipe had the 3rd most fish of just 68 and 3rd heaviest weight of21lb 15oz comprising a mixture of fish mainly Dabs and Flounders with two good Bass with that Herring and Codling. LUKE CHILDERHURST (CHARLIES ANGELS) Peg 15 took the Zone helped by those Bass followed by MATT BREWER (ANGLING ADDICTS) Peg 20 with 2lb 9oz from 4 fish which included a 45cm (1lb 15oz) Codling.
Zone C just east of the 2nd Pipe was the worst zone with just 51 fish recorded weighing 13lb 6oz comprising of an equal number of Dabs, Flounders and Whiting with the odd Bass. DAVE SHORTHOUSE (NORTH NORFOLK LADS) Peg 21 took the zone with 3lb 12oz from 13 fish mainly Whiting with a good Flounder followed by DAVE READ (HAS BEENS) Peg 26 with 3lb 1oz from 11 fish. Zone D just west of the 1st Pipe had the 4th most fish of 67 and 4th heaviest weight of just 15lb 13oz mainly comprising of Dabs and Flounders. MIKE WATTS (NORTH NORFOLK LADS) Peg 35 took the zone with 3lb 10oz from 16 fish mainly Dabs from PETER MORSE (ANGLING ADDICTS) Peg 37 with 3lb 2oz from 14 fish with an even mixture of Dabs, Flounders and Whiting.
Zone E just east of the 1st Pipe produced the most fish of 111 and 2nd heaviest weight of 26lb 14oz comprising of a good mixture of all main species. This was a strange zone with most fish coming from away from the Pipe and it was very close at the top with just 20 points covering the top 5 places. ADRIAN BORDIANU (NORFOLK BOIs) Peg 48 took the zone with 4lb 6oz from 15 fish helped by a monster 37cm (1lb 4oz) Flounder followed by DAVE BURR (BIG CATCH TACKLE) Peg 47 with 4lb 3oz from 16 fish comprising mainly of Dabs and Whiting.
In the Club match the 1st Leg Summer Accumulator, the result was the same as top three are all Club members. The Club heaviest Flat was shared by Adrian Bordianu and Paul Harvey's 37cm (1lb 4oz) Flounders and heaviest Round went to Luke Childerhouse with his 39cm (1lb 4oz) Bass.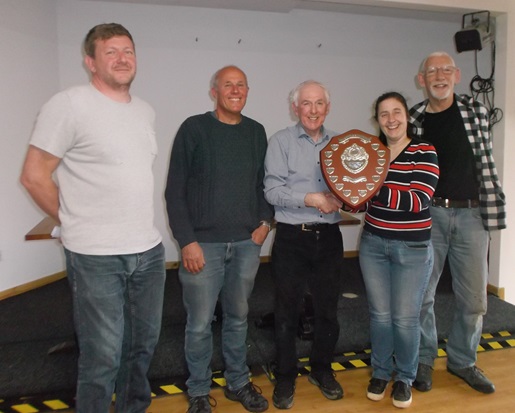 North Norfolk Lads
North Norfolk National Sea League Winners 2017-18
Being the final round of the 2017-18 North Norfolk National Sea League the Champion Team was to be determined. As the top two teams going into the match had the same points and with worst score over the 6 round being dropped there were lots of permutations on how this one would turn out. In the end it was NORTH NORFOLK LADS who prevailed and were crowned Champions. The team comprising of TONY THOMAS (Captain), KEVIN GREEN, WILLY GROOMBRIDGE, DAVE SHORTHOUSE and MIKE WATTS amassed just 44 penalty points with a 12 point round dropped. A victory that has taken a few years to achieve and follows the 4th Place achieved at last year's NSL Final in Eastbourne, well done lads. Runners-up was the winners of the previous few years albeit under a different name in HAS BEENS with 46 penalty points also with a 12 point round dropped. The Team comprising of GARY MEDLER (Captain), JOHN BOWER, ANDY GALLACHER, RICHARD JACOBS and DAVID READ. Third Place Team was BIG CATCH TACKLE who amassed 48 penalty points with a 18 point round dropped, a team comprising of HENRY RANDELL (Captain), DAVE BURR, PAUL MARSHALL, PHIL READ and BILLY TEMPLE. Further down the Leader Board there was intense rivalry with two teams on equal points at the start but it was CHARLIES ANGELS who took the bragging rights from NORFOLK BOIS with the slenderest of margins of 85 penalty points to 86.
There was also results of the league's heaviest fish competitions over the 6 rounds. The Heaviest Flat a 39cm (1lb 6 2/3oz) Flounder taken by DAVE BURR (BIG CATCH TACKLE) in round 4 in January at Salthouse. Runners-up were PAUL HARVEY (ANGLING ADDICTS) and ADRIAN BORDIANU (NORFOLK BOIS) with their 37cm (1lb 4oz) Flounders both caught in round 6 in April at Bacton. The Heaviest Round was a 45cm (1lb 14 2/3oz) Codling taken by MATT BREWER (ANGLING ADDICTS) in round 6 in April at Bacton. Runner-up was DAVE BURR (BIG CATCH TACKLE) with his 55cm (1lb 4 2/3oz) Dog in round 1 in October at Bacton with 3rd Place going to LUKE CHILDERHOUSE (CHARLIES ANGELS) with his 39cm (1lb 3 2/3oz) Bass in round 6 in April at Bacton.
After the match it was a hearty buffet and beverages in Castaways Cliff Top Inn along with a raffle and the Club's Sheringham Carnival 60-40 raffle. All of this was followed by the presentation of the Team and Individual winnings over the 6 rounds totalling £2,270 and the SHINGLE RIDGE SHIELD to the victorious team, NORTH NORFOLK LADS. Richard Ling (complete with finger & hook) also presented his RICHARD LING SHIELD to the top Holt SAC Rookie which was Dave Burr, well done Dave and Richard.
All 7 League teams qualify for the NSL Final in North Norfolk on weekend of 24th/25th November and the League will be contributing £35 to each team towards their £300 entry fee. All 7 teams seem to be keen on participating in the 2018-19 North Norfolk National Sea League which starts at Bacton on Sunday 14th October so the future of the League looks promising.
Well that's it for this rather long report, many apologies if you have managed to wade through it and the next Club Match is at KELLING on SUNDAY 22ND APRIL fishing 11:00-4:00 HW 11:44 4.3m draw in the parking area from 9:30. Don't forget the SAMF Master on 28th/29th April and Bass Festival on 19th/20th May both at Cley and Kelling, bookings for both still open.
That's all for now! … Tony T
Top 10 Individuals (on the day) …
1...Luke Childerhouse....5lb.12 2/3oz...(14.fish) (CHARLIES ANGELS)
2...Paul Harvey …………...5lb..6 2/3oz....(14.fish) (ANGLING ADDICTS)
3...Henry Randell ………...4lb.15oz.........(22.fish) (BIG CATCH TACKLE)
4...Andy Gallacher……..…4lb.11 2/3oz….(20.fish) (HAS BEENS)
5...Tony Thomas...….…….4lb..7oz.........(16.fish) (NORTH NORFOLK LADS)
6...Adrian Bordianu....…..4lb..5 2/3oz...(15.fish) (NORFOLK BOIS)
7...Dave Burr...……………..4lb..3 1/3oz...(16.fish) (BIG CATCH TACKLE)
8...Gary Medler...……….…4lb..1oz ......(17.fish).(HAS BEENS)
9...Willy Groombridge....4lb..0oz….......(20.fish) (NORTH NORFOLK LADS)
10.Peter Loke................3lb.15oz........(13.fish) (ANGLING ADDICTS)
Teams (on the day) …
1=.Angling Addicts ………10 penalty points
1=.North Norfolk Lads….10 penalty points
3…Big Catch Tackle………11 penalty points
4…Has Beens………..……...12 penalty points
5...Gorleston Tackle.......17 penalty points
6…Charlies Angels..…..….18 penalty points
7…Norfolk Boi's…….........19 penalty points
Teams (Final Result) …
1...North Norfolk Lads…44 penalty points
2…Has Beens ………….....46 penalty points
3…Big Catch Tackle....…48 penalty points
4…Gorleston Tackle …….62 penalty points
5…Charlies Angels s…….85 penalty points
6...Norfolk Boi's….…….….86 penalty points
7…Angling Addicts..………93 penalty points
------..------