Holt SAC 1st Leg Summer Accumulator (Report)
Sunday 7th June 2020 - Bacton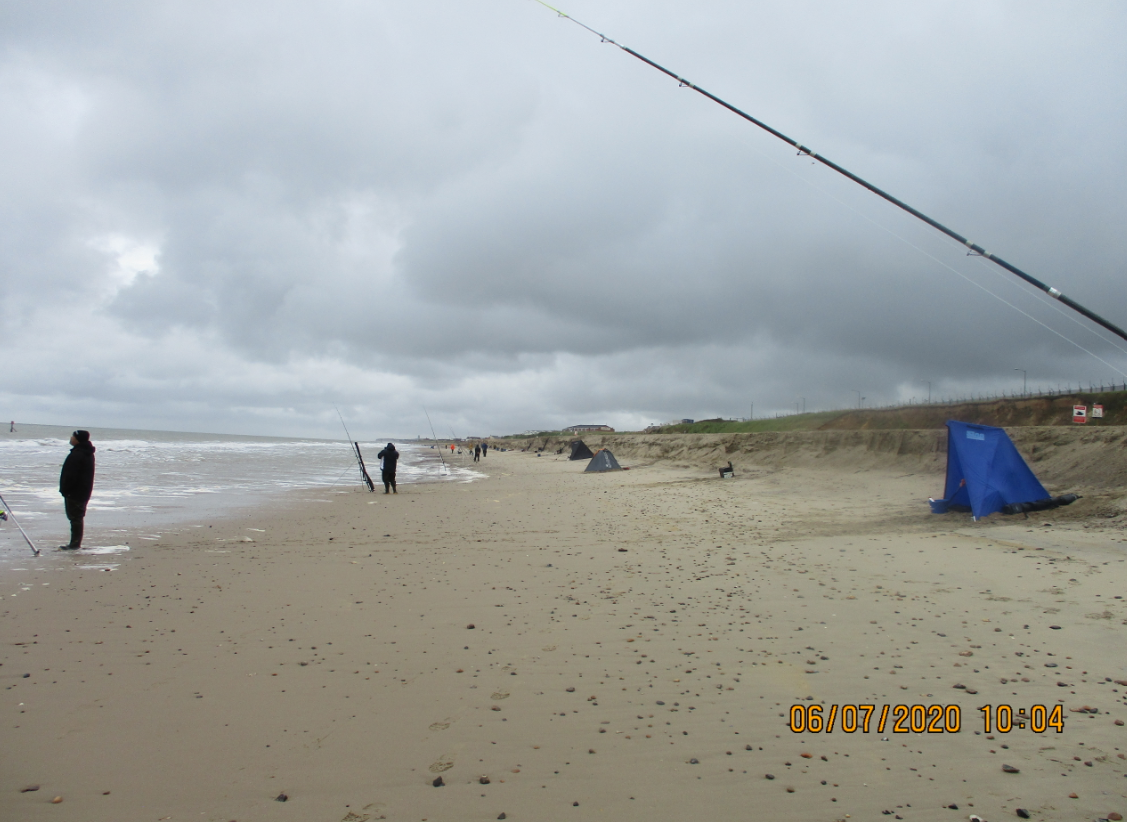 At last!, back on the beach again. Holt SAC kicked off it's Covid-19 delayed 2020 Club match season with its 1st Leg Summer Accumulator at BACTON via Castaways on SUNDAY 7Th JUNE fishing 11:00 – 4:00 HW 8:08 4-9m. A good turn out of Club members who just had to exorcise their match withdrawal symptoms. It's was also a return of two old (not quite so old) Club members of the past in Luke Pearson and Ashley Vertigan, welcome back! It also saw the return of a Club member of many years from his 12 month sabbatical, the Asian Ace Peter Loke who endured the whole match in the damp and windy conditions putting a few others of the younger set to shame, well done Lokie!
Even with a late morning start many arrived nice and early to partake in take away bacon butties and coffee provided by Castaways. Many thanks again to Anna and Richard for allowing us to use their premises and for providing the take aways, much appreciate! With just a few steps to the new beach it was too easy but there were obstacles, like the 8-10 ft beach cliff and drop to the actual shore. In addition, the terns have moved in to nest on the soft sand at the top of the beach in front of the gas site and the environmentalists had roped off that part of the beach as a no go area.
Pegging for this one was west towards Mundesley between the old pipes 1 & 2 with four pegs just East of pipe 1 for the less able Club members. Being a big tide and a reasonable swell the water was reaching right up to the new cliff so that is where the pegs had to be placed, in the cliff. However, we all knew it wouldn't take long for the new flat sand to appear as the tide ebbed. Surprising how sand has stood up to both the recent northerlies and easterlies, with the new cliff only moving back slowly since March. With a few winter storms we'll give it 1 or 2 years before the beach returns to its old self.. All this sand scaping has ruined our fishing beach which is flat, featureless and all the nice gullies have gone, all we have is soft sand.
Weather for the day was a little dampness and the wind switching from westerly to a moderate north westerly. We duly got the rain but from the start and throughout with the wind swinging round just after the start to a strong west north westerly. There was a good swell coming in but nothing too serious with the back edge of the white water in easy casting distance. Plenty of colour and as everyone commented a perfect Bass sea, well we were to find out.
Back at the draw it was time to check out the new Covid-19 procedures. It was apparent at the start that some members were going to struggle with the face covering requirement although social distancing was easier to handle. I'm sure members will improve in adhering to the rules in future. Members calling out a numbered envelope for their match card seemed to work well although Mr Organiser got it wrong once, apologies Paul. A successful draw was achieved with monies only being touched by the member and match cards just by the member and Mr Organiser.
After the very soggy draw it was down to the pegs where the tide had already started to recede. With the majority not electing to erect buddies as is generally the norm at Bacton it was a rather uncomfortable start in the fine rain which was not helped when the rather pleasant off shore wind turned into a strong chilly on-shore breeze. Even so, everyone was eager to go getting into the water to cast as the minutes counted down. At the whistle months of match denial were soon released as rods were placed in tripods as all were fully expecting them to be soon smashing around.
Well that was the plan but unfortunately the fish had not read the script as it took until 11:20 for the first fish, a 21cm Dab to TOM GIBBS (Peg 6) was recorded. Shortly after this PAUL HARVEY (Peg 5) had a small 37cm Eel at 11:35 and ALAN DOY (Peg 13) a 29cm Flounder at 11:45. Apart from these they were the only fish to be recorded before 12:00. This was a self-stewarding match with each member measuring (rounding up length to nearest cm) and recording their own fishing, calling out species and length to adjacent member and finally entering time caught in witness box. Unfortunately, a few members struggled to achieve this probably because they hadn't read the new rules, that will change.
Things picked up between 12:00 and 1:00 with most fish recorded with the tide approaching bottom. Numbers of fish then picked up again after 3:00 but it was not frenetic as was expected from the state of the sea. Even though the west north westerly had gone up a notch and there was a good swell but still a nice depth of water which should have brought the Bass in in numbers but just did not happen. No weed so where was the head of fish? Even so it did wake up other species with returning member LUKE PEARSON (Peg 18) finding a specimen fat 33cm Turbot although he always used to find that obscure species. Mind you this was not a rare species in this match as TOM GIBBS (Peg 6) also had one slightly small at 26cm.
That Turbot along with a 45cm & 40cm Bass plus a couple of Dabs and a 32cm Flounder enabled TOM GIBBS (Peg 6) to easily take the honours with 4lb 12oz (228 points) from 6 fish. Most fish caught on Pete's excellent fresh lug and he could not get his fresh peelers to work. Runner-up on next end peg was PAUL HARVEY (Peg 5) with 1lb 15oz (94 points) from a 42cm Bass and Eel. Final podium slot went to MIKE WATTS (Peg 19) with 1lb 14oz (91 points) from 5 fish comprising 32cm, 31cm & 20cm Bass, a Dab and a Flounder. Altogether a further 6 Bass were recorded to TONY THOMAS (Peg 11) 41cm, ASHLEY VERTIGAN (Peg 12) 32cm, BEV SELF (Peg 15) 32cm, JOHN CARTER (Peg 16) 34cm & 33cm and ALBERT RANDLESOME (Peg 24) 21cm.
Heaviest Flat Fish was a 1lb (48 points) 34cm Flounder to KEVIN GREEN (Peg 20) and Heaviest Round that 1lb 15oz (92 points) 45cm Bass to TOM GIBBS (Peg 6). Total of 28 fish ( 11 Bass, 10 Flounders, 4 Dabs, 2 Turbot and 1 Eel) were recorded weighing 18lb 8oz.
Well, not a brilliant match but at least we are back. Not a lot of fish but at least the Bass were there for some but not in the numbers we expected. It's good to see a couple of those stonking Bacton Flounders but they too have disappeared. All that sand scaping has put paid to that, filling in all the old gullies and producing lots of flat soft sand. Nature may return the beach to its previous state but for now we have to accept that it is not good. The wind and persistent rain spoilt the match but who cares, we are back.
Covid-19 procedures, rules and guidelines worked well but members will need to take note of the use of face coverings and social distancing requirements on the match stretch. Next Club match will be on SUNDAY 21ST JUNE at CLEY fishing 10:00 – 3:00 HW 7:22 4.6m. Usual text will be sent to members. Let's see if we can tighten up on our Covid-19 procedures this time. Full provisional fixtures list for whole season is available on this site and we just may have a few Kings Lynn Opens in the near future … Tony T
Top 10 Individuals (on the day) …

1…Tom Gibbs. …………….4lb.12oz……..( 6 Fish) (Peg 6)
2...Paul Harvey…….......1lb.15 1/3oz.( 2 Fish) (Peg 5)
3...Mike Watts…..………..1lb.14 1/3oz.( 5 Fish) (Peg 19)
4...John Carter…………….1lb.9 2/3oz….( 2 Fish) (Peg 16)
5...Tony Thomas …………1lb.7 1/3oz....( 2 Fish) (Peg 11)
6...Ashley Vertigan……..1lb.4oz…….……( 2 Fish) (Peg 12)
7...Luke Pearson………...1lb.3 1/3oz……( 2 Fish) (Peg 18)
8...Kevin Green............1lb.0oz………….( 1 Fish) (Peg 20)
9...Albert Randlesome...0lb.15 2/3oz…( 2 Fish) (Peg 24)
10.Peter Loke……………....0lb.14 2/3oz..( 1 Fish) (Peg 23)
------..------