Holt SAC 3rd Leg Summer Accumulator 2021-22 (Report)
Sunday 30th May 2021 - Bacton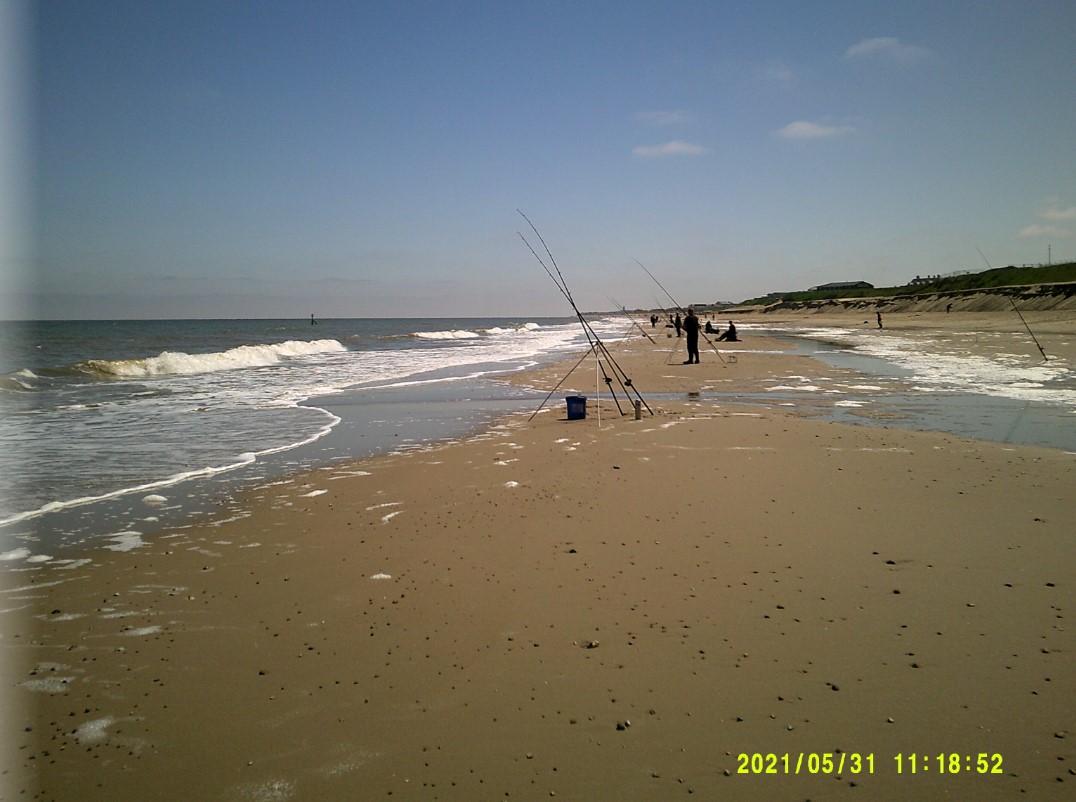 After a successful Bass Festival on the shingle it was back to the sand at BACTON to try and locate those Hounds for the 3rd Leg of the Summer Accumulator on SUNDAY 30TH MAY. Fishing was from 10:00 to 3:00 with HW 9:55 and a biggish 4.7m tide. Not an ideal tide from top down to fish this venue as my late good friend Dick Able would always say fish from at least 2 hours after HW down and he was certainly right for this session.
A good turn out of 13 soon gathered at Castaways Holiday Park for their take away customary bacon sarnies and cuppas. These days we forget about bank holidays but Anna and Richard still allowed us to use their business as our base for this one. In particular, thanks to Anna who managed to find all of us a slot to park in, much appreciated, Thank you!
With starting just after High Water on a biggish tide and with all the 2019 sandscaping there was some concern about being able to get on the lower beach in front of the newly created low cliff. We needn't have worried as the gentle coolish north easterly produced only a slight swell which finished well short of the cliff leaving plenty of room for us and the Bank Holiday dog walkers.
Forecast for the day was broken cloud with periods of sunshine and that touch of north easterly was not enough to bring in that cool North Sea fret that could be seen off shore. Ideal sea and weather conditions to bring in those Bass let alone the Hounds. Pegging for this one was our usual stretch west from the first "old" pipe which seems to have got a bit deeper of late and the bank a few yards off is beginning to be created with gully in front of it as it used to be. Thanks Lucky Lokey for the company with the pegging although you weren't too happy about how far the close pegs were down the stretch.
Easy walk from Castaways to the pegs and everyone was soon ready and dodging the charging pooches. With high water just past most seemed to opt for the short cast and it was obvious what they were after. With previous Club member Jeff Stannard bagging up on Bass the previous day just east of our stretch so that was everyone's target but they were on a totally different state of tide, had we really got it wrong!
Maybe not as Kevin (G) (Peg 7) was seen streaking into the water at 10:05 to haul in a 26cm Bass and then realised he should have put his waders on. Chesties are always a must at Bacton, you just never know. However, he only managed to add another 33cm Bass to his card at 1:45 and that was it for him. Maybe the Bass were really there as Charlie (F) on end peg 14 soon had a 24cm version on his card at 10:15 and then a 26cm specimen 15 minutes later. For some it was a bit slow but Dave (W) (Peg 5) thought he'd put a bit of range in his cast and picked up a double shot of Whiting at 10:55, Whiting at the end of May? Mike (W) (Peg 8) was struggling without a fish in the first hour but saw Dave's success at range and did likewise, result! with a 45cm Bass worth 92 points on his card. Unfortunately, that was his sole Bass of the day and only adding 2 Dabs to his score at range for rest of the match.
The second hour saw Dave find a nice 43cm Bass for 80 points at 11:30 and a nice 27cm Flounder on his previous cast and that was it for him. Mike (T) (Peg 2) thought he would try a bit of range and he also picked up a 27cm Whiting however as the match progressed he did find 2 Bass and a nice one of 35cm for 43 points. An early Bass in the first hour at 10:47 to Dave (B) (Peg 13) saw him get some good points on his card but could only find a further 3 Dabs to add to that score.
The third hour was pretty barren for most and some thought that a blank was looming but John (C ) (Peg 12) found a 37 Bass worth 51 points to save his day and his only fish. Likewise it wasn't until 2:00 before "Lucky" Lokey (Peg 11) managed to find a small Bass and putting his fresh peelers and maddies to good use found a nice 38cm Bass worth 55 points on his penultimate cast. Young Jack (T) (Peg 4) was determined to beat his Dad yet again but to no avail this time finding a small Bass at 11:28, his sole fish of the day.
Piffy (R ) (Peg 9) thought he was in with a chance with 2 small Bass by 11:20 but could only find a small Dab after them. For a change the gods were looking down on Smarty (Peg 6) who was staring a blank in the face when he found a nice 36cm Bass on his last cast. His traveling partner Bev (S) did likewise after finding a small Bass at 11:10 had to wait until 1:20 for a nice 36cm Bass worth 47 points and then one of 37cm worth 51 points on his very last cast.
Uncharacteristically, it was Mr Organiser Tony (T) on his favourite end peg 1 (good job Docker wasn't here) who did some business with a nice 36cm Bass at 10:50 worth 47 points followed next cast by a slightly smaller one and then one of 32cm near the end at 2:50. However, his match had not finished there as his penultimate cast with his crab tipped maddies found a nice 59cm eel worth 42 points and on his card at 2:55.
At the whistle it was that lucky eel that gave TONY THOMAS (Peg 1) victory with 3lb 2oz from 5 fish comprising 3 Bass, a Dab and the Eel. Runner-up was CHARLIE FRARY (Peg14) with 2lb 11oz from 6 fish comprising 5 Bass and a Flounder. Final podium slot went to BEV SELF (Peg 3) with 2lb 9oz from 4 fish comprising 3 Bass and a Dab.
Heaviest Flat was a 27cm (7oz) Flounder to DAVE WRIGHT (Peg 7) and heaviest Round a 45cm (1lb 15oz) Bass to MIKE WATTS (Peg 8). Altogether 39 fish (25 Bass, 8 Dabs, 3 Whiting, 2 Flounders and one Eel) weighing 22lb 7oz.
Not a particularly brilliant match for numbers of fish but everyone caught. We certainly got our timing wrong in this one. We should have started at least 2 hours later as demonstrated by the fact that Bev and Smarty stayed on after the match and had lots of Bass including a specimen of 56cm, well done Bev! We will certainly learn from this experience for future matches at this venue at this time of the year.
Next Club match and Open is the 4th Leg Summer Accumulator and Round 2 of the West Norfolk Challenge Series at KINGS LYNN East bank (P30 2HS) on SUNDAY 6TH JUNE fishing 9:30-2:30 LW 11:51 4.3m. Draw from 8:00 at the venue, usual Covid-19 rules and procedures apply …
Please Take Care and Stay Safe! … Tony T
Top 10 Individuals (on the day) …
1…Tony Thomas………...3lb 1 2/3oz……( 5 Fish) (Peg 1)
2...Charlie Frary………….2lb.10 2/3oz…( 6 Fish) (Peg 14)
3...Bev Self….…..………..2lb.8 2/3oz…..( 4 Fish) (Peg 3)
4...Mike Watts…….……..2lb.7oz……..….( 3 Fish) (Peg 8)
5...Dave Wright ………..2lb.6 2/3oz…..( 4 Fish) (Peg 5)
6...Peter Loke…………….1lb.9oz…………( 2 Fish) (Peg 11)
7...Dave Burr……………..1lb.8oz…………( 4 Fish) (Peg 13)
8...Mike Topping.........1lb.7oz………..( 3 Fish) (Peg 2)
9...Albert Randlesome.1lb.4 2/3oz….( 3 Fish) (Peg 9)
10.Kevin Green.…………1lb.2 2/3oz…..( 2 Fish) (Peg 7)
------..------