Holt SAC Woodward Cup and 6th Leg Winter Accumulator (Report)
Sunday 2nd February 2020 - Cley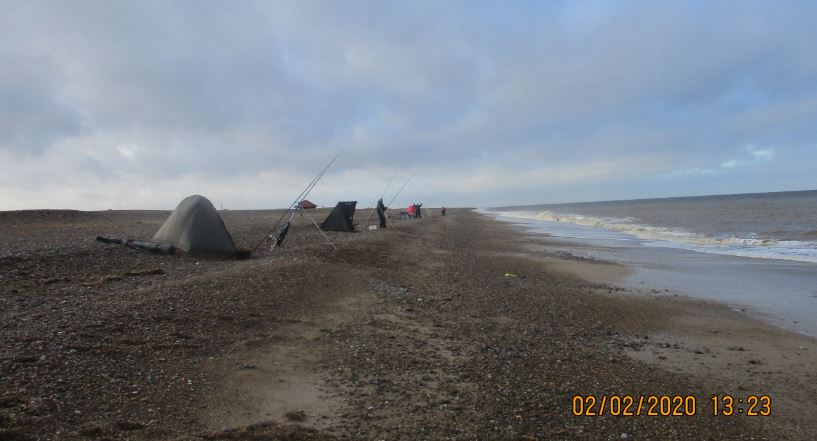 Holt SAC's Woodward Cup and 6th Leg Winter Accumulator match was held at CLEY on SUNDAY 2ND FEBRUARY fishing 10:00-3:00 HW 12:07 3.7m. A wet start for this one with continuous overnight rain placing lakes of water on the roads particularly south of the venue and coming up Cley beach road typified what members had to come through. Many questioned on route why they were doing this and one other thought he was making the right decision to stay put after a little over indulging the night before.
Thankfully by the draw most of this dampness had petered out and we ended up with a very light south south easterly at the start but as the match progressed this switched to a moderate chilly south westerly by the end. There were some menacing low clouds scurrying across the sky during the match but produced nothing and we even started to get a bit of blue just as forecast.
For a change, pegging this one was west from the wreck and again for a change on a small flooding tide. This meant no real following of the tide just park at the top and wait for the water to come and go. An almost flat sea with just a small swell rolling in although as the wind picked up towards the end there was a bit more movement in the water which had reasonable colour in it.
As the clock reached 8:15 the Cley Beach bus shelter was being filled with the usual pre-match banter. Where else in the world but Norfolk would you get a fully intact bus shelter surrounded by shingle. Many thanks to the swallows or house martins who use this as home each summer which I suspect prevents it being demolished. The regulars soon started to arrive including a good clutch from around the corner (Caister, Gt. Yarmouth, Gorleston and Oulton) including the rig man for a rare visit during his stint on dry land. There was the Diss man who at least had the machine for the water. Also with a similar machine was the man from Norwich who was not on Joc duty this week, the man from Ely who has to be there because of his position at the top of the league and the only local man who has to there I suppose to make it happen. A reasonable turn out and plenty to make it a competitive match.
Not much hiking to the pegs this time so no complaints and just one pleasure angler a few yards over the top to the right of the bus shelter. He hadn't had anything as we walked on the beach but shortly after the whistle he had a Dogfish which certainly got Tub's adrenalin flowing as he was next to him on Peg 1. As this was the first Club match on this stretch for a while it was all a learning curve at the start so it was the usual shingle chuck at the start. However, one or two thought the wind farm 12 miles off was their target and their leads are probably still in flight on that trajectory, you have to try don't you Bev.
Anyway from the off fish started to come in for most, Whiting at a little distance and Dabs slightly closer in but the majority painfully small. A lot just sizeable but nearly as many under 18cm particularly Dabs. Not much tide at the start but it was at least bringing the fish through and a few double and treble shots of small fish were helping to build up the cards. There was a little weed in the water which did not create too many problems except it slowed down the cast and retrieve as well as taking lines in front of your neighbour's . Edibles were also a problem, they seem to appear earlier and closer in each year, we need Henry and Kim back from their hols in Cape Verde with hot blue skies, big Bream and Sharks to scoop them up, hope you both are enjoying the rest and heat! There was also a snaggy stretch towards the wreck end where a few lost rigs may have cost one member a podium slot, we need to take note of this for the Bass Festival.
High Water came and went which surprisingly seemed to stop the fish feeding as many blank casts were being retrieved. Fish came on again as the ebb picked up but the fish were again small but at least they were putting points on the card. Towards the end it was all very close on the wreck end pegs and it was nip and tuck with one or two small whiting being picked up each cast by those in contention to keep things level. Then of course someone on end peg finds a 40cm Bass worth 63 points on his penultimate cast to blow everyone else out the water.
It was the inevitable MIKE WATTS (Peg 10) who had upted his casting rate to try and find those extra double shots of small Whiting who locked into the Bass thinking at first that it was just another edible until it surfaced and started to fight a bit. A match winning fish for 6lb 1 1/3oz from 28 fish which included 21 Whiting, 4 Rockling, 2 Dabs and that Bass. Runner-up was BEV SELF (Peg 6) with 4lb 6 1/3oz from 19 fish which included 10 Dabs and 9 Whiting. Final podium slot went to BARRY STONE (Peg 3) with 4lb 4oz from 24 fish comprising 11 Dabs, 11 Whiting and 2 Rockling.
Heaviest Flat was a 29cm (9oz) Dab to BEV SELF (Peg 6) and Heaviest Round of course that 40cm (1lb 5oz) Bass taken by MIKE WATTS (Peg 10). Altogether 173 fish (113 Whiting, 49 Dabs, 10 Rockling and 1 Bass) were recorded weighing 33lb 14oz.
Another very competitive match which would have been a lot closer if it hadn't been for that Bass. Weather was thankfully as forecast which meant fishing in relative comfort although brollies and buddies had to be moved round as the wind went more westerly. I think we're getting a little fed up with all the small fish that are coming out but at least we are catching. The Club's League is coming to a climax with everyone in the top 5 completing their 15 matches. New scores will replace current lowest score which will be dropped. Current leader is MIKE WATTS on 1222 points followed by BEV SELF on 1150 points, TONY THOMAS 1120 points, JOHN CARTER 1045 points and NEIL SMART on 1016 points. With just 4 matches left it is going to be hard to overcome Mike who is in a strong position but poor scores can be dropped for better scores and there is 5 points each for Heaviest Flat and Heaviest Round so it can be done, good luck to all!
Next Club match & Open is 7th Leg Winter Accumulator and 5th Round North Norfolk National Sea League at KELLING via Muckleburgh Collection on SUNDAY 9TH FEBRUARY fishing 10:00 – 3:00 HW 6:29 LW 1:12 4.8m. Draw from 8:15 at Muckleburgh Collection main gate. It's going to be very windy but as it's off our backs we currently have no plans to cancel so those who are fishing should be prepared to strap their brollies and buddies down. Understand the Fountain at Hythe has been postponed so any Individual wanting to fish this match should call or text myself on 07780793141, currently there are now 9 Individual pegs available … Tony T
Top 10 Individuals on the day
1...Mike Watts............6lb...1 1/3oz.(28 Fish) (Peg 10)
2...Bevan Self …………..4lb...6 1/3oz.(19 Fish) (Peg 6)
3...Barry Stone............4lb...4oz…….(24 Fish) (Peg 3)
4...Tony Thomas.........4lb...2/3oz….(22 Fish) (Peg 8)
5...Joe Bettinson.........3lb...15oz.....(23 Fish) (Peg 9)
6...John Carter….........3lb...1 1/3oz.(17 Fish) (Peg 2)
7...Neil Smart…...........2lb...15oz……(12 Fish) (Peg 7)
8...Richard Hipperson.2lb...13oz…....(13 Fish) (Peg 4)
9...Paul Tovell……….....2lb...6oz........(13 Fish) (Peg 1)

(No other weighers)


------..------