Holt SAC 2nd Leg Summer Accumulator (Report)
Sunday 21st June 2020 - Cley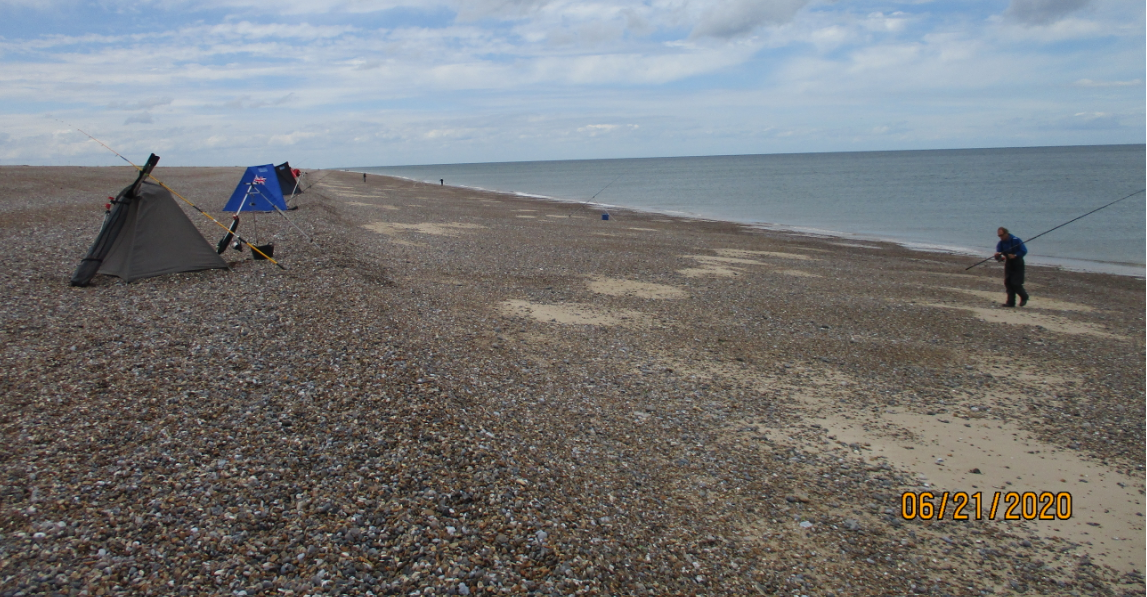 After the delights of the sand at Bacton it was back to the shingle for the 2nd Leg of the Summer Accumulator at CLEY on SUNDAY 21ST JUNE. Fishing 9:00 to 2:00 on a biggish 4.6m tide meant an early start for some to make it to Cley beach bus shelter for the draw under Holt SAC Covid-19 rules. No such rules for those in their mobile homes in the car park who were blatantly contravening Government rulings about overnighting and the two young ladies who had been kipping overnight in their motor with dead tea bags strewn on the shingle. With rods and trollies passing had awoken them to prepare their "Roger" butties but didn't seem keen to share.#
Weather was forecast to be a bit of dampness at the start clearing up later and a moderate south westerly which it duly was throughout. Sea was a flat, flat calm which had seriously sheered, not good. A slowly ebbing tide meant it was an easy walk to and from the pegs but that's about all. With the beach covered in Whitebait and with reports that over the previous few days the sea had been black with them being chased by shoal after shoal of joey's, this really was not good and proved to be the case.
Pegging was our usual stretch from the boats west towards Blakeney Point. A short walk for some but a longer one for those with short legs, sorry Asian Ace. Unlike the sand, buddies were soon erected on the shingle and all were ready to go at the whistle. As in all Club matches the first 2 Mackerel count as unspecified and once they are recorded they cannot be replaced by any bigger specimens. However, they have to be caught on baited trace and no feathering. As the tide was still fairly high at the start targeting Mackerel if you can call it that was the plan just to get a fish on the card. It was Neil Smart (peg 11) who was first to score with one of 25cm at 9:15 followed by another of 24cm 15 minutes later. At about the same time (9:20) Albert Randlesome (Peg 13) found one of 23cm and Alan Doy (Peg 10) a similar specimen.
These were followed by Charlie Frary's (Peg 15) 26cm version at 9:44 and then another of 25cm shortly afterwards at 10:03. With the Ebb well underway Joe Bettinson also found one of 26cm at 11:50 and that was it for Mackerel in this session. With the Mackerel finished the reliable flat fish were the target but they too were pretty elusive even though bait was retrieved untouched showing a lack of vermin. With no Mackerel on his card Mike Watts (Peg 9) was getting a bit concerned as this was not the norm for him but he was then able to relax at 10:51 as a 19cm Flounder came ashore but it was a long wait until near the end at 1:45 for a nice 26cm Dab. After finding a couple more Mackerel which did not count Neil Smart (Peg 11) locked into a 20cm Flounder at 11:25.
With 8 members without a fish, time was running out rapidly just like the tide and they were trying everything to find that fish. Short, long and medium range with lug, maddies and crab along with the usual bits of squid and mackerel all to no avail, not even a slight twitch on the rod. Then the gods took pity on poor old (not that old) Peter Loke (Peg 4) our Asian Ace who squirrelled out a 20cm Flounder at 1:45 with just 15 minutes left and a fish on his card. Then there was the final non-weigher to find a fish in Bev Self (Peg 1) who had been getting some online coaching from our young (not so young now) Henry and was taking advice from him to bang out at range 3 straight worm baits on his very last cast. Well that did the trick, at precisely 2:00 in came a crab plus a 31cm Founder worth 36 points or 12oz.
With that single 12oz Flounder BEV SELF (Peg 1) took the match adding to his single fish success the night before at Aldeburgh with heaviest round, an 11oz Eel, well done Bev. Runner-up was Bev's old travelling partner and mackerel man NEIL SMART (Peg 11) with 10oz from 3 fish comprising 2 Mackerel and 1 Flounder. Final podium spot went to CHARLIE FRARY (Peg 15) with 8 1/3oz from 2 Mackerel. Heaviest Flat was that 12oz Flounder taken by BEV SELF (Peg 1) and Heaviest Round a 4 1/3 oz Mackerel shared by JOE BETTINSON (Peg 14) and CHARLIE FRARY (Peg 15). Altogether just 12 fish (7 Mackerel, 4 Flounders and 1 Dab) were recorded weighing 3lb 3oz.
We all knew this one was going to be bad with the sheered water, shoals of Mackerel and Whitebait. It certainly was that with the lack of any serious round fish (i.e. Bass or Hounds), even the Dabs didn't come out to play. The lack of vermin should have helped but the fish just had not come in to feed or the presence of a few big Bull Seals made them keep their heads down in the clear water. Although not quite as bad as our worst match at Bacton at the beginning of the year.
Next match is Round 1 of the 2020 West Norfolk Challenge and 3rd Leg Summer Accumulator at KINGS LYNN -West Bank (PE34 4BZ) on SUNDAY 28TH JUNE fishing 9:30 -2:30 HW 12:20 4.5m with Draw from 8:00. This is also an Open match with bookings to Tony T on 07780793141 … Tony T
Top 10 Individuals (on the day) …
1…Bev Self ………………...0lb.12oz…,..( 1 Fish) (Peg 1)
2...Neil Smart…….........0lb.10oz.,,,,,( 3 Fish) (Peg 11
3 …Charlie Frary…..……..0lb.8 1/3oz.( 2 Fish) (Peg 15)
4...Mike Watts …………...0lb.8oz…,,,,,( 2 Fish) (Peg 9)
5...Joe Bettinson ………..0lb.4 1/3oz.( 1 Fish) (Peg 14)
6=.Alan Doy………………...0lb.3 1/3oz.( 1 Fish) (Peg 10)
6=.Albert Randlesome.…0lb.3 1/3oz ( 1 Fish) (Peg 13)
8...Peter Loke...............0lb.2 1/3oz.( 1 Fish) (Peg 4)
(No Other Weighers)
------..------