Holt SAC 2020 Mackerel Bash Report and Result
Tuesday 4th August 2020 - Cley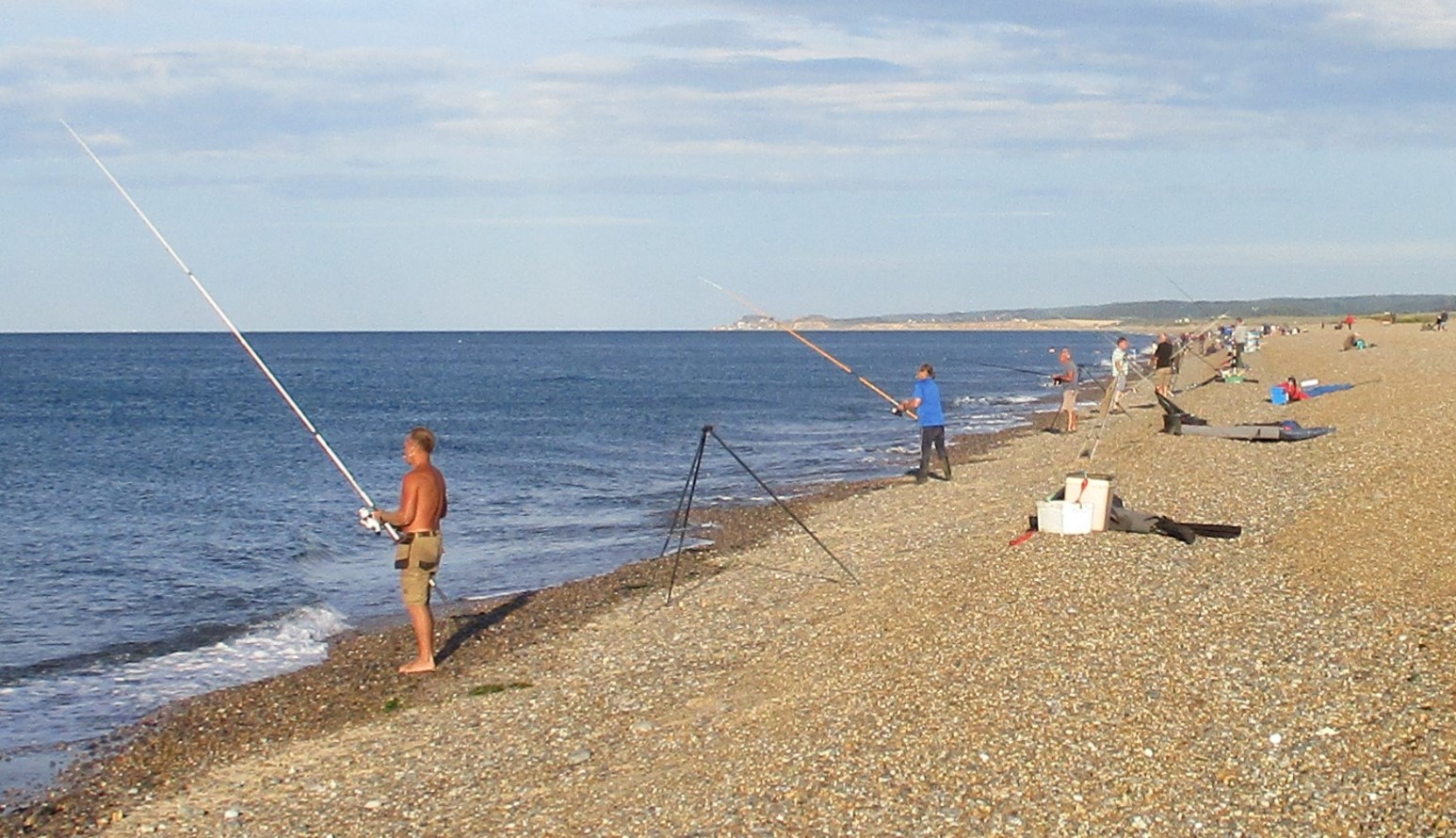 It was back to the shingle with a rare summer visit to the beach for the Club's Annual Mackerel bash. Normally a low key affair but there is always an air of Club competitiveness these days and this one was no different. There was the usual regular Mackerel bashers with a few more joining the throng except the illustrious Richard Ling who is now permanently based on the Algarve or somewhere that way, hope you are staying safe Richard, lucky sod! None of this fancy Covid-19 draw this time just pay the super pool into the box, collect your card and walk off at 6:00 (no pegs). Good to see plenty of masks being used and some distancing, thank-you!
All opted to go west of the boats where it was relatively clear of pleasure anglers and swimmers with the beach soon starting to fill up as the tide flooded. Just a few rules for this one, ONLY Mackerel count and no size limit as it's number of Mackerel that determines the winner. Only 3 Hooks/feathers allowed but to avoid cutting down trace feathers only 3 fish could be recorded if more were caught on a cast which actually did happen. Winner on the night would be the one with the most Mackerel.
The sea was a flat calm with a cooling breeze off the land and with a 8:24 p.m high water biggish tide, ideal conditions for plenty of fish BUT there were no terns working for Whitebait & Sandeels, not a good sign for plenty of Mackerel. A good tide flowing Salthouse way could mean plenty of fish but it also meant plenty of that marsh weed. Not good for some of us who like to have an occasional rest from feathering with 3 hooks on pop-ups loaded with a small piece of mackerel. With weed that was an utter waste of time with the rig getting full of the stuff and swinging round, sorry Bev!
No whistle, just cast when you are ready and even before some could get ready MIKE WATTS had one on his card which was actually sizeable (32cm) a rare event of late. A late comer Adrian Bordianu, apologies you did say you would be late Adrian!, soon came scurrying along the beach leaving his family at one end to take end peg at the other as he always likes to have end peg, like at Sutton Bridge on Sunday. He wasn't end peg for long as the beach towards the Watch House was soon filling up with a few heading Blakeney Point way with landing nets, etc, they certainly weren't after Mackerel.
Mike's fish immediately gave everybody false hope of big bags for the evening but things remained quiet for the next hour. Then a wayward cast from Smarty hauled in TOM GIBB's line only to find a small, very small Mackerel on board (Tom), that at least meant two weighers. ADRIAN BORDIANU was testing out his special homemade 5 feather rigs at range and locked into something big. Expecting 5 Mackerel to come up the beach only to find two almost sizeable Bass thrashing about in the water. Unfortunately, they didn't count like my big Mullet a couple of years ago. However, his disappointment didn't last long as he was soon holding up a string of 5 Mackerel and some decent ones amongst them. Only 3 counted but he didn't worry about that he had fish!
The light began to fade as high water arrived and went which did start to improve things. Mike Watts improved his score with a double shot and a couple of singles to give him the lead for most of the match with 5 fish but was probably getting fatigued after his continuous casting and spending the afternoon at Bacton for 20 Flounders and a few other species. KEVIN GREEN could only find a Lance early on but did eventually find 2 Mackerel. Likewise, BEV SELF found a Lance but after all his effort to make the match just could not find a fish anywhere and had to share the wooden spoon in this one. Unlike his co-conspirator NEIL SMART who eventually managed to find 3 fish after cracking off a couple of times at the start. Up and down days for Smarty these days, struggled at Sutton Bridge on Sunday but had a pick-up at Sizewell on Saturday, well done Smarty.
Ever the competitor, Adrian Bordianu he was fully aware of Mike's haul and was determined to match it. After his full house he was expecting more and they came with a double and a single shot giving him 6 fish. Tom Gibbs eventually managed to find another slightly bigger specimen to double his score. However, there was a deceptive dark horse in the pack on this evening in ROGER CUNNINGTON. A saunter along the beach half way through the match by Mr Organiser found Roger with no fish and he criticised him for being next to the winner at Sutton Bridge on Sunday and blanked and again he was probably next to the potential winner this evening and was again blanking. However, in the final hour of the match Roger managed to find 7 Mackerel to do the business, funny old game this fishing lark, my apologies Roger!
MR ORGANISER blew it on the night and couldn't get his homemade Irish feathers to work for him although the weed in the water at the end did feel like a fish and joined WILLY GROMBRIDGE and Bev to share the wooden spoon. The winner on the night was therefore ROGER CUNNINGTON with 7 Mackerel followed by ADRIAN BORDIANU with 6 Mackerel and MIKE WATTS with 5 Mackerel.
Just 25 Mackerel recorded in this one which is a lot better than some previous years. It was then back to the rather dark car park for the social distancing presentation with plenty of banter. Even Mr Watts was in high spirits even though he hadn't won and even Willy was expressing his form. Probably need to have this earlier in the summer if we run it in 2021. Anyway, a good friendly evening given the lack of a serious number of fish.
Next Club match is the Final Round of the West Norfolk Challenge at SUTTON BRIDGE on SUNDAY 16TH AUGUST and then it's back to the Shingle at KELLING on SUNDAY 6TH SEPTEMBER for the Club's Annual Charity Open under the Club's rules and procedures. More detail about the latter to follow. Apologies for a second essay on the same day but at least it keeps our Asian Ace Mr Lokie happy! … Tony T
Top 10 Individuals (on the night) …
1...Roger Cunnington……….7 Mackerel
2…Adrian Bordianu ………….6 Mackerel
3…Mike Watts ………………….5 Mackerel
4…Neil Smart……………………3 Mackerel
5...Tom Gibbs…………………..2 Mackerel
6…Kevin Green…………………2 Mackerel
(No Other Weighers)
------..------