Holt SAC North Norfolk NSL 2020 Round 3 and J Long Shield (Report)
Sunday 13th December 2020 - Cley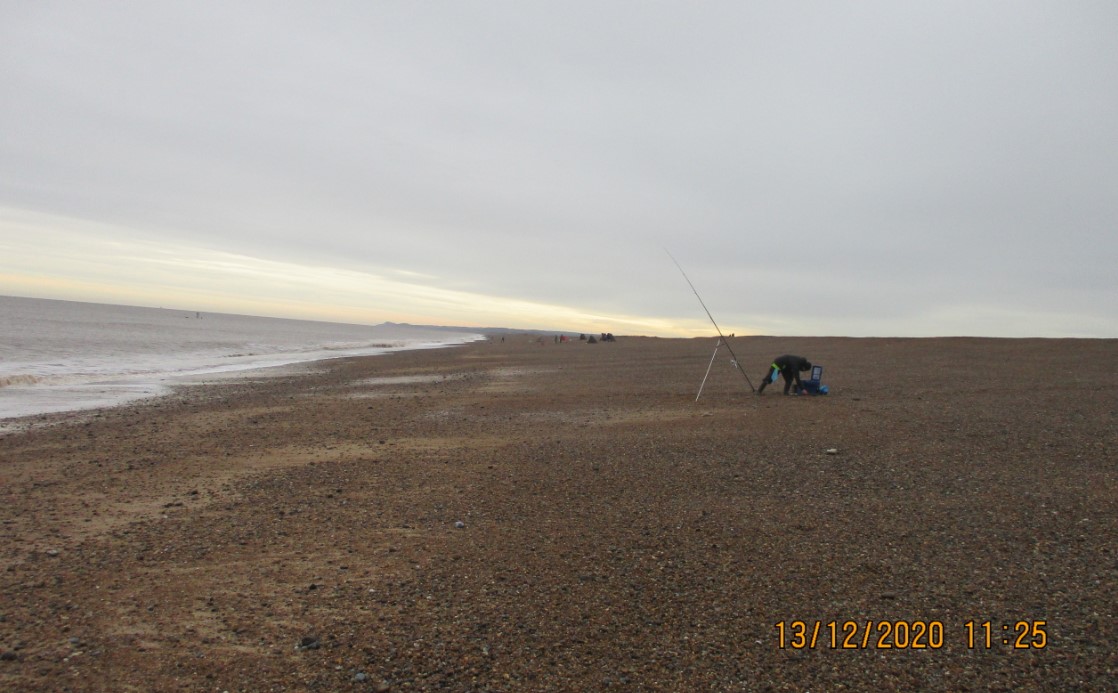 Holt SAC's Round 3 of the North Norfolk National Sea League and J Long Shield match was held at CLEY on SUNDAY 13TH DECEMBER fishing 10:00-3:00 LW 11:48 4.2m. A round of Holt SAC's NSL following hot on the heels of Round 2 at Kelling the previous weekend whilst Covid restrictions allow to ensure we don't get a backlog of matches at the start of 2021. Again a good turn out with 5 full teams and 3 Individuals and apologies again for those in tier 3 who could not attend. This tiering situation could present problems to some teams at the next round at the start of January but hopefully situation may change.
Live peg draw had been done on facebook a couple of days before so all everyone had to do was go through the drive thru at the entrance to Cley beach car pack, have their temperature checked by Tom Gibbs, place their envelope containing match fees in quarantine box and be registered by Kevin Greeen. All of this seem to work extremely well and many thanks to Tom and Kevin for making this happen. For this and the whole of the match Holt SAC Covid-19 rules & procedures applied. Once registered everyone was off to their pegs where their match cards were attached and there was very little gathering. Thanks to everyone for sticking by our Covid-19 guideline.
Overnight rain had made Cley beach road rather river-like and the car park had plenty of watery pot holes but nothing we are not used to. A dry start with gentle southerly gave an amazing sunrise as the sun started to get obscured by an impending weather system. Forecast for the day was exactly this as the southerly wind picked up during the match the wet stuff should have come at the end but was a little early. This led to a rather soggy last hour but of course again we're all used to this.
Pegging was one zone just to the east of the car park and just before the wreck. The remaining 4 zones were west from the start of the boats towards Blakeney Point. This left a gap on the beach in front of the car park for pleasure anglers and bathers, yes bathers in December! Fishing a 1 3/4hrs of the last of the ebb, over the bottom and the first of the flood meant plenty of low water sand and shingle. At least this gave easy walk and access to the distant zones A & B at the start although not quite the same at the end. This also led to the dilemma of exactly where on the shingle to set up camp as the tide would be flooding seriously at the end. Get it wrong, as I did by a couple of metres you would have to decamp at what could be busy time as the fish could be coming on as the tide picked up and a bit of dusk started to appear, another lesson learnt!
A flat sea with reasonable colour with the odd 2 to 3ft of swell helping to stir things up a bit. A strange relatively shallow beach this one which at times is difficult to judge and generally very unpredictable to know exactly where the fish are feeding at the different states of the tide. The only thing that is predictable here is the target fish which are and were Dabs, Whiting and the very odd Rockling and Flounder as well as solitary Bass at this time of the year.
At the whistle everyone was raring to go and for the majority it was the usual shingle chuckle at around 50 to 70 metres with the regular casters doing just that little bit more but not over cooking it. Get it right here and you're in the sand and mud gully in front of the sand bar and where it is expected the fish will be feeding. With those that were blasting it not enough welly and you would end up on top of the sand bar which runs the whole length of the stretch where it is expected to be barren. As expected rods began to nod from the off with end peg 1 man in North Norfolk Lads Kevin Green recording the first fish at 10:08 a double shot of nice 27cm and 30cm Whiting.
Then most began to record something although a few took the best part of an hour to record a fish. A good mixture of Dabs and even Whiting early on and some surprise to see plenty of Whiting late in the tide and just an hour from bottom. The beach was typical of the shingle which really tests even some of our top match anglers leaving them scratching their heads of what to try next as all around are hauling them in whilst they are finding just the odd one.
On one peg you may have someone continuously finding Whiting after Whiting with the odd Dab whilst next peg was bringing in Dab after Dab. A pattern that was repeated along the whole stretch which seems to indicate that it's the techniques being used by the angler rather than the fish being distributed in this way along the sea bed. As the tide neared bottom and eased the quantity and quality of the fish became poor with multiple miniature Dabs along with a few similarly sized Whiting being brought ashore. Most frustrating to all especially when even 1/0s couldn't prevent treble shots of these miniature specimens being hauled in. Half way through at around 12:25 that bonus fish came to Paul Marshall on Peg 2 in a 48 cm Bass weighing 2lb 5oz and a whopping 110 points on his card, could this be a match winning fish was probably on his mind at the time!
With a couple of hours to go it became apparent why there was a good gap between Zone D and Zone E in front of the car park as a couple of heads appeared bobbing in the water's edge. These were none of the customary seals that were patrolling up and down but two humans, two young ladies and not in wet suits but in straight swim wear and frolicking about in the water for some time. Surprisingly these were replaced by three further ladies doing the very same thing. We all thought they were mad but then the water temperature was probably higher than the air temperature which we were subjected to so who then is really mad. Plenty of space, so there for the odd pleasure angler who frequent this beach and we got one of those. Not exactly a pleasurer angler but retired captain of the now defunct Charlies Angels. Don't really know why he was there doing a bit of miniature Whiting bashing when his normal hook size is above 3/0s probably having withdrawal symptoms from the Sea League. No problem in having your team back next year Charlie and you could even fish the Skeggie Final.
Apart from these distractions fish were still coming in at a slow rate but the majority were painfully small. As the tide started to flood and move a bit more so did the fish and quality improved but not drastically. With the sun starting to dip the hint of dusk woke up the better sized Whiting and the incoming tide enticed them closer in and a number of the cards started recording a few decent Whiting. Not huge but 27,28,29cm Whiting are better points than 18,19,20cm Dabs and certainly helped to push on some totals.
It was numbers of fish that was going to do the business at the whistle in this one. The only man who could repeatedly do this here is England International Big Catch Tackle's HENRY RANDELL (Peg 25) who treated this venue as an extension of Alderman Peel High in the Noughties. Homework was replaced by 2-3 hours on Cley beach talking to the fish and learning exactly where, how and when they feed and looks like he got an A+ in this. Showing us all again how it is done taking victory with 10lb 4 2/3oz (494 points) from 54 fish comprising 33 Whiting and 21 Dabs and the only person to fill his card. Runner up was Henry's regular adversary this winter in Gorleston Tackle's BEVAN SELF (Peg 29) with 9lb 7 2/3oz (455 Points) from 45 fish comprising of 32 Whiting and 13 Dabs. Final podium slot went to another Gorleston Tackle member ALAN DOY (Peg 22) with 8lb 3 1/3oz (394 Points) from 37 fish comprising 24 Whiting and 13 Dabs.
In the Teams, it was the 2018 winning team BIG CATCH TACKLE with just 7 penalty points from 2 x Zone wins, a Zone 2nd, a Zone 3rd with a 5th place dropped. Runners up were NORTH NORFOLK LADS with one Zone win, a Zone 2nd, 2 x Zone 3rds with a Zone 4th dropped. Final podium team place went to GORLESTON TACKLE with 9 penalty points from a Zone win, a Zone 2nd, 2 x Zone 3rds and 5th place dropped.
The Heaviest Flat fish was a 28cm (8oz) Flounder taken by ADRIAN BORDIANU (Peg 26) and Heaviest Round that 48cm (2lb 4 2/3oz) Bass taken by PAUL MARSHALL(Peg 2). Altogether there were 778 fish (320 Dabs, 449 Whiting, 2 Rockling, 5 Flounders, 1 Codling (18cm) and 1 Bass) were recorded weighing 152lb 4oz.
In the Zones, KEVIN GREEN(Peg 1) of "North Norfolk Lads" took Zone A with 384 points from 38 fish followed by PAUL MARSHALL (Peg 2) of "Big Catch Tackle" with 376 points from 31 fish. Zone B was taken by DAVE READ (Peg 12) of "Big Catch Tackle" with 264 points from 25 fish followed by CONSTANTIN BOTEZATU (Peg 13) of "Team Manik" with 248 points from 25 fish.
Zone C went to LUKE PEARSON (Peg 14) of "Angling Addicts" with 262 points from 30 fish followed by WILLY GROOMBRIDGE (Peg 13) of "North Norfolk Lads" with 242 points from 32 fish. Zone D was taken by ALAN DOY (Peg 22) of "Gorleston Tackle" with 394 points from 37 fish followed by TONY THOMAS(Peg 23) of "North Norfolk Lads" with 382 points from 30 fish. Zone E was taken by HENRY RANDELL (Peg 25) of "Big Catch Tackle" with 494 points from 54 fish followed by BEVAN SELF (Peg 29) of "Gorleston Tackle" with 455 points from 45 fish.
Another cracking round of the North Norfolk NSL with lots of small fish. Finding quality fish was hard so the game plan was to record as many sizeable fish as possible so it was busy busy busy. Finding a bonus fish can be match winning but not always as Paul Marshall found out with a 48cm Bass half way through but Kevin Green was on the case catching and recording fish throughout and overhauled Paul for Zone A win on his very last cast with a 19cm Dab and 29cm Whiting. As they say it's never over until the fat lady sings. Many thanks to Tom Gibbs & Kevin Green for doing the registration and Mike Watts for call out of the Cards at the end.
Next Round 4 is supposed to be at SALTHOUSE on SUNDAY 10TH DECEMBER but with the introduction of Tier 4 for the area this is now doubtful and we will have to reschedule. All will be informed when we know more.
Have a Great Christmas and a Happy New Year to you all and please abide by the Tier 4 rules and Stay Safe!!! … Tony T
Top 10 Individuals (on the day) …
1...Henry Randell.......10lb.4 2/3oz …(54 Fish) (Peg 25)
2…Bevan Self………….....9lb 7 2/3oz….(45 Fish) (Peg 29)
3...Alan Doy……..………...8lb.3 1/3oz...(37 Fish) (Peg 22)
4...Kevin Green...........8lb.0oz..........(38 Fish) (Peg 1)
5...Paul Marshall….......7lb.13 1/3oz..(31 Fish.) (Peg 2)
6...Adrian Bordianu……7lb.3 2/3oz…..(30 Fish) (Peg 26)
7...Mike Topping.........7lb.1/3oz….....(33 Fish) (Peg 6)
8...Richard Hipperson..6lb.7 2/3oz…..(36 Fish) (Peg 4)
9=.Mike Watts............5lb.14oz........(33 Fish) (Peg 27)
9=.Tony Thomas.........5lb.14oz……...(30 Fish) (Peg 23)
Teams on the Day …
1...BIG CATCH TACKLE ………….……...7 Points
2…NORTH NORFOLK LADS.………...….8 Points
3…GORLESTON TACKLE …………….....9 Points
4…TEAM MANIK…………………………....13 Points
5... ANGLING ADDICTS ……………….15 Points
Teams to date after 3 Rounds …
1...BIG CATCH TACKLE ………….……..23 Points
2=.NORTH NORFOLK LADS.………….29 Points
2=.TEAM MANIK…………………………...29 Points
4…GORLESTON TACKLE ……………...31 Points
5...ANGLING ADDICTS …………..……45 Points
------..------