Holt SAC Nelson Cup (Report)
Sunday 7th October 2018 - Gorleston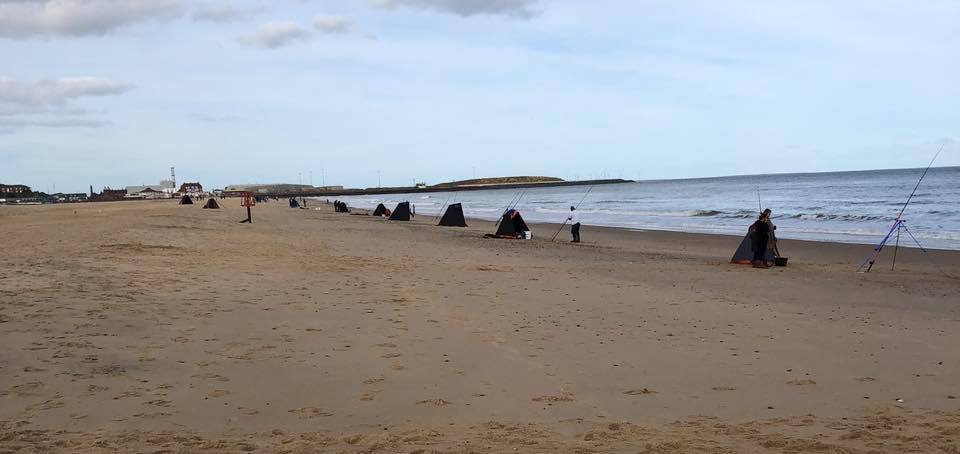 Holt SAC's Nelson Cup Club match was held at GORLESTON on SUNDAY 7TH OCTOBER fishing 10:00-3:00 with LW 2:27 4.7m at 10:10. The match was run in conjunction with the Gorleston Tackle Open where 18 Club members made up the 60 strong turnout for the match. This association worked extremely well and the Club would like to thank Jason for allow us to do this as well as Clyde, Sonia and Tuckie for a well organised match and anyone else who was involved.
Pegging for the match was the majority of the sandy Prom beach east to 2-3 bays past the wreck with 6 zones of 10 pegs. The draw was at the Marina Bay Café on Gorleston Prom where all were able to stock up on carbohydrates and liquid refreshments for the up and coming challenge. For those that had drawn the low order pegs it was just a saunter across the sand and for the rest it was a short drive to Marine Parade and Marine Parade car park, no real sweat for any one.
Fishing the ebb at Gorleston is always ideal but there had been concerns that the recent calm weather had left the water too shear for some decent catches. However, nature had come to the rescue with some strong north to north easterlies out in the North Sea over night to give a nice lump on the sea and put some real colour back. Forecast for the day had predicted a moderate north easterly with broken clouds but no dampness which was about spot on although any serious wind did not materialise.
The tide was beginning to ebb nicely at the whistle with a good swell rolling in. It was obvious immediately that there was going to be plenty of sport as buckets started to be filled up and match cards being hauled out. The ever present Dabs were there and those who were falling a bit short were finding them and those with a bit of distance were picking up the Whiting. There were also a few handy Bass around and these were a big bonus when the other fish are mainly Dabs and Whiting. This pattern continued throughout the match but the Whiting started to show in numbers in the final hour of match either because they had come in range of others or because the sinking sun had enticed them into feeding and coming closer inshore.
Club members were spread across the whole stretch and there initial objective was to take top spot in each section of 10. For some this was achieved and for others it was just one of those "nearly" days and another notch in their learning curve. In Zone 6 with a raft of top match anglers, clubman Adrian Bordianu (Peg 55) thought he was in with a chance with two decent Bass and 483 points only to see his hopes dashed at the end by 2 points by Craig Buy (Peg 58) with 485 points, just one more fish Adrian! In Zone 5 clubman Tony Thomas (Peg 44) in front of the wreck could only find Dabs and was locked in battle with "Whizzy" (Peg 47) who was finding some reasonable Whiting to take a commanding lead. However, a change of tactics to a bit more distance saw TT overhaul "Whizzy" with treble and double shots of Whiting which quickly dried up leaving him having to be satisfied with Zone runner-up spot.
With 6 Club member in Zone 4 it was obvious one of them would stand a chance of taking the Zone and this was duly taken by Mike Topping (Peg 32) with 441 points and clubman Richard Jacobs (Peg 37) runner-up with 373 points. Zone 3 was slightly tougher for 3 Club members in it but Mark "Kipper" Colman (Peg 24) managed third place with 310 points. Zone 2 was a real hectic Zone with 4 Club members drawn here but clubman Gary Medler (Peg 17) took full advantage of his casting abilities to take the Zone with 592 points but it was close with Rob Tuck (Peg 13) using similar casting tactics being runner up with 577 points. In contrast, clubman Andy Gallacher (Peg 12) using slightly closer techniques took third place with 488 points.
Then there was Zone 1 with just one Club member here in Mike Watts who knew every inch of this beach being born just yards from it and spent a lot of his childhood here many moons ago. Having drawn Peg 1 we all knew he was hot favourite to do the business and he did not disappoint. He knew exactly how to operate this one with 9 minute casts at distance and he set off like a train with doubles and trebles from the off. There was no stopping this train as he demolished the rest in the lower half of the Zone and with steam still pouring from between his ears at the end he amassed 719 points to easily take the Zone.
With such a score he easily took the match and his 57 fish also gave him most fish in the match but at the end he knew he'd earn it as he was absolutely buggered, well done Mike! Clubman Gary Medler also took the runner up spot in the match and a few other Club members were near the top, well done everyone!
Many apologise for the late posting of this report. The next Club Match and Open will not be until Sunday 4th November on Gt Yarmouth South Beach fishing 10:00-3:00 LW 12:09 4.5m. This will be Round 2 of the North Norfolk National Sea League with the draw at the Monument (NR30 3PX) from 8:30 … Tony T
Top 10 Club Individuals (on the day) …
1...Mike Watts..........14lb.15 2/3oz…(Peg 1)
2...Gary Medler……..12lb.5 1/3oz…..(Peg 17)
3...Andy Gallacher...10lb.2 2/3oz…..(Peg 12)
4...Adrian Bordianu..10lb.1oz………...(Peg 55)
5...Mike Topping……..9lb.3oz………….(Peg 32)
6...David Read...........7lb.12 2/3oz….(Peg 57)
7...Richard Jacobs…..7lb.12 1/3oz….(Peg 37)
8...Tony Thomas.......7lb.3oz…………..(Peg 44)
9...Mark Colman........6lb.7 1/3oz…….(Peg 24)
10.Russell Taylor…...4lb.10 1/3oz…..(Peg 34)
------..------