Holt SAC 2nd Leg Winter Accumulator (Report)
Sunday 5th January 2020 - Gorleston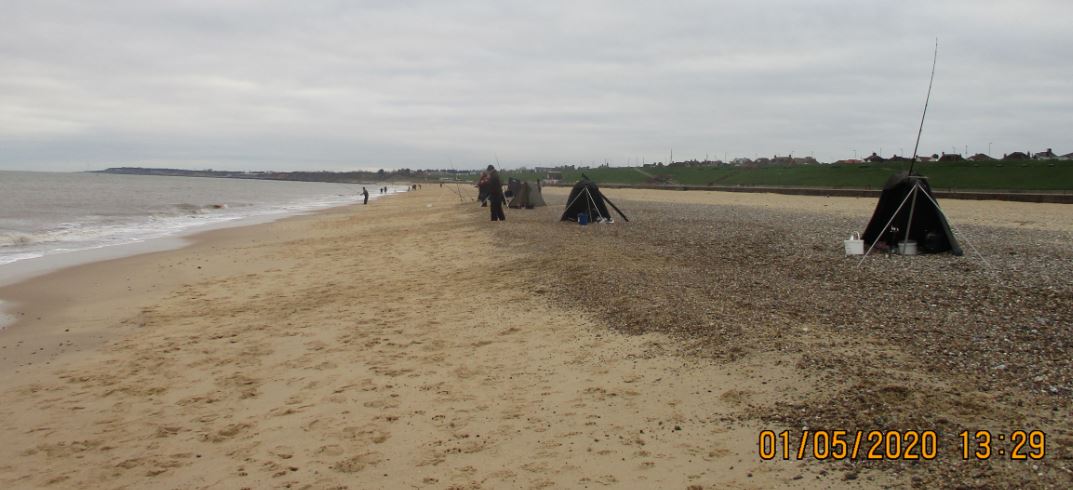 Holt SAC's 1st Leg Winter Accumulator Club match was held at GORLESTON on SUNDAY 5TH JANUARY fishing 10:00-3:00 LW 9:43 4.3m. A low turn out for this one with some of the regulars with the big boys down south, building their mussels at Stiffkey or on pregnancy hot line. Congratulations to June & Charlie Frary on their 3rd grand child who arrived during the match. Many thanks to Marina Bay café for use of their premises for the draw.
Pegging for this one was south from the Ravine access on the promenade just a short walk across the sand from the café. Fishing from the bottom up meant parking on the high water line and wait for the tide to come to you, none of this retreating backwards like on our favourite shingle beaches. Weather for the day was overcast with a light cool southerly and none of this dampness. The sea was almost flat with a very light swell coming in to make it interesting and sort of comfortable match conditions.
After recent experiences at this venue everyone was expecting at the whistle to be plagued by undersize fish and getting fish in size was going to be the challenge. As buckets were being filled and fish started to come ashore it was soon obvious that this prophecy was going to be true. At the early stage it was hard for some to even find a fish and when they eventually did score only to have it painfully undersize. Those that were catching didn't fare any better with doubles and even trebles were being put back without reaching the card.
Small Whiting at the start with the very odd decent Whiting which made a significant entry on the card. As the tide began to flood the Dabs started to increase in number but again very small and a serious number just under but there were a number of good ones in the low 20cms to register. Everyone was using their own special techniques of distance, rigs and bait to try to encourage the bigger specimens. Unfortunately when you start catching 11cm Whiting in a size 1 then that is not playing the game. Bait selection did influence what was caught as bunches of straight maddies did attract a nice schoolie Bass for some reasonable points but the rest of its squad were very elusive.
In the end it was the catching of sizeable fish a cast that rewarded the metronome style of MIKE WATTS (Peg 6) the victory with 5lb 2oz from 32 fish comprising 27 Whiting and 5 Dabs. Runner-up and recovering some of his Eastbourne magic was NEIL SMART (Peg 4) with 4lb 0oz from 21 fish comprising 17 Whiting and 4 Dabs. Final podium place went to MIKE TOPPING (Peg 3) beating JOE BETTINSON (Peg 7) by just 1 point with 2lb 9oz from 16 fish comprising 13 Whiting and 3 Dabs.
Heaviest Flat was a 26cm (6oz) Dab taken by MIKE WATTS (Peg 6) and Heaviest Round a 31cm (10oz) Bass taken by TONY THOMAS (Peg 1). Altogether there were 128 fish (92 Whiting, 34 Dabs and 2 Bass) recorded weighing 20lb 10oz.
A match that had excellent conditions which was as expected infested with small fish. In hindsight we should have either selected one of our better venues with bigger fish or tried a completely new venue for the Club. Hopefully we will remember this for next year.
Next Club match is Round 4 of the North Norfolk National Sea League at SALTHOUSE on SUNDAY 12TH JANUARY fishing 10:00-3:00 HW 7:25 4.8m. Draw from 8:15 at the sea end of Salthouse Beach Road (NR25 7XW) … Tony T
Top 10 Individuals (on the day) …
1...Mike Watts.....5lb...1 2/3oz.(32 Fish) (Peg 6)
2...Neil Smart......3lb.15 2/3oz.(21 Fish) (Peg 4)
3...Mike Topping..2lb.8 2/3oz...(16 Fish) (Peg 3)
4...Joe Bettinson..2lb.8 1/3…....(17 Fish) (Peg 7)
5...Tony Thomas..2lb.5oz……....(13 Fish) (Peg 1)
6...Charlie Frary..1lb.12oz........(12 Fish) (Peg 2)
7...Bevan Self.....1lb.4 1/3oz....(10 Fish) (Peg 5)
8...John Carter....1lb.2 1/3oz....( 7 Fish) (Peg 8)


------..------