Holt SAC Cockaday Cup (Report)
Saturday 26th September 2020 - Gorleston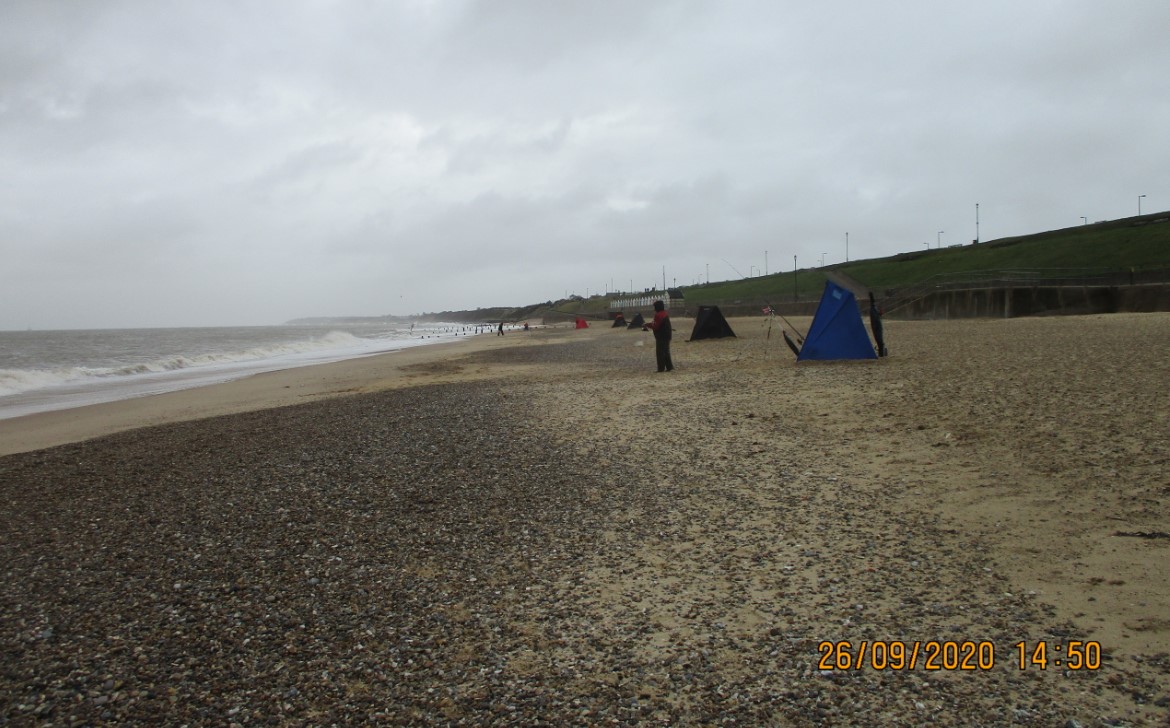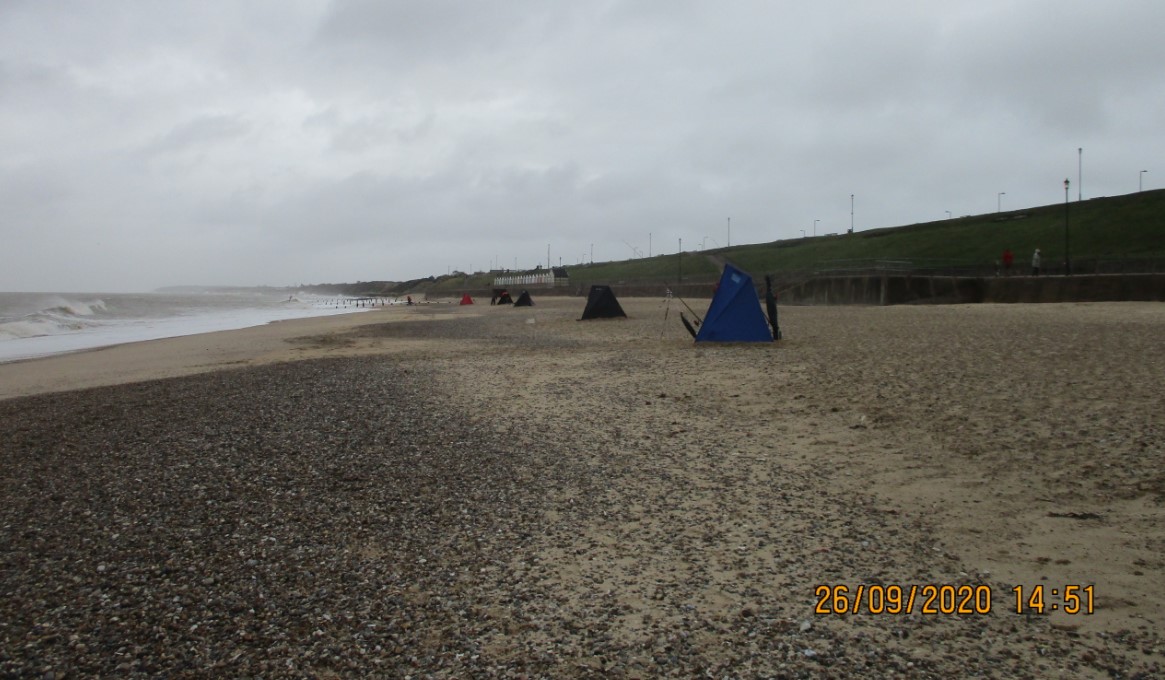 Holt SAC's Cockaday Cup Club match was held at Gorleston on Saturday 26th September fishing 1:00 to 6:00 p.m. on a small flooding tide. This was a extra Club match slipped in to the fixtures to check out Bacton on a small tide fishing over the top in contrast to the usual tide state which we fish at this venue. The idea of this was to give us some practice at this venue 2 weeks before our first round of the North Norfolk National Sea League at Bacton with similar tidal conditions. Well that was the plan but the weather gods had other ideas and decided to park an intense low pressure system in mid-North Sea producing north westerly winds up to 60 mph for 24 hours beforehand accompanied by continuous rain for 48 hours. This meant Bacton was totally unfishable and the strength and direction of the wind meant that our backup venue of Kelling on the shingle was similarly affected.
The sea along the shingle was such that led our young crabber Henry to state he'd never seen the sea so bad and he's seen a lot. It was so bad on the shingle that Salthouse's shingle bank was preached and the marshes yet again flooded. This was a very small tide, good job it didn't happen 7 days early on the springs as it would have been horrendous for those living there and Cookies would have been again inundated. With such conditions we had no other choice to rearrange at Gorleston were we were able to tuck ourselves away on the beach near Jay Jays. Even so it was still quite gusty and the rain was persistent almost throughout but nothing us hardy match anglers couldn't cope with.
However, we were well prepared for the move with notice been given 24 hours beforehand and even our two log distance travellers from Ely and the Humber were game for it. As for the others, with most of our regulars coming from around Gt. Yarmouth that was no problem and all were at the Marine Parade Car Park well in time for the 1:00 p.m. kick off. Well nearly all with one or two not fancying the wind and rain and one succumbing to a short bout of cold after an early morning session digging lug and wrigglers on the North side at Morston.
Pegging for this one was from the last groyne to the left towards Jay Jay's and many thanks to Bev Self for using his young legs to do this. With a relatively small turn out the draw was done quickly under the Club's Covid-19 rules and procedures and many thanks for Tom Gibbs for being on "mask patrol". At last we have everyone using a mask many thanks to all for complying.
Not a long walk to the pegs and easy to set up in the sand but prefer the shingle. It was important to ensure setting up above the last high water mark as high water was after we finished at 6:24 p.m. and it was a bit surgey but no one got caught out although it was close. A nice lump on the sea and plenty of colour, we all knew it could be a Whiting Fest and it certainly turned out that way. At the whistle it was just the gentle Whiting chuck and none of this hitting it to the horizon. If the Whiting were there it was going to be speed that was going to win the day and missing out on fish early on would make it difficult to catch up.
Within 10 minutes of the start Whiting were being recorded by Tom Gibbs on end peg 1 with a small 25cm version and Richard Hipperson at the other end peg 10 with a slightly bigger one of 26cm. For some it was a slow start but for others the double and then treble shots of Whiting were coming ashore. A few had sussed out the technique to bring these multiple fish ashore which for them continued throughout the match. However, one or two of our more experienced members struggled to find numbers of fish even though this could be said to be their local beach. It was predominantly Whiting being recorded with the odd other species in particular a nice points earning 35cm Bass to Tom Gibbs at 2:00 p.m. giving him a healthy 43 points on his card, well done Tom!
No real problem with weed although there was a little and the customary Seal patrolling up and down just yards off the gutter but didn't create any problems. Being a small tide there was no real tide flow and even towards the end when tide and wind combined there was not too much movement. The wind and rain tried to dampen the day but being true match anglers enthusiasm was there and all of this was in the background.
As the afternoon progressed it was clear who was piling up the points as he could be seen throwing back bucketful of Whitings throughout. At the end it was that man who treats this beach as local after fishing here for many years as a kid who did the business in the fishing metronome MIKE WATTS (Peg 7) with 23lb 3oz from 75 fish. Consisting of a solitary Dab and 74 Whiting up to 36 cm and many in the 30 cm range. Runner up and someway behind was the Humber long distance traveller DAVE BURR (Peg 8) who put his Black pumping efforts the day before in horrendous wind and rain to good use along with fresh Mackerel recording 15lb 1oz from 50 fish. All his fish were Whiting up to 34 cm although the majority didn't match the stamp of the winner, thanks Dave for the fresh Mackerel! Final podium place went to the man who said at the start he was going to have a good day particularly as he'd drawn end peg and that was RICHARD HIPPERSON (Peg 10) with 14lb 10oz from 51 fish. Comprising of 2 Dabs and 49 Whiting up to 34cm although he only had one other in the thirties but he does need to take a calculator on to the beach next time.
Heaviest flat was a 31cm (12oz) Flounder to NEIL SMART (Peg 4) and Heaviest round a 35cm (14oz) Bass to the Bassman TOM GIBBS (Peg 1). Altogether 317 Fish (302 Whiting, 8 Dabs, 3 Bass, 1 Codling and 1 Eel) were recorded weighing around 93lb 10oz.
Another competitive Club match where we just managed to slip through a kink in the weather where we could find a beach in Gorleston where we could fish given the conditions. It was good at last to have multiple fish on our cards even though they were Whiting with some relatively small although there were surprisingly a lot of decent fish plus that rod rattling experience again. A small tide at Gorleston normally does not work well but for a change the luck was in for most of us. Many thanks to everyone for sticking by the Covid-19 rules this time particularly in wearing masks at specific times. Also many thanks to all for supporting the Club in such testing conditions not only on the beach but getting there.
The next Club match was supposed to be merged in to the Gorleston Tackle Open at Gorleston but that has been cancelled. However, the Club will still run its match for the Nelson Cup at GORLESTON on SUNDAY 4TH SEPTEMBER fishing 10:00 – 3:00 HW 10:59 5.0m. Draw will again be in the Marine Parade Car Park (NR31 6EZ) above the wreck from 8:30. Bookings to TT on 07780793141. The following weekend will be the first round of the North Norfolk National Sea League at BACTON. New teams are welcome and if interested please contact above number … Tony T
Top 10 Individuals (on the day) …
1...Mike Watts…………….23lb. 2 2/3oz…(75 Fish) (Peg 7)
2…Dave Burr……………..15lb.1 1/3oz…..(50 Fish) (Peg 8)
3...Richard Hipperson…14lb 10 1/3oz..(51 Fish) (Peg 10)
4...Tom Gibbs…………….13lb.11oz........(43 Fish) (Peg 1)
5...Bev Self………………….9lb 9 2/3oz……(34 Fish) (Peg 5)
6…Tony Thomas…………..9lb 4 2/3oz…..(34 Fish) (Peg 3)
7…Neil Smart.……………...4lb.7 1/3oz…..(15 Fish) (Peg 4)
8…John Carter…..………….3lb.14 1/3oz…(15 Fish) (Peg 9)
(No Other Weighers)
------..------