Holt SAC Nelson Cup (Report)
Sunday 4th October 2020 - Gorleston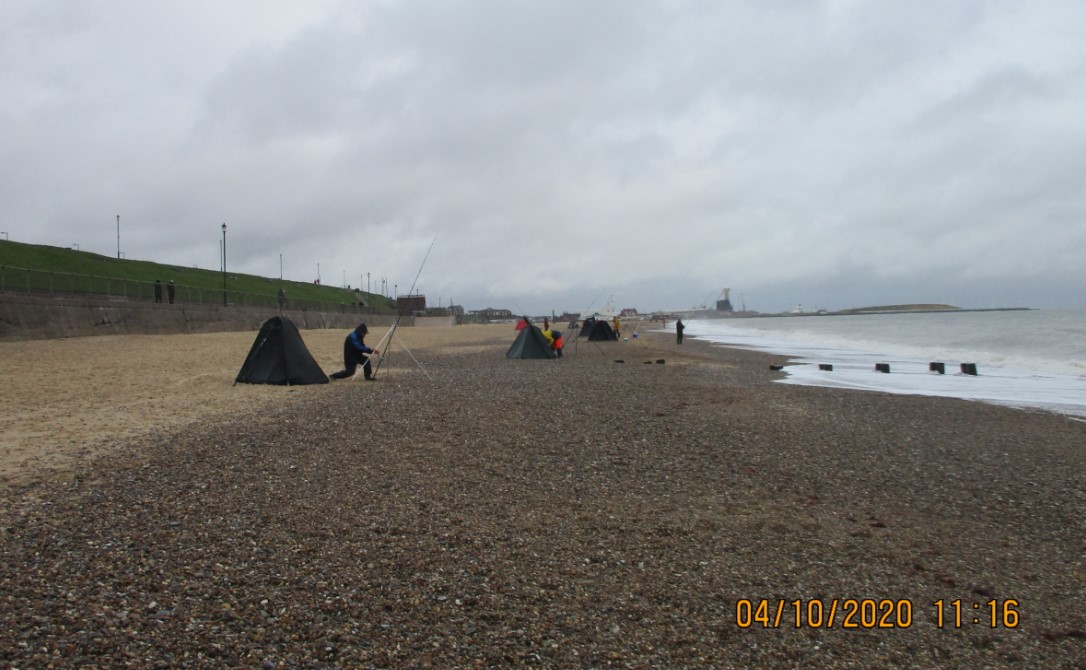 Holt SAC's Nelson Cup Club match was held at Gorleston on Sunday 4th October fishing 10:00 to 3:00 p.m. on a big ebbing tide. A match that was intended to be combined with the Annual Gorleston Open which was cancelled and it was decided to still go ahead with it as a pure Club match. After the weather gods stuck an intense low pressure system in mid-North Sea giving us horrendous winds on the shingle last weekend, they once again tried to disrupt us by enhancing storm Alex and centring it on England. Fortunately, it was far enough west to seriously drop the wind on our coast and take all of the easterly out of it. A few thought it was shame as plan B was the North Norfolk shingle where our Henry found over 1000 points of good size Bass the day before in the "fishing for Benny" match, well done Henry!
Anyway we stuck with Gorleston hoping for a stream of Whiting as in the previous week's match. No wind at the start but it did pick up towards the end although tucking ourselves on the South end of Gorleston beach meant some shelter from the almost southerly breeze. Unfortunately, not much help with the dampness which lasted almost throughout and a lot of this fine stuff which gets everywhere. Pegging for this one was from the penultimate north groyne towards Jay Jays Café which was an extra bay towards the wreck than previous week's pegging as the higher order pegs in that match produced most fish.
A slightly better turn out than previous match with a couple of the new regulars missing. Many thanks to everyone who have taken on board the Covid-19 requirements of social distancing and all using a mask, thank you! Draw was done and everyone was contemplating a busy time and to emphasise this expectation additional extension cards were handed out, was this a big mistake? After Mike Watts 75 fish last match some had him in their sights for this match and were determined to turn down the "wattage" on this fishing metronome. With a good colour in the water, a reasonable swell and fishing a bigger tide over the top they were certain this could be achieved.
Starting an hour before high water meant careful selection of buddy site particularly on the high order pegs. As it happened nobody got it wrong and in fact the tide hardly moved up the beach in that last hour. At the whistle all were soon in Gorleston mode and waiting for the rods to rattle. We all knew there were fish there but getting the range right was key at this venue if you want multiple fish per cast. First to record a fish was Bev Self on end peg 12 with a 24cm Bass at 10:07 which came as bit of a surprise as he was expecting Whiting. At the same time right next door to him on peg 11 was Mike Topping who did have Whiting, a treble shot all in the high twenties and 42 points on his card. Not a bad start but then up until 11:10 he reeled in 5 treble shots of whiting on consecutive casts, really not a bad start for the first 1hr and 10mins fishing.
Next to find a fish was Dave Wright (Peg 7) with a 27cm Whiting at 10:10 who also gets top marks for the best legible card of the match but that's as far as it goes, no extra points. It looks like Mike Watts on next Peg 6 had a 25cm Whiting at around 10:16 although it was difficult to decipher his first fish time from the scrawl on his card. This is the norm for our fishing metronome in total contrast to Dave's neat card and of course it's catching fish that wins the day not smart cards. This was a battle between Dave & Mike that ensued throughout the match trading single, double and treble shots of Whiting during the whole session. This contest went up to the wire with Dave thinking he had got it in the bag with 524 points and a 6 point lead over the metronome on the penultimate cast. However, Mike had a final trick on his last cast with a 27cm, 28cm and 29cm Whiting treble shot on that last cast whereas Dave could only muster a single 26cm Whiting allowing Mike to win their battle by 29points.
At the same time as this battle was starting up, young Jack Topping (Peg 2) managed to find a small 25cm Schoolie at 10:12 followed by another at 10:40 and a further 3 in the last 2 ½ hrs, none of which were large but points on card. Shortly after this at 10:20 Neil Smart (Peg 1) kicked off his card with 22cm Whiting as did Tony Thomas (Peg 10) with a 28cm and 30cm Whiting double shot and Richard Hipperson (Peg 5) with a 23cm Dab. However, for others it took a bit longer to get started, until 10:33 for Willy Groombridge (Peg 8) with a 22cm Dab who then proceeded to go off like a train with double and treble shots for the rest of the match. For Charlie Frary (Peg 9) it was a really slow start having to wait until 11:15 for a small Dab and Whiting double shot. For the other contender JC (Peg 4) on his sort of local beach who did not want a mention, he had a real 'mare day and couldn't find a whiting just 2 small Dabs and a small Bass and went home in disgust at the end without even getting an ice cream.
As slack water arrived things slowed up for most which gave the opportunity for TT to try out a few wrigglers. A move that was questioned by Club member Jack Akester until he realised it was slack water, out promenading with the missus, good to see you out and about Jack. Unfortunately those maddies could only find a couple of Dabs and no lucky Bass so it was back to worm and fish for the rest of the match. Once the tide picked up again the fish were coming through but this time there was no gutter bashing although there was plenty of colour but probably the 4-5ft swell pushed them out a bit.
In the end the damage had been done by MIKE TOPPING (Peg 11) with his raft of Whiting treble shots in the first hour and half, taking victory with 12lb 13oz from 43 fish comprising of 41 Whiting, a Dab and a nice 35cm Bass. Runner-up for a change was the fishing metronome MIKE WATTS (Peg 6) with 11lb 13oz from 42 fish comprising 39 Whiting and 3 Dabs. Final podium slot went to the man who had only just lost his battle with the runner-up in DAVE WRIGHT (Peg 7) with 11lb 3oz from 40 fish comprising 37 Whiting and 3 Dabs.
Heaviest Flat fish was a 28cm (8oz) Dab taken by WILLY GROOMBRIDGE (Peg 8) and Heaviest Round a 35cm (14oz) Bass to MIKE TOPPING (Peg 11). Altogether 239 fish (195 Whiting, 36 Dabs and 8 Bass) were recorded weighing 66lb 4oz.
Another good competitive Club match with plenty of fish for most although not the 75 fish previous week at the same venue. At the end it was obvious that the majority of the fish were at range as the top 4 were all good casters. It will be continuation on the sand for the next match, the Holt SAC North Norfolk National Sea League Round 1 and Sid Ernie Cup at BACTON via Castaways fishing 10:30 – 3:30 on a small flooding and then ebbing tide … Tony T
Top 10 Individuals (on the day) …
1...Mike Topping……….12lb. 13oz…….(43 Fish) (Peg 11)
2…Mike Watts…………..11lb.12 2/3oz..(42 Fish) (Peg 6).
3...Dave Wright………..11lb 3oz…….….(40 Fish) (Peg 7)
4...Bev Self………………10lb.11oz........(37 Fish) (Peg 12)
5...Willy Groombridge….7lb 7 1/3oz…(24 Fish) (Peg 8)
6…Tony Thomas…………3lb 9 2/3oz…..(16 Fish) (Peg 10)
7…Charlie Frary.…………2lb.3 1/3oz…..(11 Fish) (Peg 9)
8…Richard Hipperson….3lb.14 1/3oz…( 8 Fish) (Peg 5)
9…Jack Topping…………..3lb.14 1/3oz…( 9 Fish) (Peg 1)
10.Neil Smart……………..3lb.14 1/3oz…(15 Fish) (Peg 9)
------..------