Holt SAC North Norfolk NSL 2020-21 Round 5 and 2nd Leg Winter Accumulator(Report)
Sunday 11th April 2021 - Gorleston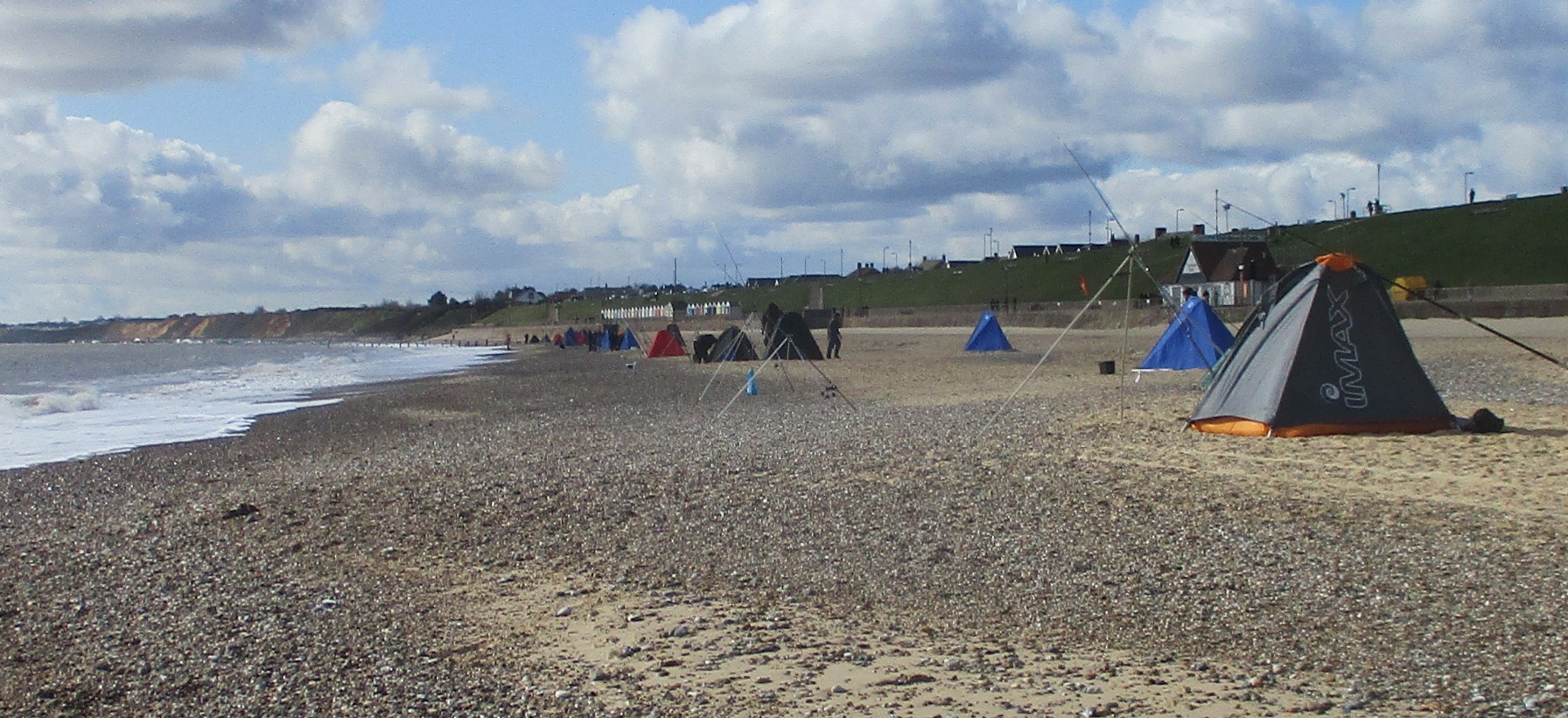 After the pounding at the last match at Salthouse and with similar bitterly cold northerlies forecast for the weekend it was decided to switch the North Norfolk NSL Round 5 match from Kelling to GORLESTON on SUNDAY 11TH APRIL fishing 10:00 to 3:00. Kelling would have been fishable and I know a few were disappointed not to be fishing that venue. However, the majority would have struggled so moving to an east facing beach meant it being comfortable for everyone and a promise of fish on every card which is what happened. In addition, we did have some shelter from the bitterly cold wind and a sea without all that pounding.
Although Mr Organiser was a tad late, my apologies but nearly everyone was at Marine Parade car park just after 8:00 for the usual Covid-19 registration with the draw having been done previous Friday evening. A solid turn out with 5 full teams and one Individual which seems to be the norm these days. Many thanks again to Tom Gibbs and Kevin Green for conducting usual temperature check, fees collection and registration.
Pegging for this one was 30 pegs from just left of the car park and north from the last groyne on to Gorleston beach. None of that horrible shingle to traverse over, just a prom or hard sand to saunter along. Fishing just after top down is ideal at Gorleston so finding where to set up was easy with plenty of sand behind us. This is of course dog city that is the four legged variety and there were certainly plenty of them about of different shapes, sizes and lengths. Normally they are scurrying around between rods and peeing up your buddy but thankfully on this day they were a little more controlled.
Apart from the cold, the weather was as forecast with unfortunately plenty of sunshine to deter a few fish and the odd snow/hail shower drifting in from the north but thankfully the wind did ease towards the end. Reasonable colour in the water and being a relatively small tide some depth was retained along most of the stretch for the duration of the match.
Just before the start we held a minute's silence as respect for the late Duke of Edinburgh although one or two hadn't quite got the message. At the whistle it was the usual Gorleston chuck for most with the majority opting for 60-80 yard lob and the rest testing out the horizon towards Scroby Sands. Prior to the match a few were sceptical about if there would be any fish at this venue but this was soon dispelled as first as usual to card 5 minutes after the whistle at 10:05 was Kimberley Lawn (Team Manik) (Peg 16), a small Whiting but 10 points recorded and then 22 minutes later a more useful 32cm Flounder worth a healthy 40 points, well done Kim.
More fish soon appeared with a small Whiting at 10:10 to Neil Smart (Gorleston Tackle) (Peg 15) his first match fish of 2021 after a disastrous first match at Salthouse previous week, know the relieve Neil, well done! At the same time Billy Temple (Big Catch Tackle) (Peg 14) also found a similar fish so at least there was fish around although not monstrous. For most however it took a while to find a fish, all accept Adrian Bordinanu (Team Manik) (Peg 26) who was off like a train with 9 fish in the first hour which included 3 x 30+cm Whiting. By 11:10 he had 134 points way ahead of everyone else but that was it for the next 3 hours, nothing, they had just switched off demonstrating how fickle this sport and venue can be. He did manage to find a couple more Whiting and a Dab in the last hour along with a Zone place saving 55cm Dog at 2:35 worth 102 points.
In contrast, Dave Wright (North Norfolk Lads)(Peg 17) couldn't find a fish for the first hour but then at 11:15 he came across a 34cm Flounder worth 48 points and then shortly afterwards another Flounder of 33cm worth 44 points at 11:50. That was it until 1:00 when he found a 37cm Bass worth 51 points and that was again it until the last hour when he managed to find 4 x Whiting and a small Bass, fickle just does not properly describe this venue. In the lower pegs Whiting were coming in relatively thick and fast with Marian Spirea (Team Manik) (Peg 5) finding a treble shot on his first cast and continued to catch them steadily throughout apart from the last half hour.
Half way through the match local ace and venue guru Freddie England was doing his Sunday promenading along the beach and commented that the Dogs would appear towards the end. Not the four legged kind of which there were rafts of the creatures dressed out in their Sunday best but those that like a bit of Black, Mackerel or Rag. Well he was of course correct with Mike Topping (Gorleston Tackle) (Peg 6) finding a nice 65cm specimen at 2:22 worth a possible match winning 112 points. With Adrian's Dog at 2:35 Freddie was certainly right about Dogs at the end but not in the numbers we wanted.
At the whistle it was that match winning Dog that gave Gorleston Tackle's captain MIKE TOPPING (Peg 6) victory along with his other steadily caught 19 Whiting, 2 Flounders and a Dab weighing in at 7lb 12oz. Runner-up just one ounce (3 points) behind was North Norfolk Lads' MIKE WATTS (Peg 29) who consistently caught throughout the match seriously helped by a 32cm Flounder worth 40 points weighing in total 7lb 11oz from 29 fish consisting of that Flounder, a Dab, 2 Bass and 25 Whiting. Final podium slot went to Big Catch Tackle's HENRY RANDELL on nextPeg 30 who was in a continuous battle with Mike throughout the match. He saw his early substantial lead which included a 35cm Flounder at 11:30 worth 52 points slowly disappear and with no fish recorded in the last hour ended up with 6lb 10oz from 25 fish which included that Flounder, 3 Dabs and 21 Whiting.
In the Teams, it was NORTH NORFOLK LADS who took the honours with just 7 penalty points from 2 x Zone wins, a Zone 2nd, a Zone 3rd with a 3rd place dropped. Runners up with 8 points was TEAM MANIK with 3 x Zone 2nds, a Zone 3rd and a Zone 3rd dropped. Final podium team was GORLESTON TACKLE with 2 x Zone wins, a Zone 2nd, a Zone 4th and a 4th place dropped. Like last week, this has left the league even more delicately poised with just 3 points between the top 4, the last round is going to be very interesting.
The Heaviest Flat fish was a 35cm (1lb 1oz) Flounder shared by WILLY GROOMBRIDGE (Peg 24) and HENRY RANDELL (Peg 30) and Heaviest Round the 65cm (2lb 5oz) Dog taken by MIKE TOPPING(Peg 5). Altogether there were 346 fish (276 Whiting, 2 Pout, 8 Bass, 2 Rockling, 28 Dabs, 2 Dogs and 28 Flounders) recorded weighing 99lb 3oz.
In the Zones, MIKE TOPPING(Peg 6) of "Gorleston Tackle" took Zone A with 372 points from 22 fish followed by MARIAN SPIREA (Peg 5) of "Team Manik" with 250 points from 21 fish. Zone B was taken by PAUL MARSHALL (Peg 7) of "Big Catch Tackle" with 244 points from 17 fish followed by a tie between NELU SERBAN (Peg 12) "Team Manik" with 210 points from 16 fish and KEVIN GREEN (Peg 9) "North Norfolk Lads" also with 210 points but from 15 fish.
Zone C went to DAVE WRIGHT (Peg 17) "North Norfolk Lads" with 210 points from 9 fish followed by NEIL SMART (Peg 15) of "Gorleston Tackle" with 195 points from 15 fish. Zone D was taken by ALAN DOY (Peg 21) of "Gorleston Tackle" with 249 points from 18 fish followed by RICHARD HIPPERSON (Peg 20) of "Team Manik" with 166 points from 14 fish. Zone E was taken by MIKE WATTS (Peg 29) "North Norfolk Lads" with 369 points from 29 fish followed by HENRY RANDELL (Peg 30) of "Big Catch Tackle" with 317 points from 25 fish.
Yet another interesting match where the move from the shingle to Gorleston to avoid the weather was more than justified with the number of fish. Not surprised with the species recorded although there could have been more Dogs but the number and quality of some of the Flounders was unexpected. This was probably one of the most competitive matches of this year's league and has set us up for a real humdinger of a finale at Bacton or Kelling on Sunday 25th April. Currently, round 6 will be at Bacton but it has got so shallow there that any strong wind with north in it will make it unfishable. If this is the case we will make a decision at the draw on Friday evening 23rd April to move it to Kelling.
Round 6 draw will be live on facebook at 8:00 on FRIDAY 23rd APRIL. Club's Covid-19 rules and procedures will apply throughout the match.
Please Stay Safe!!! … Tony T
Top 10 Individuals (on the day) …
1...Mike Topping........7lb.12oz ..…(22 Fish) (Peg 6)
2…Mike Watts…………...7lb 11oz…...(29 Fish) (Peg 29)
3...Henry Randell....….6lb.9 2/3oz..(25 Fish) (Peg 30)
4...Marian Speria........5lb.3 1/3oz..(21 Fish) (Peg 5)
5...Alan Doy…………......5lb. 3oz……..(18 Fish) (Peg 21)
6...Paul Marshall…..……5lb.1 1/3oz…(17 Fish) (Peg 7)
7...Adrian Bordianu.....4lb.13 1/3oz.(13 Fish) (Peg 26)
8...Tony Thomas……..….4lb.7 1/3oz…(16 Fish) (Peg 2)
9…Nelu Serban............4lb.6oz........(16 Fish) (Peg 12)
10.Kevin Green............4lb.6oz……….(15 Fish) (Peg 9)
Teams on the Day …
1...NORTH NORFOLK LADS .7 Points
2…TEAM MANIK....………..…...8 Points
3...GORLESTON TACKLE …….9 Points
4…BIG CATCH TACKLE ….……11 Points
5...ANGLING ADDICTS ……….20 Points
Teams to date after 5 Rounds …
……………………………………………(worst round score)…(Score with worst dropped)
1=.BIG CATCH TACKLE ………45 Points……11 points…….34 points
1=.NORTH NORFOLK LADS .45 Points……12 points…….33 points
3…TEAM MANIK ….……………..46 Points……13 points…….33 points
4…GORLESTON TACKLE ……..48 Points……14 points…….34 points
5...ANGLING ADDICTS ……….79 Points……20 points…….59 points
------..------