Holt SAC Nite Shield (Report)
Saturday 16th December 2017 - Kelling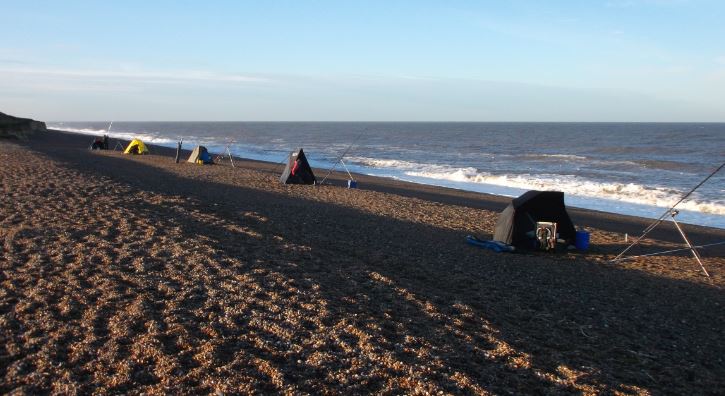 The Holt SAC Nite Shield match was fished at KELLING via the Muckleburgh Collection on Saturday 16th December fishing 2:00 to 7:00. This was the re-scheduled Nite Shield match that was cancelled in November and with HW 5:31 on a big tide meant we could start in daylight and fish into darkness for those legendary stonking whiting that have been appearing on the shingle from time to time this year. Forecast for the weekend was yet again going to be strong north westerlies and a big swell but the weather gods relented and instead gave us fresh westerlies. However, the end of the week blow had given us an interesting 6-8ft swell and it was still there crashing on the shingle and burying everything in sight.
Unfortunately, the Club's only night match (well at least half of it night) is not that popular with members even though past matches have produced some amazing weights. History was again repeated as just a handful turned up for this one but even so there was still plenty of competitive spirit apparent. Pegging was from the end of the small cliff towards the wreck so no serious hiking. With a flooding tide and fishing over the top there was none of this chasing the tide, just set up at the top and wait for the water to come to you. Even so with 3½hrs to the top one or two were a little apprehensive about where to park and nobody got it wrong, probably all a bit too conservative.
At the start rollers were pounding the gutter and they got larger as the match progressed but no real white water. A bright blue sky as the sun dipped towards the "hills" behind and we all knew that we were in for a chilly night. This was certainly the case, as lamps went on that frosty glow could be seen adorning the top of the buddies and brollies. Expectations were high for the fishing as we were going into darkness and for most it was the Dabs that made a show early on with the odd Whiting thrown in. Also making a show was the damn weed thrown up by the recent big seas not a real problem just a nuisance when having to clear the leader knot with fish flapping around in the surf.
As expected, dusk heralded a few more Whiting but not the monsters and numbers we had been expecting. There could be a number of reasons for this and one could be that there was too much feed in the water. At the start the sea birds were sitting all along the scum line obviously feeding on the smashed up razors, etc. as would have been the fish. High Water came and went with no real improvement in numbers and quality of fish, in fact numbers started to decline as the tide ebbed. Finding the fish was the challenge, there one minute and the next couple of casts , nothing!
On the pegs it was poor old (well not quite so old) Richard Ling (Peg 2) who was struggling with his gutter tactics losing rig after rig as the waves pounded down on his line. ONE fish was his total score but it was a big 30cm Whiting giving him 20 points. Neil "smarty" Smart (Peg 3) was going like a train at the start with a raft of Dabs but when the Whiting started to appear they all started to dry up ending up with 154 points from 13 fish. Fourth wasn't bad said his mate Bev but then he was told the turn out, he'll do better next time, a steep learning curve he says.
An uncharacteristic slow start for end Peg 1 man Luke Pearson although his mind was probably more on those "after eights" later on than the task at hand. However, as darkness fell he found some decent whiting and with a 32cm (8oz) specimen on his last cast gave him a respectable 259 points from 20 fish along with third place and at least he got his stake back in the Super Pool. Struggling a bit, probably more mental than physical, was Mike Watts (Peg 4) who could not find any consistency in the flow of fish. The rhythm was just not there with just the odd one or two being recorded at intervals and as he said there was just no pattern to where they were although a good treble shot of 35 points on last cast gave him 298 points from 23 fish and Second place.
Another treble shot of 35 points on first cast, all dabs was a good omen for Tony Thomas (Peg 5) and this good fortune continued as he continued to find fish after fish particularly the Whiting later on. However, he did have his nemesis Mr Watts next door and was once again locked in battle with him whose metronome action managed to overhaul him on a couple of occasions. Finding a few double shots to his single or no Whiting was the key plus relentless baiting up and casting (now dubbed "Tic Tock Tone") enabled him to establish a lead but that treble at the end brought it very close, ending up with 320 points and victory on the night.
Altogether 83 fish (53 Whiting and 30 Dabs) were recorded weighing 21lb 14oz. Heaviest Flat was a 27cm (7oz) Dab and heaviest Round a 32cm (8oz) Whiting shared by Luke Pearson and Neil Smart. A match that really didn't live up to expectation as in previous years which was probably due to the big swell rolling in and feed in the water.
Next Club match is the Xmas Fayre and Town Team Challenge Open at KELLING via Muckleburgh Collection on SATURDAY 23RD DECEMBER fishing 10:00-3:00 HW 9:22 4.2m. Teams of 4 will be drawn and where possible will be the Town nearest to the competitor's home for the Challenge. Draw will be from 8:15 at the Muckleburgh Collection Main Gate. If you are fishing this match please bring a raffle prize.
This match will be followed by the Rocket House Open at SALTHOUSE on WEDNESDAY 27TH DECEMBER fishing 10:00-3:00 HW 1:02 3.9m. This is the Club's only "length only" match and every fish counts. Draw will be from 8:30 on the Salthouse Beach Road.
Both these matches will be followed by the New Year Open at KELLING via Muckleburgh Collection on MONDAY 1ST JANUARY fishing 10:00-3:00 HW 10:28 4.6m. Draw will be from 8:15 at the Muckleburgh Collection Main Gate. If you are fishing this match please bring a raffle prize.
Currently, at time of post there are 26 booked for Xmas Fayre, 8 for Rocket House and 16 for New Year Opens. We do expect more for the New Year match as those from the Xmas Fayre will book but we would like to see more for the Rocket House match … Seasons Greetings to All … Tony T
Top 5 Individuals (on the day) …
1…Tony Thomas…6lb..10 2/3oz…(26 fish)
2…Mike Watts…….6lb..3 1/3oz…..(23 fish)
3…Luke Pearson…5lb..6 1/3oz…..(20 fish)
4…Neil Smart….….3lb..3 1/3oz…..(13 fish)
5…Richard Ling……0lb..6 2/3oz…..( 1 fish)
------..------