Holt SAC New Year Open (Report)
Monday 1st January 2018 - Kelling

Holt SAC's Annual New Year Open was held at KELLING via Muckleburgh Collection on MONDAY 1ST JANUARY. A good turnout was expected at this one but the usual holiday virus had taken hold and many who had booked were confined to a warmer place. Even so those that were able to make it on a chilly first day of 2018 were involved in yet another cracking Shingle match over this holiday period. These included the usual healthy contingent from Suffolk, the ever present Humber and mid-Norfolk men, a healthy squad from "round the corner", a couple from the West Norfolk suburbs and this time TWO local men. We also must not forget young Jack Topping who brought his Dad Mike along for company and proceeded to show a couple of seasoned match anglers a thing or two in the match. Many thanks again to you all for supporting this match.
The forecast was for it to be fine with a chilly fresh West South Westerly. This almost went as predicted with clear blue skies at the start and the wind was certainly chilly from that direction picking up to strong towards the end which started to churn up the flooding tide. The Sea was almost flat at the start with a good colour but started to get a bit of a lump as the wind picked up.
Pegging for this one was Zone A west from the end of the small cliff towards Kelling blockhouse in front of the radar. Zone B was all under the small cliff in front of the parking area. Not much of a walk for all and with an ebbing tide everyone decided to "park" on the shingle below the high water bank. Fishing 2 hours down and 3 hours up meant positioning of buddies had to be just right to avoid being washed out at the end. Remarkably everyone got it spot on with the tide just touching buddies at the end.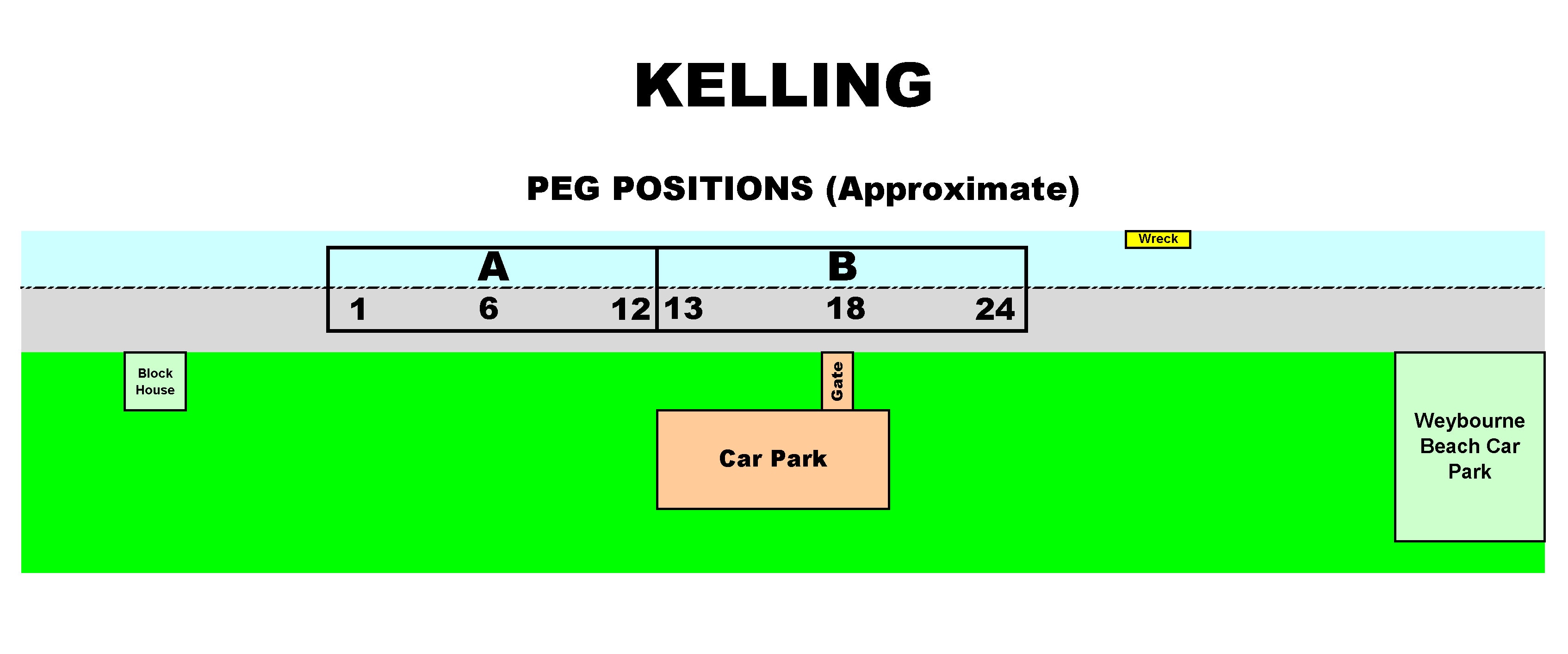 Immediately after the whistle it was soon apparent it was going to be another hectic North Norfolk Shingle day as rods started to rattle all along the stretch. This time the rattles were also for the Whiting as well as the Dabs so they were back in contrast to the match before Christmas providing better points. In the first 2 hours many trebles were coming ashore generally comprising of a couple of good Whiting and a small Dab. In contrast to the last match the majority of the Dabs were sizeable (18cm+) but targeting the Whiting was essential for a big score. It was also essential at this stage to have a double or treble shot every cast and when "young" Henry lost a set he was gutted as he was then possibly 3 Whitings behind. Mind you Wizzey pulled it in later with a just 1 Whiting and Dabs on board so he was mildly placated by this.
For some at this stage it was Dab after Dab but for others there were plenty of Whiting. As the tide eased over bottom the Whiting started to slow down and the Dabs took over and unfortunately less points to record, Not particularly big ones but there were the odd surprises with Wizzy finding a monster 33cm specimen. This relatively quiet period was soon interrupted by the flooding tide which annoyingly brought along the weed. Not too much to be a nuisance but enough to have to clean the leader knot on each retrieve. This also brought back a few more Whiting and the last hour once again became hectic with everyone trying to grab as many points as possible by reducing time between casts. Unfortunately, the weed hampered the speed merchants and it was those who could cope with it the best who scored.
In the end it was that master from the past who at last did the business in PAUL TOVELL (Peg 18) with 13lb 12oz from 53 fish where his range certainly found some quality fish. In 2nd place was another range man in GARY MEDLER (Peg 14) with 13lb 9oz from 50 fish who found Whiting up to 37cm. Final podium slot went to KEITH MORLEY (Peg 16) with 12lb 8oz from 57 fish and although a number of his Dabs were smallish he did find a few Whiting well into the 30cms. Must mention very young JACK TOPPING who recorded 30 fish for 7lb and got onto the back of the card. He didn't beat Dad this time but he was only 8 fish behind, well done Jack!
Heaviest Flat fish was CHRIS SPALL's (Peg 4) 33cm (15oz) Dab and heaviest Round a 37cm (12oz) Whiting shared by DAVE BURR (Peg 11), GARY MEDLER (Peg 14) and PAUL TOVELL (Peg 18). In the Zones, Zone A was taken by HENRY RANDELL (Peg 7) with 11lb 11oz from 51 fish and runner-up TONY THOMAS (Peg 8) with 11lb 2oz with 47 fish. Zone B was taken by PAUL TOVELL (Peg 18) with 13lb 12oz from 53 fish and runner-up GARY MEDLER (Peg 14) with 13lb 9oz from 50 fish. Altogether 831 fish (525 Dabs, 305 Whiting and 1 Bass) were recorded weighing 195lb 9oz.
This was also a Club match and PAUL TOVEL also took the Nelson Shield. It was also a SAMF Masters Qualifier and JOHN SMITH was the Qualifier.
Another cracking New Year Open where both Dabs and Whiting where performing and thankfully those miniature Dabs had gone to ground. Turnout was not brilliant but was affected by illness and of course New Year. The North Norfolk Shingle is performing at the moment so let's hope it does so at the next match which is the North Norfolk National Sea League Round 4 & Open at SALTHOUSE on SUNDAY 14TH JANUARY fishing 10:00-3:00 11:31 4.3m which will also be a SAMF Masters Qualifier … Tony T
Top 10 Individuals (on the day) …
1...Paul Tovell….….13lb.12 1/3oz.(53.Fish)
2...Gary Medler…...13lb.9 1/3oz...(50.Fish)
3...Keith Morley.....12lb.8 oz ……..(57.Fish)
4...John Smith.......12lb.2 1/3oz...(49.Fish)
5...Liam Roper.......11lb.12oz…....(53.Fish)
6...Henry Randell...11lb.10 2/3oz.(51.Fish)
7...Richard Ling......11lb.2 1/3oz...(40.Fish)
8...Tony Thomas....11lb.1 2/3oz...(47.Fish)
9...Adele Smith......11lb.1/3oz…...(44.Fish)
10.Dave Burr..……..10lb.13 1/3oz.(48.Fish)
------..------