Holt SAC 3rd Leg Winter Accumulator and Foreman Cup (Report)
Sunday 28th January 2018 - Kelling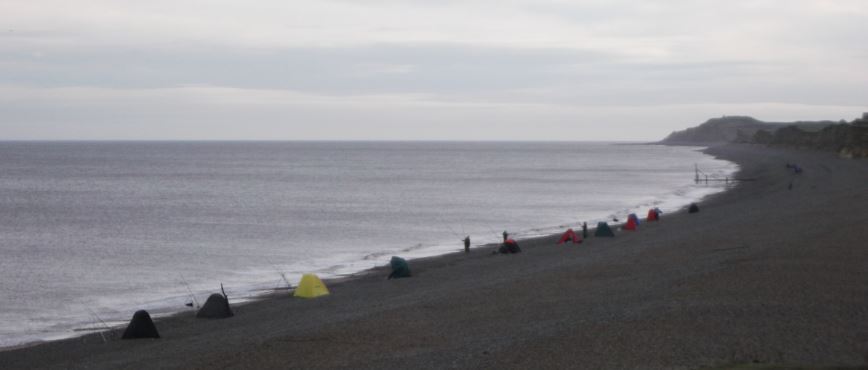 The Holt SAC 2nd Leg Winter Accumulator & Foreman Cup was fished at Kelling on Sunday 28th January fishing 10:00 to 3:00. Originally scheduled for Trimingham but a late switch was made to the Club's backup venue of Kelling because of serious weed at Trimingham although later posts showed this not to be as bad as expected. The shingle is normally the safest bet to stay clear of it but there was lots of apprehension about this switch when there were reports of acres of the stuff at Cley the previous day. Thankfully our concerns did not materialise as we were almost weed free for the whole match apart for the last 20 minutes when some serious stuff came through.
With this being the first pure Club match of 2018 and for some time, there was plenty of enthusiasm from Club members resulting in a healthy turn out from around East Anglia gathering at the Muckleburgh Collection gate. Weather was as forecast, fresh south westerly with the odd gusts over your left shoulder, warmish in comparison to previous day with a slight wind chill but more importantly, dry! Ideal sea conditions with a calm 1-2ft swell with plenty of colour to entice those big Whiting inshore. Fishing from the bottom up on a small tide was helped by low water being 1/2m higher than prediction so it hardly went out, comfortable fishing!
Pegging for this one was from the east end of the small cliff towards and through the wreck. Slightly different strategy than normal Club matches which avoids the wreck, to try and encourage something more serious to come out of its wreck hole.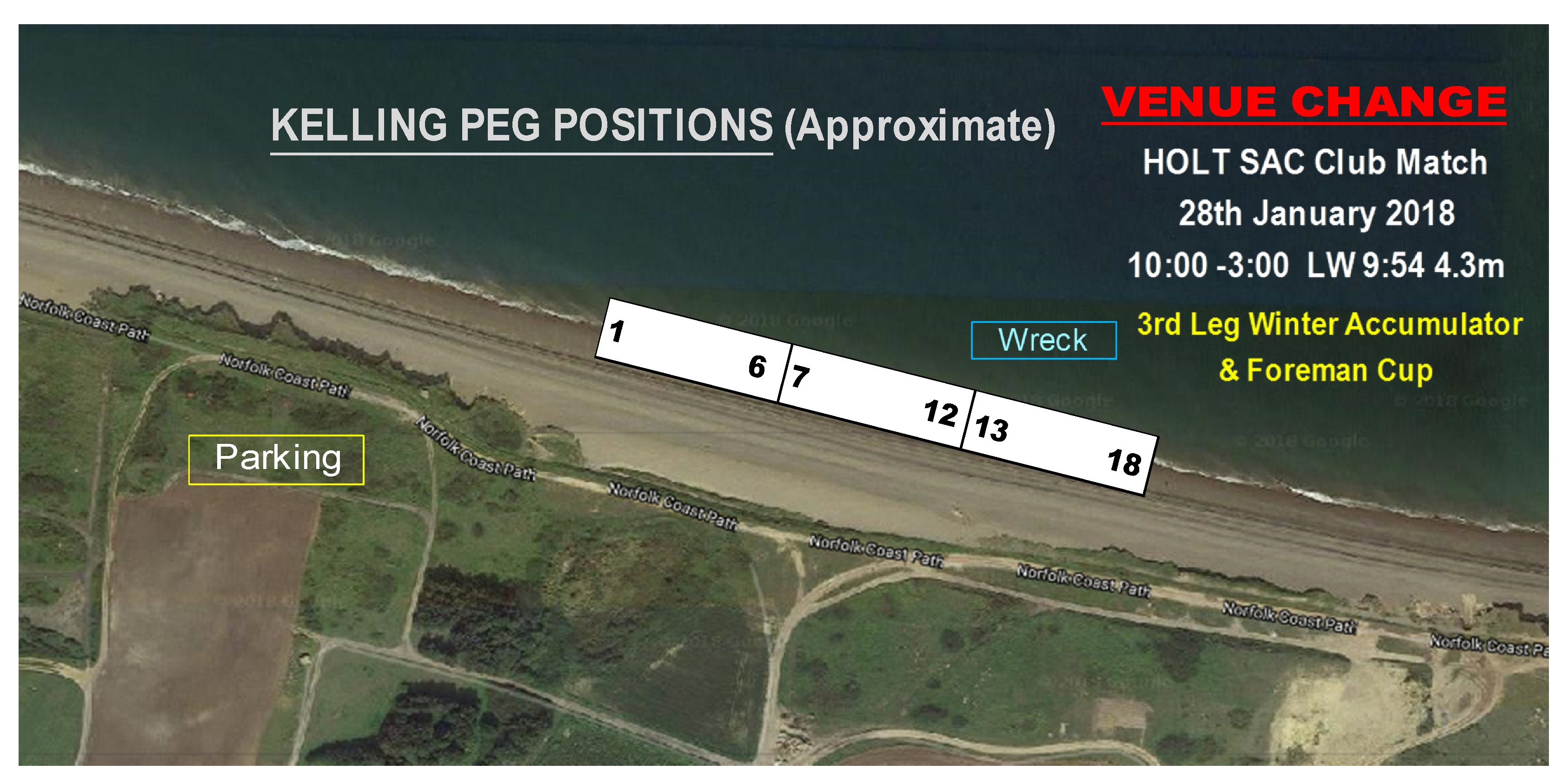 After much banter at the draw about local events and gossip, all were soon off for their short shingle walk to the pegs. Well nearly all, the Toppings were in their usual casual mode being careful to preserve the quality of their freshly dug Blakeney wams and wrigglers, eventually arriving and ambling off to their predetermined double peg. They along with most parking on top of the shingle carefully setting up biffies, brollies and other contraptions although not so careful for Barry (S) whose biffy half way through the match was yards away from a watery grave on route to Holland in one of those gusts but saved by a dashing Mr Lokie, thankyou Peter. Then there were others who opted for the outdoor fresh air option and the odd (very odd) few who opted to follow the tide up.
After all this "action" it really was time for the whistle and everyone was soon into match mode. Almost immediately rods began to rattle, well not exactly rattle they really didn't move at all but after the customary 10 mins winding in there was fish on board so in theory they should have rattled. So immediately everyone was into fish and it was young Jack Topping (Peg 3) who once again had first fish on the beach in a 24cm Whiting. He is so keen these days that he was winding in before his lead had hardly touched the bottom but he got a result, well done Jack! The fish were certainly there as doubles and odd treble started to be recorded consisting of a mixture of Dabs and Whiting. At this stage the Dabs were the majority around the 20cm mark with a few bigger and even more undersize but not in the numbers of the Christmas match.
Thankfully, even in daylight the Whiting were there not in the same numbers but around the 24/25/26 and 27cm mark with some decent fish above 30cm and good points. Of course you always get the exception and it was that one taken by JC (Peg 1) early on although initially it was thought to be a Gar, yes a 47cm Whiting worth an astonishing 77points, well done John! Whiting were therefore the preferred target as three Whiting could be worth 30+ points more than three small Dabs. Unfortunately, there is no really pattern to what species you can catch on this stretch of Shingle when both Dabs and Whiting are there, one minute it is small Dabs, then Whiting and then a mixture of the two, such a lottery. However, we all know bigger hooks and bait can widdle out the smaller fish for the bigger specimen and Barry (S) (Peg 10) sussed this out as a change of tactics from his dramatic start saw his Whiting getting bigger along with a nice 29cm Dab on his card, well done Barry!
With the tide seriously flooding there was still some flow and fish were being recorded but as the tide eased they seemed to dry up for some but for others they kept coming ashore. With a small tide slack water didn't last long and once the flow picked up so did the fish. As is the norm on this stretch finding exactly where the fish are feeding is a challenge. They certainly weren't close as lug tipped with a bunch of wrigglers didn't even find one of those micro Dabs. Slightly further out at 60-80 yards was where the action was found with most topping up their cards at this distance. Then there were those who just like casting like Tubs (Peg 8) who was finding the odd fish at range early on but reverted to closer tactics for some quantity. Fed up with the small fish he decided to persevere with distance and the fish eventually came to him as Whiting after Whiting and Dabs started to accumulate on his card, well done Paul!
Unfortunately, distance was not the place to be in the last 20 minutes as the tide came roaring through as did the weed. Difficult stuff to get off but the fish were out there being driven along by the tide and grabbing whatever was there. At this stage fish were probably there in numbers along the whole stretch but from the final results the match stretch appeared to be rather peggy with in general the odd lower number and the wreck end pegs performing better than the rest.
In the end it was the man on the wreck who did the business in that sandman BEV SELF (Peg 14) who found a lot of good Whiting and a raft of reasonable Dabs at the end accumulating 10lb 5oz from 48 fish, well done Bev! Trying his hardest to keep up with his usual metronome approach was runner-up MIKE WATTS (Peg 2) who managed to find 46 fish for 9lb 7oz but needed more quality Whiting although he did find a flurry of them at the end, well done Mike! Final podium slot went to a man you can never discount particularly if he has end Peg 17 near the wreck and that is KEITH MORLEY who's raft of Whiting at the start and last 15 fish all Dabs gave him 8lb 12oz from 39 fish, well done Keith!
On the heaviest Flat stakes it was not Barry's 29cm Dab but PETER LOKE's 32cm (8oz) Dab that took the honours, well done Peter! The heaviest Round was JOHN CARTER's 47cm (1lb 10oz) Whiting although on pure weight may be not, again well done John! Altogether 505 fish (433 Dabs and 72 Whiting) were recorded weighing 112lb 7oz.
As said by all, a most enjoyable competitive match where the weather and tide played ball and most importantly the fish. A very very busy match as was confirmed by the state of most at the end, simply exhausted! and we do this to relax, bring on the next match.
The Next match is Round 5 of the North Norfolk National Sea League , 4th Leg of Winter Accumulator & Open at KELLING on SUNDAY 4TH FEBRUARY fishing 10:00-3:00 HW 9:13 4.9m. Draw will be at the Muckleburgh Collection main gate from 8:15. However, we are keeping an eye on another storm coming through at the weekend with serious northerlies which may result in either a move to Gt. Yarmouth /Gorleston or postponement. If the latter we will move it to February 18th with venue and times the same, all will be informed accordingly during the week … Tony T
Top 5 Individuals (on the day) …
1...Bevan Self........10lb.5 1/3oz...(48.Fish)
2...Mike Watts..........9lb.7 1/3oz….(46.Fish)
3...Keith Morley........8lb.12 1/3oz.(39.Fish)
4...Richard Ling........8lb.8 2/3oz….(40.Fish)
5...Adrian Bordianu...8lb.1oz.........(31.Fish)
------..------