Holt SAC North Norfolk National Sea League Round 5 (Report)
Sunday 4th February 2018 - Kelling

With the forecast computers getting their nickers in a twist all week leaving us contemplating Kelling, Gorleston or even postponement, the North Norfolk National Sea League Round 5 and Club's 4th Leg Winter Accumulator was finally played out as originally planned at KELLING on SUNDAY 4TH FEBRUARY. A bitterly cold strong north easterly does not give us much choice as it would be the same round the corner so Kelling it had to be. Along with the cold wind there were snow showers forecast along with a swell topping 6ft and they were spot on although the cold stuff didn't really materialise. Not the weather for the other Topping young Jack who sensibly decided to give this one a miss but the rest were amazingly clamouring for it with seven full teams beating a path to the 8:15 draw. On top of this there were 5 others who wanted to test their skills in the near icy conditions with a couple from the Humber joining the other regular from up that way and those from Corby, Kettering, Ely, Suffolk, all quarters of Norfolk and of course that man from Stafford. Many thanks to you all for your continued support which really does make the league happen.
This year the league has been far more competitive with the top four teams once their worst score was deducted being within 7 points of each other prior to this match. In addition, the teams lower down were at last getting their act together with improving performances as the league has progressed with the "Angels" and "Boi's" fighting it out for bragging rights. Such a competitive atmosphere hopefully bodes well for next season's league.
Pegging was as originally planned with 3 zones west of the small cliff towards and just short of the Kelling block house, one zone under the small cliff and the other towards the wreck but well short of it. However, whilst pegging it was thought that the 5-6ft swell rolling in would give us problems later on with no water towards Kelling Hard and that maybe we should peg more around the wreck. As was proven at the end, this would have been the correct decision but being of slightly older stock and more resistant to change the original option was adopted, hindsight is such a wondrous thing.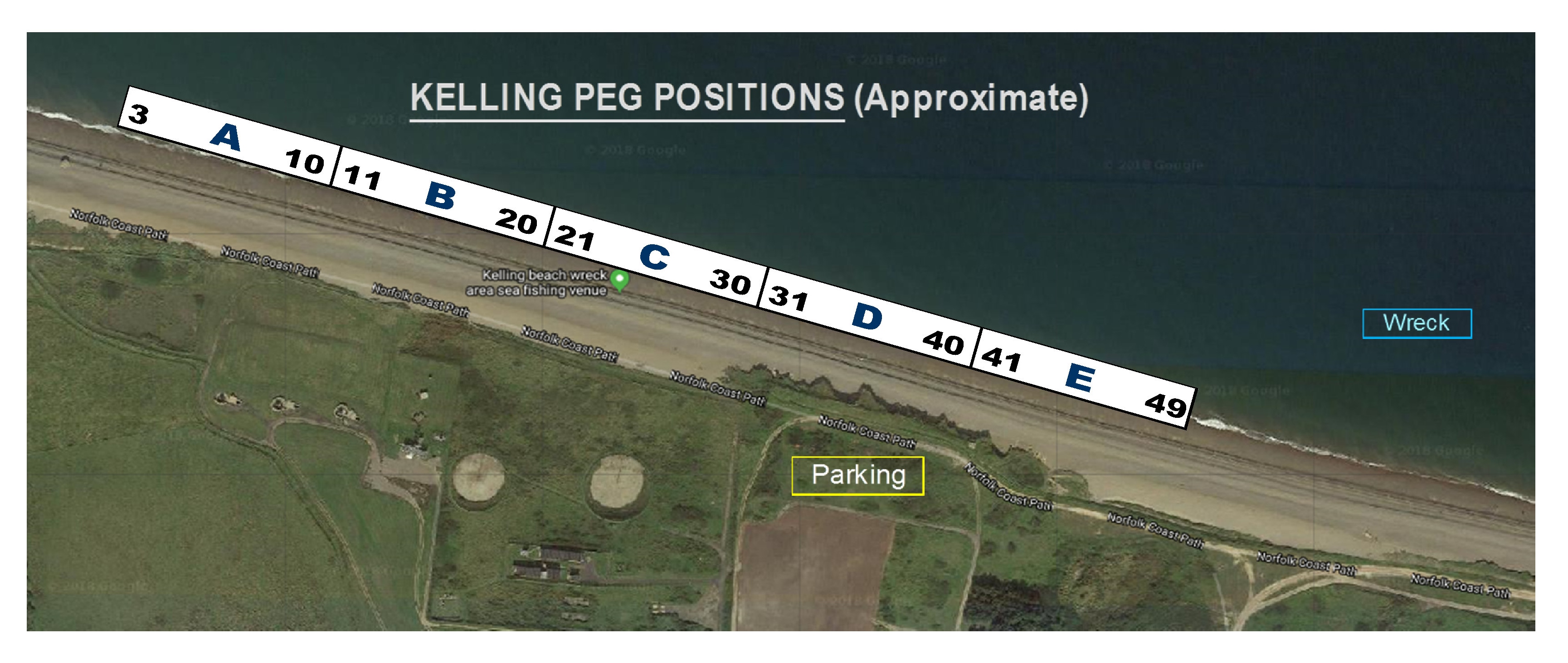 The previous big spring tides and accompanying roughness had flattened the shingle so no scaling up and down the high water banks with buddies parked on gently sloping shingle at the start. Well not quite all with some waiting in the chilling wind, opting to follow the ebbing tide before setting up camp. At the whistle the sea was rolling hard and everyone knew this was going to be a grueller particularly in the lower order pegs towards Kelling Hard and they weren't wrong. Starting just after top with such a big tide meant getting fish registered early was essential and for some a few Whiting and the odd Dab started to appear on their cards with others just having to be patient.
Thankfully at the start it was wind against tide so not too much difficulty in holding out with very little or no weed at this stage. Even with a strong north north easterly in your right eye most were able to cast over the breakers into "clear water". However, the weather was playing its real part in this one with the biting winds and sudden squalls forcing everyone into their buddies but at least you could see them coming and be prepared. During such squalls the sea was particularly angry sending surges up the beach trying to grab the legs of anyone who dared to cast from too close to the breakers. This was a big tide and as the ebb got well underway a great expanse of sloping energy sapping soft shingle appeared to add yet another challenge to the day.
This was a day when there was none of this rod rattling experience, just cast out three baits wait 10-15 minutes and haul in and for most to find those three baits still intact completely untouched. For those fortunate ones the first 2-3 hours did produce a Whiting or Dab and the odd double and even odder treble shot of Whiting was reported but it was tough.
The final 2 hours brought an even tougher session particularly at the Kelling end as the water receded to an extent that white water started to appear during some of the swell surges. At some stage slack water had to happen and when the tide picked up again we had the worst case of strong wind with tide to add yet another challenge. Not satisfied with this it decided to throw in another one in the dreaded weed. Not a lot but enough to create problems of holding bottom when added to the tide and wind.
In the last hour some struggled to even hold bottom with rigs and line rapidly going westward on hitting the water ending up a few pegs down the stretch or buried in the gutter. Others took a more pragmatic approach by standing at the water's edge with rod held high and controlling the movement of the rod as the waves came pounding in. This was a period when there was next to no fish recorded particularly at the Kelling end and a sigh of relieve could be heard all along the stretch as the final whistle went. Even at this stage the struggle was not over for some particularly the trolley brigade at the Kelling end who had to fight their way against the wind and through the soft shingle, where had all that nice hard low water sand gone!
In a tough match like this it was a team with plenty of that all weather experience that was going win the day and there is one team above all who had that in spades and that was HAS BEENS. They used particularly their casting abilities in the windy conditions to take the match by a clear 3 penalty points ending up with 7 penalty points from 2 zone wins, a zone second and a zone third. Runners-up was NORTH NORFOLK LADS and although two of the team struggled ended up with 10 penalty points from a zone win, 2 zone seconds and a zone 5th. Stuttering slightly after their outstanding performance in the last round was BIG CATCH TACKLE taking the final podium slot with 12 penalty points from a zone win, 2 zone thirds and a zone fifth.
On the Individual stakes it was a star performance from HENRY RANDELL (BIG CATCH TACKLE) (Peg 49) who used is wreck end peg to find the fish and decent Whiting at that for 4lb 15oz from 15 fish. Making his trip down from the Humber worthwhile was GARRY HUTSON (INDIVIDUAL) (Peg 41) who took runners-up spot with 3lb 6oz form 9 fish. You can never keep an old sea dog like JOHN BOWER (HAS BEENS) (Peg 22) down taking third place with 2lb 9oz from 10.
Heaviest Flat on the day was shared by HENRY RANDELL (BIG CATCH TACKLE) (Peg 49) and MIKE WATTS (NORTH NORFOLK LADS) (Peg 47) with their 28cm (8oz) Dabs which although not in contention for Sea League heaviest flat does earn them 5 Club League points. Heaviest Round was a 34cm (9oz) Whiting taken by GARRY HUTSON (INDIVIDUAL)(Peg 11) with Club heaviest round League points going to JOHN BOWER (Peg 41) and DAVE SHORTHOUSE (Peg 27) for their 33cm 8½oz) Whitings. Top three Club members were HENRY RANDELL, JOHN BOWER and DAVE SHORTHOUSE. Altogether 131 fish (90 Whiting, 40 Dabs and 1 Rockling) were recorded weighing 33lb 9oz.
There were 4 participating in the SAMF Qualifier of which 1 qualified for the 2018 Masters who was TOM GIBBS. As 1 in 3 qualify, 2nd place RICHARD HIPPERSON will get free entry into the next qualifier.
In the Zones it was pretty obvious that wreck end far out fished the rest and why we should have pegged more that way, my apologies!. Zone A was taken by DAVE READ (HAS BEENS) (Peg 3) who took full advantage of his end peg particularly when the tide turned with 54 points from 5 fish followed by ADRIAN BORDIANU (NORFOLK BOIS) (Peg 8) with 42 points from 5 fish. Zone B was won by KEVIN GREEN (North NORFOLK LADS) (Peg 20) followed by JEFF STANNARD (GORLESTON TACKLE) (Peg 18) with 51 points from 5 fish.
Zone C went to JOHN BOWER (HAS BEENS) (Peg 22) with 122 points from 10 fish followed by DAVE SHORTHOUSE (NORTH NORFOLK LADS) (Peg 27) with 115 points from 11 fish. Zone D was won by RICHARD LING (CHARLIES ANGELS) (Peg 36) with 75 points from 5 fish followed by RICHARD JACOBS (HAS BEENS) (Peg 31) with 58 points from 6 fish. Final Zone E went to HENRY RANDELL (BIG CATCH TACKLE) (Peg 49) with 236 points from 15 fish followed by GARRY HUTSON (INDIVIDUAL) (Peg 41) with 162 points from 9 fish.
As everyone had anticipated at the start this was going to be a grueller and it certainly was with Mother Nature throwing just about everything at us. Catch a few solitary fish at the start was important and the challenge was then to catch at least another fish. The flatties probably didn't like the pounding seas but there was also plenty of smashed razors in the weed which would have been too enticing to feeding fish rather than some scrawny lug. Anyway the match result has put a tie at the top of the League leader board between HAS BEENS and NORTH NORFOLK LADS and with both having the same worst score to drop they will kick off the last round even stevens and hopefully another competitive match particularly with two others also in contention.
Final Round 6 of 2017-18 North Norfolk National Sea League will be at BACTON on SUNDAY 18TH MARCH fishing 10:00-3:00 HW 7.09 4.8m. Draw will be in Castaways Cliff Top Inn from 8:15 where there will be a buffet after the match followed by short Annual Meeting and Presentation of winnings and League trophy. There will also be a raffle after the match so will team members please bring a raffle prize and this will conclude this season's Sea League Competition.
Next Club match is at SALTHOUSE on SUNDAY 18TH FEBRUARY fishing 10:00-3:00) HW 8:06 4.7m with Draw from 8:30 on Salthouse Beach Road. The usual reminder texts will be send out a week before the match … Tony T
Top 10 Individuals (on the day) …
1...Henry Randell…....4lb...14 2/3oz.(15 Fish)..(BIG CATCH TACKLE)
2...Garry Hutson.......3lb...6oz……....( 9 Fish)… (INDIVIDUAL)
3...John Bower..........2lb...8 2/3oz..(10 Fish)...(HAS BEENS)
4...Dave Shorthouse.2lb...6 1/3oz..(11 Fish)...(NORTH NORFOLK LADS)
5...Kevin Green........1lb...13oz.......(.6 Fish)...(NORTH NORFOLK LADS)
6...Mike Watts………...1lb...10 2/3oz.(.5 Fish)...(NORTH NORFOLK LADS)
7...Richard Ling……...1lb...9oz………..(.5 Fish)…(CHARLIES ANGELS)
8...Andy Gallacher….1lb...4oz.........(.5 Fish)...(HAS BEENS)
9...Richard Jacobs....1lb...3 1/3oz...(.6 Fish)...(HAS BEENS)
10=.Dave Read........1lb...2oz ........(.5 Fish)…(HAS BEENS)
10=.Dave Burr.........1lb...2oz ........(.5 Fish)...(BIG CATCH TACKLE)
Teams (on the day) …
1... Has Beens ………………7 penalty points
2...North Norfolk Lads…10 penalty points
3…Big Catch Tackle …….11 penalty points
4…Charlies Angels……….13 penalty points
5…Gorleston Tackle …….16 penalty points
6...Angling Addicts……...19 penalty points
7…Norfolk Boi's…..………..21 penalty points
Teams (todate) …
1=.North Norfolk Lads….46 penalty points …(12 Worst score)
1=.Has Beens ………….....46 penalty points….(12)
3…Big Catch Tackle....….55 penalty points ..(18)
4…Gorleston Tackle ……..62 penalty points…(16)
5= Norfolk Boi's….………...90.penalty points…(23)
5= Charlies Angels...…….90 penalty points…(23)
7…Angling Addicts..…..…105 penalty points…(26)
(Please note that the Points above may differ from those previously reported due to the removal of points for the disbanded Holt Crack Offs Team)
------..------