Holt SAC Nite Shield and 5th Leg Winter Accumulator (Report)
Saturday 25th January 2020 - Kelling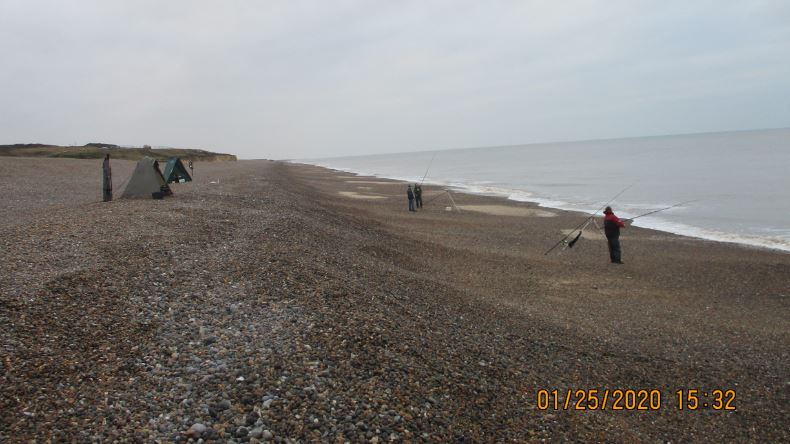 Holt SAC's Nite Shield and 5th Leg Winter Accumulator match was held at KELLING via Muckleburgh Collection on SATURDAY 25TH JANUARY fishing 3:00-8:00 HW 6:58 4.8m. This is currently the Club's only evening match and scheduled on a Saturday evening to prevent members having the excuse of work next day for not attending. As it happens it is generally poorly attended and this was the case with this one with just 9 members participating. The date and time selected to fish up and over a big evening high water and to target those big Whiting which did appear in this one but not in the numbers wanted.
Surprisingly everyone was at the Muckleburgh's main gate nice and early for the draw particularly the Ely duo, the Gt Yarmouth keys van, the Blakeney digger Toppings and bringing up the rear the Oulton Codger. Then of course there was the man who came by taxi, Country Cars himself waiting for the gate to be unlocked for his second match of the season, welcome back albeit fleetingly Paul and thanks for the lift off the beach.
Weather was spot on with an overcast sky, a light chilly south westerly. The sea was flat calm and chocolately ideal for enticing those big Whiting inshore. With no pleasure anglers there pegging was for a change around Weybourne wreck and fishing the last of the ebb on a big tide meant for most parking on top of the shingle bank and waiting for the water creep up to it. Nothing like fishing the shingle at night with a good depth of water just a yard or two from your buddy and the water just lapping over the bank.
Plenty of the usual banter at the draw although predominantly about the previous 4 fish debacle at Bacton where reasons such as high pressure, long shore drift,etc. could be heard . Expectations were high that this would not be repeated with plenty of Whiting and Dabs on the cards and continuation cards had been prepared just in case needed but weren't handed out. Last couple of times these were handed out it was abysmal and we didn't want to call up a repeat of those sessions.
With a good hour of daylight still left after the whistle everyone was able to settle into their pegs and determine tactics when the onslaught of Whiting started, well that was the plan. For most fish were there from the off, mainly Dabs at this stage and fairly close in. Score cards were being rapidly filled up although some of our more accomplished anglers were struggling to find the fish with those around finding plenty. As dusk approached the Whiting duly arrived in numbers which was also helped by the tide picking up and the depth of the water sweeping them in.
At this stage tactics had to be reviewed as Whiting do come very close at night and dropping short meant less retrieval time resulting in more casts and therefore more fish. The tiring continuous process of baiting up , retrieval and casting was producing results for some. This was also yielding lots of small in size Whiting, the days of reeling in treble shots of 33cm+ Whiting are long gone but JC did manage to bring back history with a treble shot worth 72 points which included a 36cm specimen. Altogether 17 Whiting in the 30cm range were recorded and young Jack Topping had 3 of these with one 35cm, well done Jack!
The strength of the tide towards the end helped to keep the Whiting going right up to the Whistle and for some that tide was creating a few problems holding bottom even without any weed. In the dying throws of the match it was end peg 1 man Paul Harvey who had the last say with his tussle with neighbour Neil Smart when he locked into something on his last cast that was actually fighting back resulting in a 66cm Dogfish and 119 points on his card, well done Paul!
Unfortunately, those points were nowhere near enough to get near the man on the other end peg 9 in BEV SELF who was catching continuously throughout who took victory by a serious margin. Helped by a triple of 30cm Whiting towards the end to register 11lb 13oz from 47 fish consisting of 30 Whiting, 14 Dabs, 2 Rockling and 1 Pout, well done Bev! Runner-up was unusually MIKE WATTS (peg 5) who really struggled to find sizeable fish at the start but a change to the "Henry" tactic of worm and big chunks of mackerel at distance saw him steam off resulting in 9lb 15oz from 41 fish consisting of 38 Whiting, 3 Dabs and 1 Pout. Final podium slot went to that old (not really old he says!) codger JOHN CARTER (Peg 4) with 9lb 4oz from 35 fish comprising 25 Whiting, 9 Dabs and a Pout with 5 of the Whiting 30cm or more.
Heaviest Flat fish was a 28cm (8oz) Dab taken by MIKE TOPPING (Peg 8) and heaviest Round that 66cm (2lb 8oz) Dogfish taken by PAUL HARVEY (Peg 1). Altogether there were 294 fish (206 Whiting, 77 Dabs, 5 Pouts, 5 Rockling and 1 Dogfish) recorded weighing 70lb 7oz.
As usual these days, a very competitive match and as expected plenty of fish in total contrast to the Club's last match. A few big Whiting were recorded but nowhere as prolific as a few years back. A relatively new match stretch for the Club which seemed to produce bigger Whiting closer to the wreck. There was no real pattern to where the fish were feeding and coming through and it was a matter of checking out combinations of bait and distance to find them.
The Club's next match is for the Woodward Cup and 6th Leg Winter Accumulator at CLEY on SUNDAY 2ND FEBRUARY fishing 10:00-3:00 HW 12:07 3.7m. This will be followed by Round 5 of the North Norfolk National Sea League and 7th Leg Winter Accumulator at KELLING via Muckleburgh Collection on SUNDAY 9TH FEBRUARY fishing 10:00-3:00 HW 6:39 4.8m … Tony T

Top 10 Individuals on the day

1...Bevan Self......11lb...13oz......(47 Fish) (Peg 9)
2...Mike Watts……...9lb...15oz.......(41 Fish) (Peg 5)
3...John Carter......9lb...4 1/3oz...(35 Fish) (Peg 4)
4...Paul Kendrick...7lb...7 1/3oz...(33 Fish) (Peg 6)
5...Paul Harvey…...7lb...4oz.........(25 Fish) (Peg 1)
6...Mike Topping....7lb...2oz.........(34 Fish) (Peg 8)
7...Tony Thomas....6lb...12 2/3oz.(30 Fish) (Peg 3)
8...Neil Smart.........6lb...3 2/3oz..(31 Fish) (Peg 2)
9...Jack Topping.....4lb...9oz.........(18 Fish) (Peg 7)

(No other weighers)

------..------