Holt SAC North Norfolk National Sea League Round 5 and Foreman Cup (Report)
Sunday 1st March 2020 - Kelling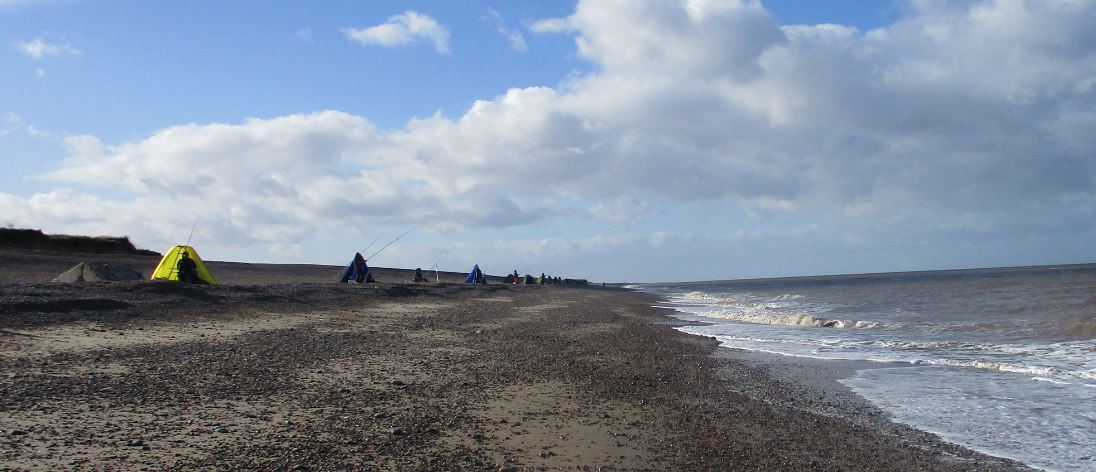 WARNING: This is a Story not a Report.
Holt SAC's delayed Round 5 of the North Norfolk National Sea League & Club Foreman Cup match was held at KELLING via Muckleburgh Collection on SUNDAY 1st MARCH fishing 11:00-4:00 HW 10:14 4.1m. Another good turnout although a couple of teams were a man short but these were made up by a number of Individuals which were also slightly depleted by prediction of serious weather conditions and an expensive petrol pump malfunction at Kings Lynn for a Lincolnshire contingent. Even so with the majority coming some distance everyone was eager to get going packing the Muckleburgh gateway a good 2½ hours before the start. Then there were the others of the slightly older set who were on cruise control and taking full advantage of that extra hour from the usual start time.
A bit breezy and chilly at the draw and with the forecast of storm Jorge bearing down on us everyone was prepared for a battering for a third week on a trot after Ciara and Dennis. As it happened this one was like a kitten compared to those two fat cats with the wind nowhere as strong and dying down to just a gentle breeze at the end. It was good to see some fresh blue sky at last, summer is on its was at last, well maybe! With a good south westerly the sea is always flat and you knew there had been a good blow with a number of vessels anchored in front of the wind farm using the shingle ridge for shelter. A small swell was rolling in but there must have been some action over the last 24hrs as there was excellent colour in the water, everyone was optimistic for a good day.
Pegging for this one was from just shy of the wreck westwards to just shy of the block house at Kelling. 40 pegs altogether with 6 not used and plenty of space for everyone. Many thanks again to Henry Randell for an excellent job, that's at least one role I have managed to delegate. Fishing after high water down on a small tide meant everyone could just about park on the lower shingle bank for the duration. The only challenge with this was erecting ones brolly/buddy in the windy conditions and securing it enough to prevent it joining the wind farm. Thankfully none were seen drifting seaward and everyone was well prepared for the off.
At the whistle everyone knew they had to take full advantage of the top of the tide before the water receded and slackened off. Good Whiting were expected at the start and targeting the Dogs was a must as they were certainly out there. In the first hour and half the Whiting were certainly there and generally of a better stamp than in the recent matches at this venue although the pesky Pins were still being a nuisance but at least most got on the cards. Unfortunately, the Dog plan at this stage did not happen but you have to try for those big points fish. Surprisingly, the Dabs in numbers were not there at this stage of the match, in fact there was not the usual raft of them throughout the 5 hours probably due probaly to the number of Whiting.
Weed was predicted to be a problem but although there was a little it was not serious and was not an issue. Slack water tends to switch the fish off although there's no tide to bring the fish through which would generally bring the Whiting through and this certainly happened with multiple blank casts for many. Usually the more resident Dabs come into play at this stage but again they seemed to be scarce. Unfortunately, the vermin are already becoming active again and coming inshore which did not help with stripped hooks being retrieved. The return of the tide brought back the Whiting and the Dogs seem to be very elusive except for one.
In the end it was North Norfolk Lads' fishing metronome MIKE WATS (Peg 45) who did the business with 10lb 3oz (488 points) from 37 fish comprising 28 Whiting and 9 Dabs. Runner up was Individual England International GEORGE SMITH (Peg 31) with 7lb 12oz (371 points) from 30 fish comprising that elusive Dog, 22 Whiting, 6 Dabs and 1 Pout. Final podium slot went to North Norfolk Lads' KEVIN GREEN (Peg 20) with 7lb 2oz (342 points) from 31 fish comprising 23 Whiting, 7 Dabs and 1 Rocking. Heaviest Flat a 30cm (11oz) Dab taken by CCFC's IAN CHILDERHOUSE (Peg 30) and Heaviest Round that Dog of 60cm (1lb 12oz) taken by GEORGE SMITH (Peg 31). Altogether 696 fish (643 Whiting, 40 Dabs, 7 Rockling, 6 Pouts and 1 Dog) were recorded weighing 153lb 1oz.
In the Teams NORTH NORFOLK LADS took the honourswith 5 penalty points from 3 Zone wins and a Zone 2nd. Runners-up were ANGLING DIRECT NORWICH with 8 penalty points with 4 Zone 2nds. Final team podium was a tie on 13 penalty points between CCFC with 3 Zone 3rds and 1 Zone 4th and BIG CATCH TACKLE with a Zone win and 3 Zone 4ths. Surprisingly, the top two teams have been in those positions for all 5 rounds this season.
This is a venue which is so unpredictable along the whole stretch. Distance can find the odd serious points fish whereas close could bring multiple fish. One minute you are getting treble shots a chuck and then nothing. Your neighbour could be bringing in multiple fish and you the odd fish or nothing even if you have identical rigs, bait and cast the same distance, most frustrating. This match was no exception and each Zone in this one had its own story to tell.
In Zone A End Peg CCFC's SIMON BOTTOMLY (Peg 3) was steaming it with fish after fish and next Peg 4 with North Norfolk Lads DAVE WRIGHT on board was tearing his hair out (well he does have plenty) trying to find those fish with identical rigs, bait and distance without the same success. At the other end of the Zone there was a 3 way tussle with Big Catch Tackle's HENRY RANDALL (Peg 10) taking zone win with 315 points from 30 fish. Runner-up was Individual SIMON DRAYTON (Peg 8) with 310 points from 31 fish. Loser here was Angling Direct Norwich's DYLAN MORGAN (Peg 9) who originally had 319 points from 29 fish but there was a 10 point error on his card dropping him to 3rd in the zone.
Zone B was sparsely populated with the two short teams missing this zone and the two Individual pegs not being drawn. In the end it was the battle of the Kevins deciding the outcome with North Norfolk Lads KEVIN GREEN (Peg 20) recovering from his nightmare on Day 1 of the SAMF CAF Challenge at Hythe and the Joc match at this venue to take the honours with 342 points from 31 fish. Zone second went to Angling Direct Norwich's KEVIN WARNER (Peg 19) with 248 points from 28 fish.
In Zone C it was another 3 way contest with North Norfolk Lads "Old Git" WILLY GROOMBRIDGE (Peg 27) taking the zone with 245 points from just 22 fish. A few bigger Whiting helped him overcome our Ladies Champion and England International Angling Direct Norwich's KIMBERLEY LAWN (Peg 29) with 237 points and 29 fish. Gorleston Tackle's MIKE TOPPING (Peg 26) tried to muscle in with 227 points from 23 fish but he's not an "old git", well not just yet.
In Zone D there was initially a two way fight (not literally) between North Norfolk Lads "Old Git" TONY THOMAS (Peg 35) and Gorleston Tackle's younger "Old Git" ALAN DOY (Peg 33) with the former finding a few reasonable Whiting at the off. However, in typical Doy fashion he kept finding the odd fish during slack water and after sneaking in a few extra casts at the end took the runners -up slot in the Zone with 222 points from 27 fish to TT's 217 points from 24 fish. However, both had forgotten about the Master Individual GEORGE SMITH (Peg 31) who was targeting that big fish towards the end and he got it as he usual does a 60cm Dog worth 84 points which put the cat amongst the pigeons giving him 371 points from 30 fish and the zone win. Ironically, this was from the identical peg from where he took the Penn Sea League final 3 years back.
Zone E was interesting and tactics contributed to certain individuals results on the day. First of all, Individual GARY MEDLER (Peg 50) who has been having an unusual torrid time at this venue in his last few matches here thought all these woes were at an end when he drew end peg with the wreck well within his range. His tactic was to place his bait in or near the wreck which he did numerous times but after trying to haul the wreck ashore many times left his bait there with it. This tactic just didn't work and that bonus fish remained in the wreck for another torrid day at Kelling. Then there was Angling Direct Norwich's ADRIAN BORDIANU whose tactic was to go for big fish and big points with big baits but he made one fatal flaw. Baits of 4-6ins need big hooks not size 1 up tiders, you need at least 1/0s or 2/0s. This plan worked finding bigger fish and good points including a 40cm Whiting but then was the one that got into the "surf" turned its head and waved its tail before slipping back in the briny. Estimated to be either a 4lb Codling of 50cm Whiting and this loss and its size soon made its way up the match stretch reminding us of an individual in the past who used to regularly lose monster fish in the surf. We do not dispute Adrian's claims particularly as it had a psychological effect on him as he found it hard to focus on the rest of match from then as he had just lost a match winning fish just yards from his grasp because he was using size 1 uptiders. Anyway he had to settle for 2nd in Zone with 316 points from just 20 fish. Zone winner was North Norfolk Lads MIKE WATTS (Peg45) whose tactic was lots of fish from 6 minute casts resulting in 488 points from 37 fish which included some specimen Whiting and 119 points ahead of the runner up.
Another cracking and enjoyable match particularly as the wind had died down to next to nothing. One big surprise was that there were no Flounders recorded and not even a Schoolie Bass both of which tend to show at this time of the year when it has been mild. Let's hope they all return for the Bass Festival at the end of April.
The next Club match is for the 10th Leg Winter Accumulator and 6th Round North Norfolk National Sea League & Open on SUNDAY 8TH MARCH at BACTON via Castaways fishing 9:00 – 2:00 LW 12:08 4.6m. Draw will be from 7:15 at Castaways Cliff Top Inn (NR12 0JB). The Inn will be open from 7:00 for Breakfast etc. After the match there will be a Buffet, Raffle and Presentation of this season's winnings and trophy.
Top 10 Individuals (on the day) …
1...Mike Watts...........10lb.2 2/3oz..(37 Fish)(Peg 45)
2...George Smith........7lb.11 2/3oz.(30 Fish)(Peg 31)
3...Kevin Green..........7lb.2oz………..(31 Fish)(Peg 20)
4...Adrian Bordianu.....6lb.9 1/3oz...(20 Fish)(Peg 48)
5...Henry Randell……….6lb.9oz………..(31 Fish)(Peg 10)
6...Simon Drayton…....6lb.7 1/3oz...(30 Fish)(Peg 8)
7...Dylan Morgan…….…6lb.7 oz........(29 Fish)(Peg 9)
8...Simon Bottomly.....5lb.15 1/3oz.(26 Fish)(Peg 3)
9...Richard Hipperson..5lb.6oz.........(20 Fish)(Peg 49)
10..Roger Cunnington.5lb.4oz ........(20 Fish)(Peg 44)
Teams on the Day …
1...NORTH NORFOLK LADS…………..5 Points
2...ANGLING DIRECT NORWICH….8 Points
3=.BIG CATCH TACKLE………………13 Points
3=.CCFC…………………..………………….13 Points
4...GORLESTON TACKLE………………15 Points
6...ANGLING ADDICTS…………………22 Points
Current Team Leader Board …
1...NORTH NORFOLK LADS…………..30 Points…(8)
2...ANGLING DIRECT NORWICH….48 Points…(11)
3...GORLESTON TACKLE……………….67 Points…(15)
5...CCFC…………………..…………………...72 Points…(17)
6...BIG CATCH TACKLE………………..74 Points…(19)
4...ANGLING ADDICTS………………….77 Points…(22)
Please note: Worst score will be dropped after last match. Current worst score in brackets.
------..------