Holt SAC 2020 Annual Open and Roy Waller Memorial Cup (Report)
Sunday 1st November 2020 - Kelling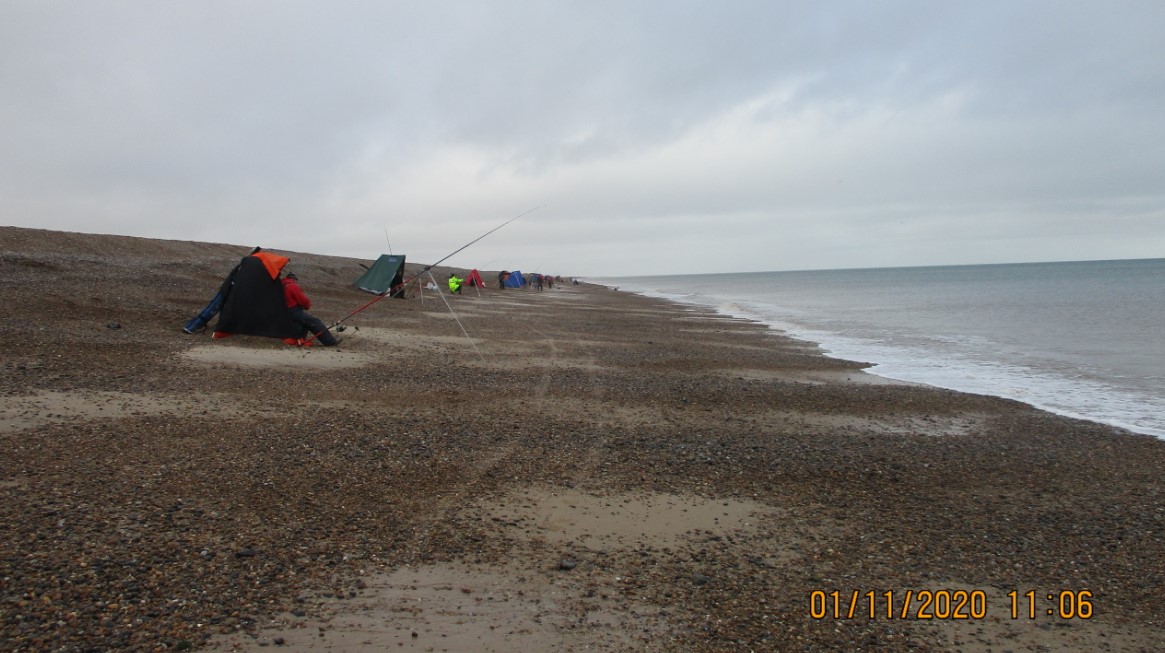 Holt SAC's Annual Open 2020 and Roy Waller Memorial was held at KELLING via Muckleburgh Collection on SUNDAY 1ST NOVEMBER. The match was originally planned for Bacton but the recent sand scaping had resulted in a deep gully close in on our usual stretch plus 10-12ft sand cliffs all along the beach. For reasons of safety plus members were getting tired of the venue with these obstacles the match was moved to Kelling which members were familiar with and could throw up a lot of fish.
As for other Opens in this Covid era the Draw for this match was conducted by streaming it live on facebook on the Friday evening before the match. The draw was achieved through a computer, randomly allocating pegs to each of the booked competitor. Apologies for the problems we had with the streaming of the draw on facebook but those will be fixed for the future. Altogether, 42 had booked but due to concerns about the forecasted wind and mutt management this was reduced to 39. Match cards were securely attached to the pegs which enabled the competitors to do a drive through on the Muckleburgh entrance straight for collection of match fees in Covid friendly envelopes and quarantine boxes.
Competitors were then able to go straight to their pegs without any form of formal gathering. Pegging for this one should have been west of Weybourne wreck up to the block house on Kelling Hard. Unfortunately, the wreck end was placed almost on the wreck with the Kelling end being well short of the block house, apologies for not quite getting this right. Fishing the ebb on a very big tide starting 3 plus hours after high meant plenty of room to set up below the high water shingle bank giving some shelter from the blustery wind. The only problem fishing a big ebbing tide at Kelling is the expanse of sand and shingle exposed as the tide retreats which can be a pain hiking up and down to retrieve and release fish. A slope that seems to have become steeper since the recent northerly storms but at least we didn't have to contend with the new steep shingle bank behind. Three zones for this one instead of the usual two and the ebbing tide meant easy walking to pegs at either end. The additional zone means a fairer result at Kelling and helps to spread the prize money around.
With storm Aiden clipping north west Scotland there was much concern that those blustery winds could be serious and were forecast to be 40-50 mph southerly. Thankfully, they never reached that strength but they did swirl a bit and a few buddies fell foul of this, collapsing in the shingle. A bit of dampness at the beginning but that soon peated out and the warm southerly air helped to forget about that. A really flat sea with a very slight swell and just a touch of colour which started to drop out as the match progressed, not good!
Target species for the day were Dabs, Flounders, Whiting and Bass with maybe the chance of the odd dog and recent reports had shown the Dabs to be there with Whiting at night. However, that rapidly disappearing colour certainly pushed the Whiting off but the Dabs came to our rescue. Fishing this venue consists of a few variables, local knowledge, understanding distances to fish, know rigs to use and when, bait selection, the peg and an immense amount of luck for that bonus fish. This match certainly had a load of these resulting in an extremely competitive competition.
All were more than ready for the whistle including Mr Organiser who normally is just setting up when action starts. For most it was the usual Kelling chuck as generally the numbers of fish particularly Dabs are only a few yards out for others who needed their adrenaline rush it was range and blasting it to Sheringham Shoal. It was soon evident that there were fish abouts as rods started to bang with England International Kimberley Lawn recording the first fish of the day, a 24cm Dab just 5 minutes after the start at 10:05. It wasn't long before others followed suit with single, double and treble shots of Dabs coming ashore, the Dabs were certainly there. Just to liven things up a bit Leon Smith (Peg 2) locked into a nice 37cm Bass to boost his score by 51 points and he must have thought there were more around, unfortunately not, well done Leon and sorry for the long walk.
For most it was busy in the first couple of hours but some of the usual Club stars did struggle a bit. Not so for Club member Tom Gibbs (Peg 27) who managed to find a 36cm Bass at 11:45 followed by another of 37cm 2 hours later. He must have thought it was his day but could not find the raft of Dabs others were casting into to boost his score, well done Tom! Once we got into the third hour slack water appeared which for the majority switched the fish off big time although the odd dab was still seen coming in.
However, Chris 'Wizzy' Spall (Peg 24) had found his usual Kelling mojo and was pulling in treble shot after treble shot of Dabs from a little bit of range and multiple singles during the quiet period. With such activity it was time to change tactics for the last two hours and England International George Smith (Peg 23) was one who opted for this. Struggling to find numbers of fish and keep up with Wizzy on next peg he decided to go for something big that could wipe out all those Dabs. So a Doggie or two was his target placing a couple of sand eels at range and they were at serious range. Unfortunately, the Dabs on this stretch of the coast are partial to sand eel and all he could find was 20cm Dabs although did manage a 24cmm version but no Dogs.
Further down the stretch on Peg 40 Craig Buy was having a similar dilemma requiring something big to go with his raft of small Dabs up to 25cm so being close to the wreck opted to go even closer to the wreck, again with a bit of range. This area can produce some big Pouts and Codling but although we did not see it (wreck) move his attempt to drag it ashore ended with a few more leads left to keep it there. Plenty of rubbish in front of this wreck along with a massive anchor, lesson learnt! So change of tactics was a failure for some but not for others like Peter Fairclough (Peg 36) back on the match scene after a long sabbatical away decided to use his perennial Irish and local Flounder skills to do some business. So for the last couple of hours placed his Blakeney worms loaded with wrigglers in the gutter and I mean gutter literally yards out and the result two 30cm and one 27cm Flounders worth 85 points in total. A tactic that worked and brought him into the money.
As the tide bottomed and started to push, Dave Burr (Peg 21) decided a similar approach to Peter with Skeggie wraps and maddies but at slightly more distance. A tactic that worked with Dave finding a 28cm and a monster 35cm Flounder in the last hour worth 76 points in total. Others were finding fish in that last hour none more so than MIKE TOPPING on end peg 1 who had with just 13 minutes left that bonus fish, a 47cm Bass worth 104 points (2lb 3oz) and to add to this he found a 30cm Flounder worth 32 points (11oz) on his very last cast. These two fish enabled Mike to take victory with 5lb 5oz from 20 fish the rest comprising of all small Dabs up to 22cm.
Runner-up was Mr Consistent from Suffolk CHRIS "WIZZY" SPALL (Peg 24) who used his extensive knowledge from previous successes at this venue plus a bit of speedy fishing to recorded 4lb 8oz from 26 fish. These comprising 25 Dabs up to 25cm and a podium winning 30cm Flounder worth 32 points. Third place was taken by Lincs. regular who supports all our matches (thank you!), SIMON "DOCKER" DRAYTON (Peg 38) with 4lb 4oz from 21 fish comprising 20 Dabs up to 28cm and a nice 31cm Flounder worth 36 points. As we paid out to fourth place final podium place went to the returning local, PETER FAIRCLOUGH (Peg 36) with 4lb 3oz from 17 fish comprising 14 Dabs up to 26cm and those 3 good Flounders up to 30cm at the end worth 85 points.
Heaviest Flat was DAVE BURR's (Peg 21) with that 35 cm (1lb 1 1/3oz) Flounder. Heaviest Round was that 47cm (2lb 2 2/3oz) Bass taken by the winner MIKE TOPPING (Peg 1). Altogether 529 fish (495 Dabs, 22 Flounders, 8 Whiting and 4 Bass) were recorded weighing 102lb 7oz. This was also a Club match and MIKE TOPPING therefore took the Roy Waller Memorial Cup. Top Junior on the day was JACK TOPPING (Peg 7) with 3lb 11oz from 16 fish, well done Jack!
For a change there were 3 zones which made match a lot fairer and the pay out was top 3 in each zone . Surprisingly, the draw created a strong Zone C placing a lot of top anglers there to compete against each other which resulted in some very close scores. However, top three placings came from separate zones with the top 2 coming from Zones A & B.
Results in the zones. Zone A was a family affair with the zone taken by the winner MIKE TOPPING (Peg 1) with 5lb 5oz from 20 fish. Runner-up was his young son JACK TOPPING (Peg 7) with 3lb 11oz from 16 fish comprising of 15 Dabs up to 24cm and a nice Flounder of 32cm worth 40 points, well done Jack again!. Third zone place went to Cromer-ite who is at last finding some form in ROGER CUNNINGTON (Peg 13) with 3lb 6oz from 16 fish comprising 14 Dabs up to 24cm, a rare small Whiting and a nice 34cm Flounder worth 48 points.
Zone B was taken by the runner up CHRIS "WIZZY" SPALL (Peg 24) with 4lb 8oz from 26 fish. Runner-up was another Humber regular DAVE BURR (Peg 21) with 3lb 15oz from 15 fish comprising of 13 Dabs up to 25cm and 2 good Flounders with one the heaviest 35cm flat worth 52 points. Third zone place went to a top angler who can always finds a result in GARY MEDLER (Peg 17) with 3lb 6oz from 18 fish comprising 15 Dabs up to 23cm, another rare Whiting and 2 Flounders up to 29cm.
Zone C was taken by third place overall man SIMON "DOCKER" DRAYTON (Peg 38) with 4lb 4oz from 21 fish. Runner-up was fourth place overall man PETER FAIRCLOUGH (Peg 36) with 4lb 3 1/3oz from 17 fish. Third zone place and missing out by just 2 points was Essex star ROB TUCK (Peg 35) with 4lb 2 2/3oz from 22 fish comprising of 20 Dabs up to 24cm a rare 29cm Whiting and a nice 30cm Flounder worth 32 points.
A few say that Kelling has had its day for matches but this one shows that it can give us an excellent competitive contest with everyone at least getting their cards marked. We will therefore be using Kelling as one of our prime match venues for the immediate future during Covid-19 and well beyond when hopefully this is all over. Many were very apprehensive of the day about the weather storm Aiden was going to throw at us but in the end it was all rather benign. Plenty of fish on the day but it was hard for a lot to keep them flowing in throughout the match.
Fortunately, the good old Dab was still there in numbers and they saved the day as the usual deluge of Whiting of all sizes just did not materialise. There were a few nice Flounders but numbers not serious probably as it will be soon time for them to disappear for nuckie. Also a few Bass were found but not the numbers you would expect at this time of year and for the number of top anglers participating. These two species were significant in getting into the winning slots where all those in those positions had one or more of these species.
I think the Club's Covid-19 rules and procedures worked well along with the on-line draw and results although there were a few technical problems with the latter, many apologies. Covid-19 is going to be with us for some time even if a vaccine is available so all our Club Open matches will adopt these rules, procedures and methods in the foreseeable future. Club matches will be similar but draw and results will be determined by numbers. Many thanks for Tom Gibbs' and Kevin Green's help with the registration and Mike Watts for calling out match cards so that I could be Covid safe. Also many thanks to all those who participated particularly in these very unprecedented times.
Just like to welcome Dan Lupascu as a new member to Holt SAC. At this rate we'll soon have a full Rumanian International team on board, welcome to you all. Also welcome aboard to Trowse man Carl "Evesy" Eves who will also be joining us soon.
With Lockdown 2 now in place we will not be running any November matches. The next Club match and Open will be the postponed Round 2 of the North Norfolk National Sea League and for the H. Mack Cup. If lockdown is finished, this will be on SUNDAY 6TH DECEMBER provisionally at GT. YARMOUTH – South Beach but could be switched to KELLING fishing 10:00 – 3:00 at both venues. Draw will be live at 8:00pm on Friday 4th December. This will be followed a week later by Round 3 of the North Norfolk NSL and for J. Long Shield on SUNDAY 13TH DECEMBER at CLEY fishing 10:00 – 3:00. Confirmation of both the matches will be made by the usual texts and posts closer to the date.
Stay Safe!!! … Tony T
Top 10 Individuals …
1...Mike Topping……......5lb.5 1/3oz….(20.fish)..Peg 1
2...Chris Spall..............4lb.76 2/3oz..(26.fish)..Peg 24
3…Simon Drayton………..4lb 4 1/3oz….(21 fish)..Peg 38
4...Peter Fairclough……..4lb..3 1/3oz…(17.fish)..Peg 36
5...Rob Tuck................4lb..2 2/3oz...(22.fish)..Peg 35
6...Dave Burr...............3lb.15oz……...(15.fish)..Peg 21
7...Mark Gooch............3lb.14 1/3oz..(23.fish)..Peg 41
8...Jack Topping...........3lb.11 1/3oz..(16.fish)..Peg 7
9...Adrian Bordinanu.....3lb.10 1/3oz..(19.fish)..Peg 30
10.Gary Medler…………....3lb 6 1/3………(18 fish)..Peg 17
------..------