Holt SAC Rocket House Open and 3rd Leg Winter Accumulator (Report)
Sunday 18th April 2021 - Kelling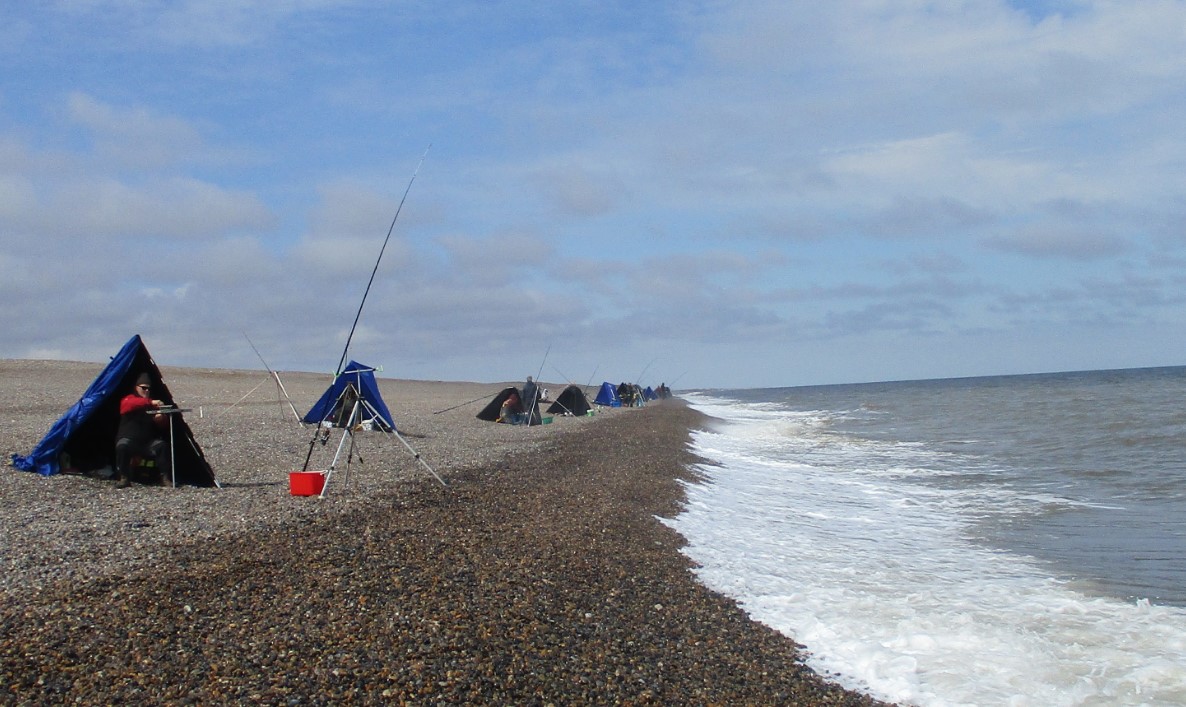 The Club's postponed 2020 Rocket House Open was rescheduled and fished at KELLING on SUNDAY 18TH APRIL fishing 10:00 – 3:00 on a small 4.2m tide and also include 3rd Leg of the Winter Accumulator. A match that is normally fished at Salthouse in memory of the Olde Rocket House that used to be there until 1953. However, it was decided to switch to Kelling with its more Covid friendly, if anything can be that, with good parking and beach access. An unusually good turn out for this particular match, probably helped by it being given Penn Plus status. Many thanks to Cliff Brown of Sea Angler magazine for rolling over this status from 2020. A selection of the country's top match anglers participating including 6 Internationals including current World Shore Angling Champion Saul Page, rubbing shoulders with a few novice anglers which cannot be bad for the sport, many thanks for all your support.
Peg draw had as usual had been done live on-line the previous Friday evening. Apologies yet again for the technical issue, I must get these fixed before the Bass Festival in 3-4 weeks time. This meant that everyone could go to their pegs immediately after registration where they would find their match card. Pegging was Zone A from the left hand end of the parking area towards the now defunct non-existent pill box. What a shame they could have at least left it on the beach, now just bare shingle and no landmark at that end of the match stretch. Zone B followed on under the low cliff in front of parking area and towards the wreck but well short of it.
Fishing just before high water and down so no problem deciding where to set-up plus being a relatively small tide none of this chasing the tide later on in the match. A chilly north north westerly throughout producing a slight 2-3 ft swell. Good colour in the water but for some it just didn't feel like the right colour, we were to see. Broken cloud throughout and with high pressure having dominated for some days there was some concern about numbers of fish around.
This was supposed to be the Club's only length match this year but this year's actual Rocket House Open is scheduled for December so two this year. Being length means it's numbers of fish that count and although serious fish are useful one cannot target them when 2 or 3 small Dabs could beat a Dog. So at the whistle it was pretty obvious the tactics of the majority was to be. Short 40-60 yd lobs for most with the rest who could not resist banging it to the wind farm.
For a few rods started to nod straight away and when you bring in a double shot of good Dabs within 6 mins you think this is going to be a blast, wrong! A slower start for some like Chris "Wizzy" Spall (peg 11) but once he found the fish he honed his match winning shingle techniques to start recording a fish or two every cast which is what is needed in a length match. This continued for him until just after 12:00 when they just switched off, recording just 2 Dabs in the last 2 hours. In contrast, Gary Medler (Peg 13) was doing his usual horizon trick throughout the match, finding single and double shot Dabs in the early hours and then a 36cm and 40cm Bass in the last two hours. Bonus fish and good points in a normal match but could easily be beaten by two scrawny Dabs in this one, well done Gary.
Steady catching was the name of the game and Sam Cooper (Peg 15) who incidentally was "Wizzy's travelling partner was doing just that except for dip in the 3rd and 5th hour. To help his cause he found a 36cm Bass at 1:41 which was his first ever Bass and he was over the moon with this. All of this achieved with no banging it out just the usual shingle lob and Tucky's lug and blacks the same as "Wizzy" was using, probably some clues here to their success, well done Sam. Others found fish early on, like Nelu Serban (Peg 2) who had a cracking 34cm Flounder at 11:05 but he also suffered in the last 2 hours with just 3 fish. Nathan Elliott (Peg 8) also had a cracking start but also suffered from that dip in the third hour but did find 6 Dabs in the last two hours. For once a bit of range was working for him at this venue.
Everyone was catching in Zone A but this venue can be unforgiving even for our best local anglers who struggled. In particularly, England International Henry Randell (Peg 10) who could only find 4 fish in 5 hours and Adrian Bordianu (Peg 6) with just 5 fish throughout. A big surprise which will be just a blip in their stats as they are normally in the frame. Some in Zone A couldn't work out how others were regularly finding fish and they weren't, none other than World Champion Saul Page (Peg 17). For him, it took until the second hour to get his 2nd fish and things started to improve but nothing serious. He then abandoned the local advice he had been given to go short and put some serious and I mean serious distance in his baits resulting in a better flow of fish onto his card.
Zone B was performing slightly better but most suffered the last 3 hours syndrome. In particular, Steve Potts (Peg 24) who could only find 3 Dabs in each of the final 3 hours but his first 2 hours could have been match winning. Likewise, Mark Rogers (Peg 31) had an excellent start and even managed fish in the barren third hour but he might as well have gone home after that at 1:00 as he could only find 1 Dab in the last 2 hours. In contrast, England International George Smith (Peg 33) had the good start as everyone else and two double shots of Bass in the third and fourth hours and like others could only find 2 Dabs in the last hour.
There was quite a battle going on in the high order pegs with England International Neil Cutler (Peg 37) having an outstanding first two hours but like others came unstuck at the end with just 4 fish in the last 3 hours. Relatively local man Bev Self (Peg 36) suffered a similar situation with plenty of fish in first two hours but with none in the third hour and just 2 Dabs in the final two hours dented his chances of beating those around him. However, the "metronome" local angler Mike Watts (Peg 38) was playing his usual waiting game as he saw the contenders steam ahead. He was still catching at a steady rate as them but a slight change of tactics to a bit of range he continued to find fish in that barren third hour including a 44cm Bass worth two scrawny Dabs and started to reel them in but he too fell foul of those final two hours with just 4 Dabs. Another local who had been struggling of late in John Carter managed to take advantage of his end Peg 40 finding 2 treble shots in the first hour and then three double shots in the next two hours. Then things dried up for him like everyone else, finding just 2 Dabs in the last two hours.
The battle in Zone B towards the wreck ultimately decided the winner with MIKE WATTS' (Peg 38) steady performance giving him victory with 524cm from 24 fish which included 23 Dabs and that 44cm Bass. Runner up was NEIL CUTLER (Peg 37) with 493cm from 23 fish which included 22 Dabs and a Pout. Third place went to GEORGE SMITH (Peg 33) with 463cm from 22 fish which included 17 Dabs, 4 Bass and 1 Whiting. As pay out was down to 4th place that was taken by BEV SELF (Peg 36) with 450cm from 21 fish all of which were flat fish.
The Longest Flat fish was a 34cm Flounder taken by NELU SERBAN (Peg 2) and Longest Round fish a 44cm Bass taken by MIKE WATTS (Peg 38). Altogether there were 415 fish (369 Dabs, 14 Bass, 11 Flounders, 9 Whiting, 7 Pout, 3 Coalie, and 2 Dragonet) were recorded.
In the Zones, Zone B certainly outperformed Zone A with 241 fish against 174. Zone A was taken by NATHAN ELLIOTT (Peg 8) with 448cm from 22 fish comprising of 19 Dabs, 1 Bass, 1 Flounder and 1 Whiting. Runner up was NELU SERBAN with 367cm from 16 fish comprising 15 Dabs and that big Flounder. Third place went to SAM COOPER (Peg 15) with 334cm from 16 fish comprising 14 Dabs, 1 Bass and 1 Whiting. Again paying out to 4th place in the zones which went to SAUL PAGE with 303cm from 15 fish comprising 13 Dabs, 1 Bass and 1 Coalie. Zone B was taken by the overall top 4 detailed above.
Another cracking competitive match at Kelling where the skill of the angler to find numbers of fish was key. As was the speed of the angler where in a length match numbers of fish were imperative. Also showed how fickle this venue can be with plenty of fish at the start and almost switching off in the middle of the match and towards the end. With plenty of fish starting to appear this all bodes well for the Bass Festival and those matches leading up to this event. With this being a Penn plus match the top ten anglers will receive Penn points.
Stay safe!!! … Tony T
Top 10 Individuals (on the day) …
1...Mike Watts...........524cm..…(22 Fish) (Peg 38)
2…Neil Cutler…………....493cm…..(23 Fish) (Peg 37)
3...George Smith..…….463cm…..(22 Fish) (Peg 33)
4...Bev Self……...........450cm……(21 Fish) (Peg 36)
5...Nathan Elliott .448cm (22 Fish) (Peg 8)
6...Steve Potts…..……..435cm…..(21 Fish) (Peg 24)
7...Mark Rogers….......389cm…..(19 Fish) (Peg 31)
8...Nelu Serban ………..367cm..…(16 Fish) (Peg 2)
9…Chris Spall.............337cm....(16 Fish) (Peg 21)
10.Sam Cooper...........334cm…..(16 Fish) (Peg 15)
------..------