Holt SAC North Norfolk NSL 2020-21 Round 6 and 4th Leg Winter Accumulator (Report)
Sunday 25th April 2021 - Kelling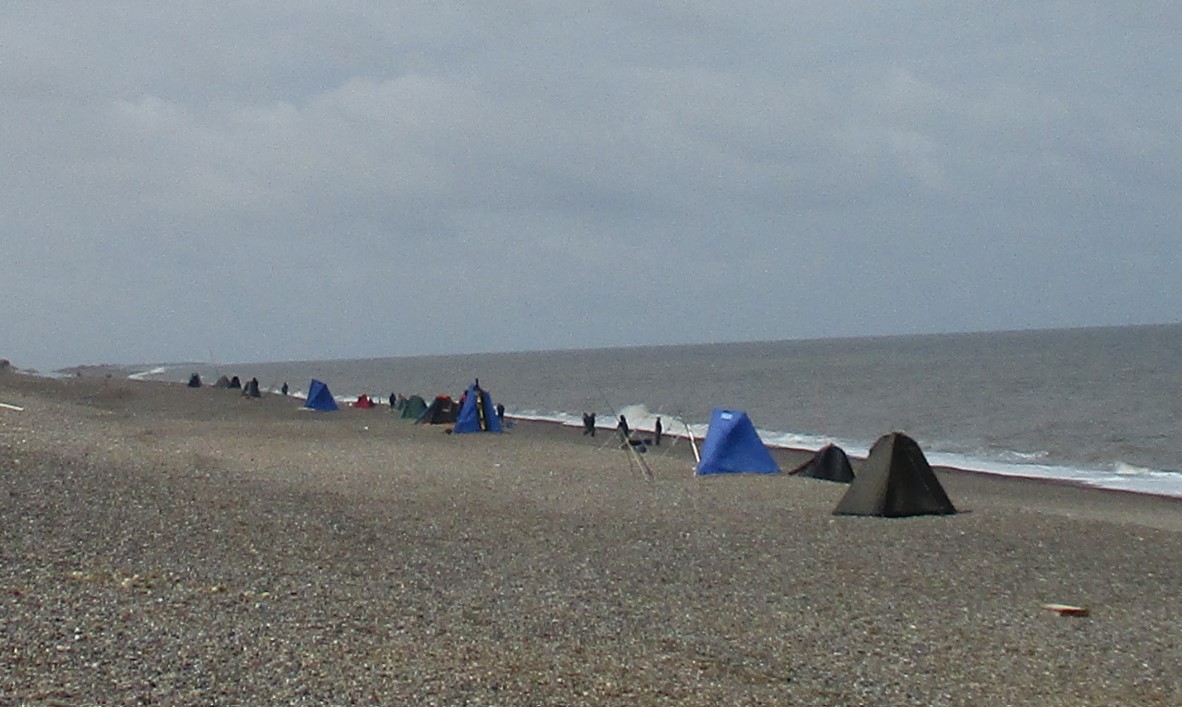 The final Round 6 of the 2020-21 North Norfolk National Sea League and 4th and final Leg of the Winter Accumulator was held at KELLING on SUNDAY 25TH APRIL fishing 9:00 – 2:00. A late switch from Bacton to Kelling because of shallow water and possibility of the white stuff if the wind strengthened from the north. Many apologies to Anna & Richard from Castaways for the switch as they were preparing to welcome us with their outdoor facilities.
This was billed to be a highly competitive match with 4 of the 5 teams well in contention to take the title and it certainly lived up to that billing. With toothless Thomas (TT) out it was up to Kevin Green and Mike Watts to run the show and for Henry Randell to peg the beach, well done lads for an excellent job. The pegging was spot on as requested and none of this suggested wreck stuff, many thanks Henry!
A good turn out with 5 full teams and no Individuals so the focus on this one was really on the team event. Draw was under the League's 2020 manual Covid-19 rules & procedures and both Draw & Registration were conducted at the Muckleburgh gate. Pegging for this one was 2 zones west from end of small cliff and 3 zones under the cliff and towards the wreck
With high water at 6:00 and an early 9:00 start on a medium tide meant fishing last of the ebb, over the bottom and the start of the flood. This allowed setting up on the high water bank and following the tide as it ebbed if required. At the whistle everyone had determined their tactics beforehand which for most it was the usual shingle chuck and for others some distance particularly if they had a bit of crab to try and entice a points earning silver bar.
It was soon apparent the fish were there in numbers as buckets and cards were being moved around. First to record at 9:06 was Kevin Green (Peg 3) with a 22cm Dab to get his North Norfolk Lads team's challenge underway. This was followed by a raft of others getting their cards marked on their first casts, none other than Jack Akester a late stand in for Angling Addicts with a triple shot of 2 Dabs and a Whiting at 9:15. More than half managed to find fish on their first casts whilst others had to wait for their bait to be sniffed, Alan Doy (Peg 17) of Gorleston Tackle was one of those but rewarded on his second cast with a triple shot of Dabs at 9:28.
An even slower start for some particularly one of the crabbers at range, North Norfolk Lads David Wright (Peg 20) who could only find Whiting in the first hour but they were good ones at 34cm and 29cm and then his crab paid off with a 42cm Bass worth a healthy 74 points. However, he started to question his tactics as he was seriously being embarrassed by Team Manik's captain and England International Kimberley Lawn (Peg 19) who was finding fish every cast including 3 trebles and a few doubles plus a 33cm and 36cm Bass for plenty of points. Bonus Hounds were also being found which boosted scores but unlike the previous week at the same venue fish were being recorded throughout the match which meant bonus points from these fish could not guarantee a podium position.
With this steady flow of fish, personal duels cropped up between members on adjacent pegs with one creeping ahead only to be overtaken by the other on the next cast. Such a situation created a competitive theme along the whole stretch particularly as teams were in a tight battle for the overall League Championship. Such was the number of fish only 5 members failed to turn over their card with 20 team members recording 20 or more fish.
In the end it was one of these adjacent peg tussles determining the winner with Gorleston Tackle's BEVAN SELF (Peg 25) coming out on top to take victory. With a Bass & Whiting on his last cast he snatched victory with 10lb 4oz from 44 fish which included 29 Dabs, 14 Whiting and that Bass, taking full advantage of his wreck end peg. Runner up was his old (not so old) adversary North Norfolk Lads' MIKE WATTS (Peg 24) who could only find a small Dab leaving him adrift of Bev by just 7 points with 10lb 12/3oz from 45 fish which included 23 Dabs, 11 Whiting and a Pout. Final podium slot on the day went to Team Manik's captain KIMBERLEY LAWN (Peg 19) who has a regular habit these days of smashing the boys including her future husband on this occasion, recording 8lb 7oz from 35 fish which included 28 Dabs, 5 Whiting and 2 Bass, well done Kim!
In the Teams it was again all so close with NORTH NORFOLK LADS again taking the honours with just 9 penalty points from 3 x Zone 2nds, a Zone 3rd with a 4th place dropped. Runners up slot was shared with 10 points by TEAM MANIK with 2 x Zone wins, a Zone 3rd, a Zone 5th and 5th place dropped and BIG CATCH TACKLE with a Zone win, a Zone 2nd, a Zone 3rd, a Zone 4th and a Zone 4th dropped. The final two teams ANGLING ADDICTS & GORLESTON TACKLE tied for four place with just 12 points apiece. Another cracking team competition on the day.
The Heaviest Flat fish was a 32cm (13 1/3oz) Flounder taken by Team Manik's RICHARD HIPPERSON (Peg 9) and Heaviest Round a 48cm (2lb 5oz) Bass taken by Gorleston Tackle's MIKE TOPPING (Peg 4). Altogether there were 632 fish (480 Dabs, 117 Whiting, 17 Bass, 10 Flounders, 4 Pout, 2 Rockling and 2 Coalies) recorded weighing 158lb 4oz.
In the Zones, MIKE TOPPING(Peg 4) of "Gorleston Tackle" took Zone A with 357 points from 21 fish. Finding that 48cm Bass with 10 minutes to go beating by just 2 points long term zone leader KEVIN GREEN (Peg 3) of "North Norfolk Lads" with 355 points from 28 fish. Zone B was taken by PHIL READ (Peg 7) of "Big Catch Tackle" with 285 points from 26 fish followed by ROGER CUNNINGTON (Peg 10) "North Norfolk Lads" with 278 points from 21 which included 2 small hounds.
Zone C went to NELU SERBAN (Peg 12) of "Team Manik" with 366 points from 32 fish closely followed by LUKE PEARSON (Peg 14) of "Angling Addicts" with 361 points from 31 fish. Zone D was taken by KIMBERLEY LAWN (Peg 19) of "Team Manik" with 405 points from 35 fish followed by HENRY RANDELL (Peg 16) of "Big Catch Tackle" with 364 points from 23 fish with a 60cm on next to last cast saving him from further embarrassment. Zone E was taken by BEVAN SELF (Peg 25) of "Gorleston Tackle" with 492 points from 44 fish followed MIKE WATTS (Peg 24) "North Norfolk Lads" with 485 points from 45 fish.
The overall team title for the 2020-21 North Norfolk National Sea League went up to the wire with NORTH NORFOLK LADS comprising Tony Thomas (capt.), Kevin Green, Willy Groombridge, Mike Watts, David Wright and Roger Cunnington (reserve) retaining the league title by the narrowest of margins of ONE point with 42 penalty points over the 6 rounds with the worst match score dropped (Many thanks Roger for standing in for TT and doing the business). Runners up were TEAM MANIK comprising Kimberley Lawn (Capt.), Adrian Bordianu, Marian Spirea, Richard Hipperson, Nelu Serban, Constantin Botezatu, Dan Lapascu and Peter Fairclough with 43 penalty points. Final team podium slot went to the leading team in the first 3 rounds BIG CATCH TACKLE comprising Henry Randell (Capt.), Dave Burr, Paul Marshall, Phil Read, Dave Read, Billy Temple again just ONE point behind with 44 penalty points.
Disappointment of the day must go to Mike Topping's GORLESTON TACKLE team who had two zone wins but could not perform in the other zones finishing a further 2 points adrift with 46 penalty points. I know Paul Harvey would not want me to mention this but his team ANGLING ADDICTS had their best match of the series ending up with 71 penalty points overall. Well done lads and Kim for an extremely enjoyable series of very competitive matches and given the Covid situation managed to complete the series just one month later than scheduled.
The series also included the top three heaviest Flat and Round fish caught by team members over the 6 matches. Heaviest Flat was a 1lb 6 2/3oz Sole caught by PAUL MARSHALL of "Big Catch Tackle" in Round 1 at Bacton in early October 2020. The runners up slot was a 1lb 1 1/3oz Flounder shared by HENRY RANDELL also of "Big Catch Tackle" also caught in that Round 1 match at Bacton and WILLY GROOMBRIDGE of "North Norfolk Lads" in Round 5 at Gorleston in early April 2021. Heaviest Round was the 2lb 5 2/3oz Bass caught by MIKE TOPPING of "Gorleston Tackle" caught in this Round 6 match at Kelling. Runner up was PAUL MARSHALL of "Big Catch Tackle" with a 2lb 4 2/3oz Bass caught in Round 3 at Cley in early December 2020. Third place of 1lb 12oz was shared by 3 members comprising ADRIAN BORDIANU of "Team Manik" with a Dog in Round 4 at Salthouse at the start of April 2021, DAVE BURR and HENRY RANDELL both of "Big Catch Tackle" finding a Hound at this Round 6 match at Kelling.
With the fishing completed all winnings for the whole series as well as Holt SAC's Club match winnings and Specimen competition pay out for 2019 and 2020 were distributed in the Kelling parking area in a strict Covid-19 social distancing manner and face masks in a very chilly north north easterly breeze. Apologies for no buffet but that's Covid for you and moving the match from Bacton.
Another good Kelling match with plenty of fish. Analysis of the match cards shows that fishing the ebb as we have always known seems to produce fish throughout so we will stick with those times in future. We now have plenty of data with timings to further hone our match times so that we have the best catch rate in future. Many thanks to all the teams for an extremely competitive and enjoyable league in 2020-21.
The 2021-22 league will start at Bacton on Sunday 10th October 2021 Covid allowing. New teams are welcome.
Next Club match is 1st Leg Summer Accumulator at KELLING again on SUNDAY 2ND MAY and is the Club's first match of the 2021 season. More info will be text as usual to Club members.
The following weekend on SATURDAY 8TH MAY will be the 1st Round of our WEST NORFOLK CHALLENGE on the West Bank at KINGS LYNN. This will also be 2nd Leg of Summer Accumulator. More info on this will be out shortly.
Then of course we have our BASS FESTIVAL on weekend of 22ND/23RD MAY for which we currently have 100 booked. As advertised, booking will close on FRIDAY 30TH APRIL and currently cannot accept any more after that date. I know there are still a lot of Club members to book in so please get those forms sent off, bank transfer is preferred please!
That's it for this essay so please take care and Stay Safe … Tony T
Top 10 Individuals (on the day) …
1...Bevan Self…………….10lb 4oz……..(44 Fish) (Peg 25)
2…Mike Watts…………....10lb 1 2/3oz.(45 Fish) (Peg 24)
3...Kimberley Lawn.......8lb.7oz……...(35 Fish) (Peg 19)
4...Jack Akester…….......7lb.13 2/3oz.(35 Fish) (Peg 22)
5…Nelu Serban.............7lb.10oz.......(32 Fish) (Peg 12)
6...Henry Randell....…….7lb.9 1/3oz..(23 Fish) (Peg 16)
7...Luke Pearson…........7lb.8 1/3oz….(31 Fish) (Peg 14)
8...Mike Topping...........7lb.7oz …..…(21 Fish) (Peg 4)
9...Kevin Green.............7lb.6 1/3oz…(15 Fish) (Peg 3)
10.Paul Marshall…..……...7lb.5oz……….(25 Fish) (Peg 1)
Teams on the Day …
1...NORTH NORFOLK LADS …9 Points
2=TEAM MANIK....………..…...10 Points
2=BIG CATCH TACKLE ……….10 Points
4=GORLESTON TACKLE ……..12 Points
4=ANGLING ADDICTS ………..12 Points
Final Teams result
………………………………………………….....…(Score dropped)
1...NORTH NORFOLK LADS …42 Points……12 points
2…TEAM MANIK ….……………...43 Points……13 points
3...BIG CATCH TACKLE ……….44 Points……11 points
4…GORLESTON TACKLE ………46 Points……14 points
5...ANGLING ADDICTS ……….71 Points……20 points
------..------