Holt SAC 1st Leg Summer Accumulator 2021-22 (Report)
Sunday 2nd May 2021 - Kelling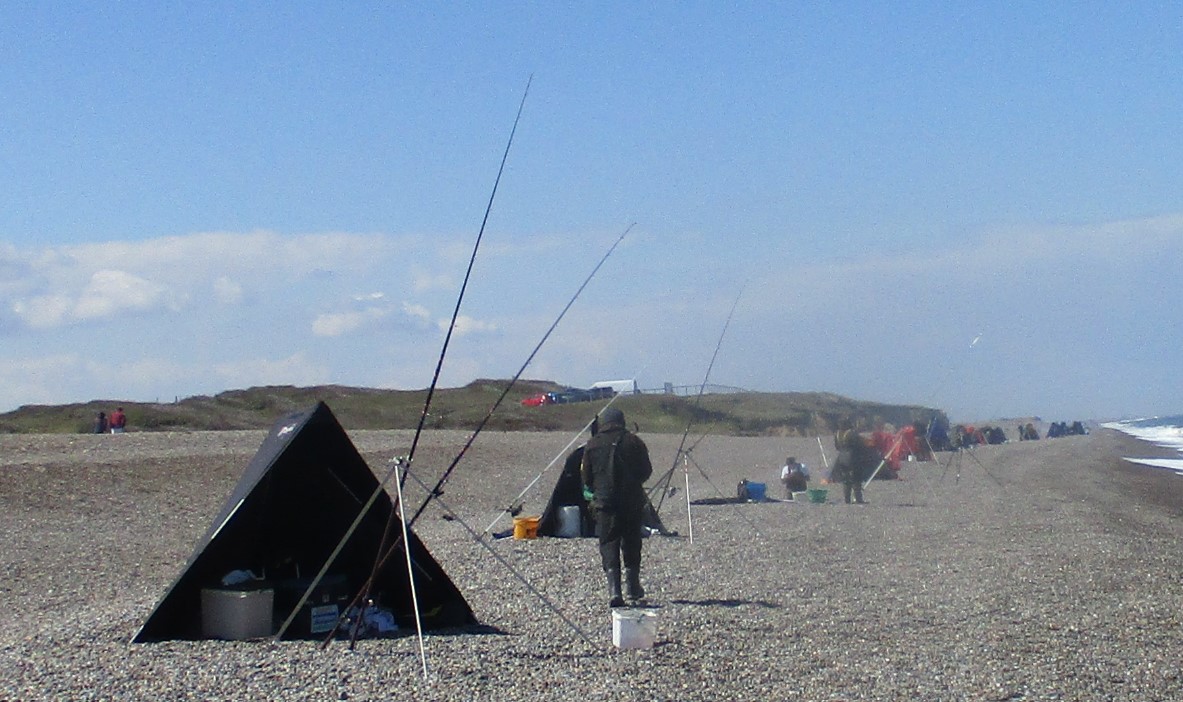 First match of the 2021-22 season was held on SUNDAY 2ND MAY at KELLING via Muckleburgh Collection. For a change match times were up and over high water on a biggish 4.5m tide fishing an hour up and 4 hours down. As predicted, good up and over the top but pretty poor in the final hours. A good turn out for a Club match of 19 which included 5 new members, Chris Spall, Sam Cooper, George Smith, Simon Drayton and John Kimble, welcome aboard lads! The usual Club's Covid friendly Draw & Registration at the gate saw everyone off to their pegs with more than an hour to the start.
Pegging for this one was from the wreck west infront of the Club's parking area under the small cliff. A moderate west north westerly had put a nice 2-3 foot swell on the sea and a typical North Norfolk Shingle Bass sea and for some this was the case. With the water a good hour to run before high everyone was pretty diligent where they parked on the last high water bank. Fishing over the top meant none of this chasing the tide as the match progressed although towards the end meant going down the gentle sloping shingle to cast and return fish.
Plenty of sunshine forecast for the day and no chance of any of that wet stuff, just a matter of sheltering from that chilly on shore breeze at the whistle. With high water coming up many had to make a choice to either fill their cards with Dabs or go for that bonus Bass or Hound. Most opted for the Dab route with their usual shingle chuck but at least a couple went for a bit of distance. None other that Dave Wright (Peg 9) who at 10:30 managed to find a treble shot of two small Dabs and a 79cm Hound worth 244 points giving him 257 points on his card giving the rest of the gathering a target. Next peg 8 Mike Topping also at range found a 35cm Bass as his first fish carded but being worth just 43cm he needed something slightly bigger to challenge Dave.
At about the same time new member Sam Cooper (Peg16) repeated his success of 2 weeks back and also found a 35cm Bass and his second ever Bass. However, needs to catch more to learn how to handle them in his bucket. As high water came and went Dabs seemed to be the name of the game but new member Chris Spall (Peg 18) had other ideas as he found a 47cm Bass worth 104 points at 11:25 only to find another just 5 minutes later, slightly smaller at 38cm for 55 points. As the tide ebbed he found another one of 38cm at 12:30 and a slightly small one of 34cm at 1:20 and last fish on his card.
Not to be out done in the Bass game was another new member Simon Drayton (Peg 11) who found a double shot of them at 12:20, 39cm and 31cm worth 90 points but again needed something more serious to catch the next door Hound man. However, did find another 36cm Bass at 1:25 for 47 points and again was his last fish on his card. Another Bass man was young Jack Topping (Peg 5) who found one bigger than his dad's at 38cm 1:03 to go with his raft of good Dabs and in the end beating his dad by 39 points, well done Jack! The Dab metronome Mike Watts (Peg 1) was up to his usual trick of Dab after Dab and then at 12:20 a 35cm Bass followed by another of 38cm at 1:10 which was a double shot with a 33cm Flounder which in total gave him 99 points on one cast.
Everyone else had to be content with the Dab and Flounder scene in particular another new member George Smith (Peg 2) who tried every concoction of bait and range to snare one of those elusive bonus fish to no avail. A long trip for new member John Kimble (Peg 17) to find two good Dabs and JC (John Carter) (Peg 15) asked me not to mention his single small Dab, needs his son (Paul) there to give him competition. Then there was Lucky Lokie (ex Asian Ace) Peg 13 who was up to his usual trick of finding a good Flounder of 28cm at 11:30 but could use his seriously ready peelers to find something more serious. Just two small Dabs to Alan Doy (Peg 3) saw his previous woes return and last match winner Bev Self (Peg 19) at the wreck end could only find small Dabs with that bonus Bass or Hound eluding him.
Similarly, Mr Organiser (TT) on END PEG 20 yes Simon, end peg Simon again! was spot on the wreck and he too couldn't find those bonus fish but his usual slider trick found a couple of decent Flounders in the gutter. Also finding a Flounder in the gutter was unlucky June Frary (Peg 6) but this was before the whistle was blown at the start, foul hooked as she was wetting her line. As it happened that would have seriously helped her score after the whistle but she did find a 26cm Whiting and the only one in the match, looks like they have definitely gone now. However, the luckiest person on the day was that Neil Smart (Peg 12) who at 11:15 had just 38 points from 3 reasonable Dabs and then nothing more until 1:10 when his rod smashed down and a 90cm Hound worth a match winning 392 points was on its way onto his card. Although this could have all been short lived for he could have gone from hero to zero for as he was retrieving through the surf the snood parted and he was seen pushing it up the beach with his feet with waves breaking around him. He hadn't listened to his travelling partner Bev who had repeatedly told to change his snoods and line. He nearly found out the hard way what pre-match prep he should have done.
At the whistle it was this Hound that gave NEIL SMART (Peg 12) victory with 9lb 4oz from just 6 fish which included 5 Dabs and that Hound. Runner-up was other Hound man in DAVE WRIGHT (Peg 9) with 7lb 5 2/3oz from 13 fish comprising 11 Dabs, a Flounder and a Hound. Final podium place went to CHRIS SPALL (Peg 18) with 6lb 14 1/3oz from 12 fish comprising 8 Dabs and 4 Bass.
Heaviest Flat Fish was a 33cm (14 2/3oz) Flounder taken by MIKE WATTS (Peg 1) and Heaviest Round that 90cm (8lb 2 2/3oz) Hound taken by NEIL SMART (Peg 12). Total of 164 fish (140 Dabs, 12 Bass, 9 Flounders, 2 Hounds and a Whiting) were recorded weighing 56lb 8oz.
An interesting match which probably gave some clues on how the up and coming matches over the next few weeks will fish in particularly our Bass Festival on 23rd/24th May. As predicted, this match fished okay over high water but with nowhere nearly as many fish as expected particularly after the number of fish recorded at the previous weeks match at this venue. Slack water between 1:30 and 3:00 saw as expected fish become very elusive with just 18 caught in the last hour. We would have expected more Bass given the conditions but hopefully this will improve at the Bass Festival. Good to see some bigger Hounds than previous week so hopefully these bigger ones are on their way. We were concerned about the lack of Flounders at this venue in previous weeks but although not many at this match there were some and not of a bad size. They should show at the Bass Festival particularly as we are fishing over the ebb. For the Festival let's hope the vermin stay away and the may weed doesn't materialise.
Thanks to everyone for being as close as you could to the Covid-19 rules and procedures.
Next Club match is 1st Round West Norfolk Challenge on West Bank (north) at KINGS LYNN on SATURDAY 8TH MAY fishing 10:00 – 3:00 LW 12:57 HW 5:25 4.2m. Please note this is a day earlier than originally advertised and starts an hour earlier.
Take Care and Stay Safe! … Tony T
Top 10 Individuals (on the day) …
1…Neil Smart…………….9lb 4oz……..( 6 Fish) (Peg 12)
2...Dave Wright…………7lb.5 2/3oz..(13 Fish) (Peg 9)
3...Chris Spall…..……….6lb.14 1/3oz.(12 Fish) (Peg 18)
4...Mike Watts…….……..6lb.5oz…..….(20 Fish) (Peg 1)
5...Simon Drayton……..4lb.11oz…....(13 Fish) (Peg 11)
6...Jack Topping………...3lb.4 1/3oz…(12 Fish) (Peg 5)
7...Sam Cooper…………..2lb.8oz………(10 Fish) (Peg 16)
8...Mike Topping..........2lb.7 1/3oz…(10 Fish) (Peg 8)
9...Albert Randlesome..2lb.2 2/3oz…(10 Fish) (Peg 10)
10.George Smith…………1lb.13 2/3oz.(11 Fish) (Peg 2)
------..------