Holt SAC SAMF Summer Pairs and 6th Leg Summer Accumulator (Report))
Sunday 24th June 2018 - Kings Lynn Estuary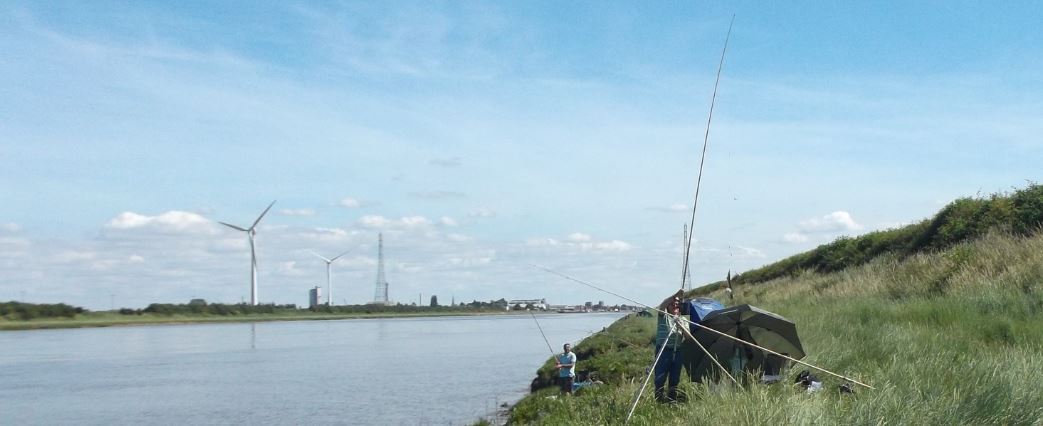 It was originally planned to run the SAMF Summer Pairs 2018 as a two day Event on 23RD/24TH JUNE on the West Bank of the River Ouse at KINGS LYNN. Unfortunately, the 20 Pairs target was never reached so the two day Event was abandoned, many apologies for those that had booked. This was then replaced by Holt SAC running the SAMF Summer Pairs as a one day Match on SUNDAY 24TH JUNE at the same venue which also included an Individuals competition as well as the 6th Leg of the Club's Summer Accumulator. Again unfortunately, the Match became a World Cup victim with many wanting to wallow in the drumming of Panama which affected many matches at the weekend as reported by Sea Angler. In the end 6 Pairs and one Individual participated and many thanks to all for travelling some distance to support the Club and thankfully replacing those "Goals" with a few Eels.
With High Pressure dominant the forecast was clear blue sky and little or no wind and they were spot on. A gentle north north east breeze helped keep the temperature comfortable as well as keeping the midges at bay and giving a bit of a respite to the hay fever suffers. Pegging for this one was two Zones south from 4 pegs length from the northern culvert on the West Bank. Fishing from just after the bottom up meant that all could see at the draw where the rocks and rough ground were situated at the bottom of the bank and certain pegs did suffer from this rubbish. The draw placed each Partner in separate Zones and the Pair with the lowest Zone placing total would be deemed Champion Pair.
At the whistle the tide was just beginning to flood and can sometimes be a productive time as fish chase food stirred up by the incoming water. This is precisely what happened when effectively end Peg 8 nearest the culvert was soon into a double shot of two good fish a 31cm Flounder and 60cm Eel. With the tide only just starting everyone was able to fish mid-stream and it was soon apparent that we were in for a respectable session as Pegs 9 and 10 found 30cm Flounders also on their first casts. As seems to be the norm at this venue the lower order pegs were performing at the start with more fish soon being recorded.
However, there was still activity at the start at the other end on end Peg 23 a nice 32cm Flounder was being recorded and those around this Peg were into small eels and the odd flounder. For the first couple of hours the tide allowed fishing mid-stream and everyone was picking up a number of Eels along with a few Flounders across the whole stretch although the middle Pegs were a little slow. As the Flood picked up fishing out was difficult as lines were quickly swept round although some did persevere with this tactic much to the "annoyance" of those upstream. With the tide on full throttle it was time for some to deploy their "gay gear" which resulted in a number of smaller Eels close in.
As the tide eased it enabled those who preferred to fish mid-stream to do it more friendly. One of those doing this was Albert Randlesome on Peg 11 who suddenly saw his rod bend round and soon had a monster 74cm Eel (2lb 1oz) on the bank and thoughts of heaviest round fish were going through his mind. However, at the very same time Henry Randell on Peg 9 had abandoned his "gay gear" after multiple small Eels had ruined all his traces and thrust 3 crab baits below the lead out into mid-stream. At the very time the Eel was being recorded Henry leapt up and started yelling I have something serious on as his line shot upstream. He kept on yelling it is serious and I'm going to lose it as he only had 10lb (0.26) snoods. Fortunately, he found a flat stretch of mud to slide a cracking 67cm (7lb 10oz) Bass on to and that 2lb Eel was soon confined to being the heaviest round for just 5 minutes.
Slack water brought a few more fish as there was then more options of where to place the bait but it was not furious. As the tide switched and started to ebb the Flounders became more active although the Eels were still on the feed. The tide soon started to power through again like a train and although there was under an hour of this at the end the mid-streamers were soon now affecting those down stream particularly when there was fish on board. Eels and particularly Flounders were now coming out even on the last cast which in one case determined Zone victory.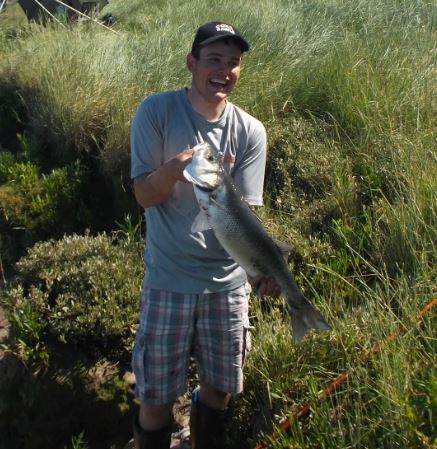 In the Individual competition it was no contest when that Bass came ashore with HENRY RANDELL (Peg 9) taking the honours although he would have done it without the Bass. His total weight was 16lb 2oz from 17 fish comprising of that single Bass, 11 Eels and 5 Flounders. Runner up was MARK MILLER (Peg 8) with 7lb 10oz from 11 fish comprising 7 Eels and 4 Flounders one of which was 38cm (1lb 5oz). Final podium slot went to DAVE READ (Peg 23) with 7lb 8oz from 14 fish which included 9 Eels and 5 Flounders.
The two Zones were treated as two separate matches and payout was to the top two in each. Zone A was won by DAVE READ (Peg 23) and 2nd place by SIMON DRAYTON (Peg 22) with 7lb 5oz from 17 fish all of which were Eels apart from a solitary 25cm Sole, missing out on top spot by Dave finding that Flounder double shot on his last cast. Zone B was taken by the top two in HENRY RANDELL (Peg 9) followed by MARK MILLER (Peg 8).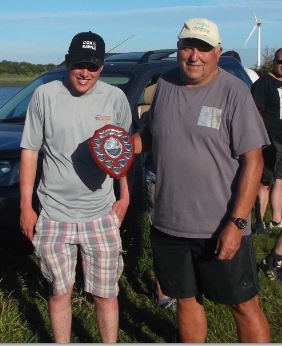 The SAMF Summer Pairs winners were of course HENRY RANDELL (Peg 9) & DAVE READ (Peg 23) with a perfect score of 2 Penalty Points and therefore retained the Pairs title they won at Sutton Bridge last year. Runner up spot with 7 Penalty Points was shared by GEORGE SMITH (Peg 15) 5th Zone A & SIMON DRAYTON (Peg 22) 2nd Zone B and TONY THOMAS (Peg 10) 3rd Zone A & MIKE WATTS (Peg 21) 4th Zone B.
The Heaviest Flat Fish was a 38cm (1lb 5oz) Flounder which was shared by MARK MILLER (Peg 8) and DANIEL EAGLE (Peg 19). Heaviest Round Fish of course went to HENRY RANDELL (Peg 9) with that 67cm (7lb 10oz) Bass. Altogether 140 fish (93 Eels, 44 Flounders, 2 Sole and 1 Bass) were recorded weighing 81lb 5oz.
In the Club's 6th Leg Summer Accumulator the winners were the same as the overall placings as they were all Club members.
This was yet again an interesting competitive competition played out on an excellent match venue even though numbers were low. Biggest surprise was the number of Eels recorded which was the most for many years. A lot small but a reasonable number were of a good size and we've not had a 2lb Eel for some time. With so many Eels measuring them worked well instead of having a fixed length which rewarded that 2lb specimen. It was also good to see a lot of quality Flounders where 23 of the 44 recorded were 30cm or above which sadly if the Commercials read this they'll be pot bait next week as happened 3 years ago. The Bass was the highlight of the day, which was in excellent condition and returned safely after having Henry's hand in its mouth.
With such a poor turn out it was the intention to cancel the Club's West Norfolk Challenge at Kings Lynn this year. However, after having such a good match a vote at the end agreed to continue with the Challenge providing there is enough support at the first match. These will be the next Club matches and the schedule is …
Round 1…Sunday 8th July……….....KINGS LYNN - WEST/Central
11:00 - 4:00...HW 2:46
Round 2…Saturday 21st July…......KINGS LYNN - WEST/North
10:00 - 3:00….HW 2:18
Round 3…Saturday 4th August.....KINGS LYNN or SUTTON BRIDGE
9:00 - 2:00…HW 11:42
Venue for the final Round to be determined via vote at end of Round 2. Please note that worst score of the three rounds is dropped so you can miss one Round and still be in contention in the Overall Competition.
Top 13 Individuals …
1...Henry Randell..........16lb..2oz............(17 Fish) (Peg 9)
2...Mark Miller................7lb...9 2/3oz.....(11.Fish) (Peg 8)
3...David Read...............7lb… 8 1/3oz....(14.Fish) (Peg 23)
4...Simon Drayton………...7lb... 4 2/3oz....(17.Fish) (Peg 22)
5...Dan Eagle.................6lb…5 2/3oz…….(12 Fish) (Peg 19)
6...Tony Thomas…………...6lb...1/3oz……...(11 Fish) (Peg 10)
7...Albert Randelsome....5lb...12 2/3oz...( 9 Fish) (Peg 11)
8...George Smith…………..5lb...10 1/3oz...( 9 Fish) (Peg 15)
9...Mike Watts...............5lb...4 2/3oz.....(11 Fish) (Peg 21)
10..Paul Marshall...........4lb...4 1/3oz.....(10 Fish) (Peg 20)
11..Dave Burr……………....3lb...13 1/3oz….( 7 Fish) (Peg 13)
12..Matt Frost................3lb...0oz………....( 8 Fish) (Peg 12)
13..John Carter…………..…2lb...9 1/3oz.....( 4 Fish) (Peg 18)
Top 6 Pairs …
1...Henry Randell & David Read...........2 Penalty Points
2=.George Smith & Simon Drayton……..7 Penalty Points
2=.Tony Thomas & Mike Watts…….……...7 Penalty Points
4=.John Carter & Albert Randlesome..10 Penalty Points
4=.Dan Eagle & Matt Frost………………....10 Penalty Points
6…Dave Burr & Paul Marshall………….....11 Penalty Points
------..------