Holt SAC 2020 West Norfolk Challenge Round 1 (Report)
Sunday 28th June 2020 - Kings Lynn Estuary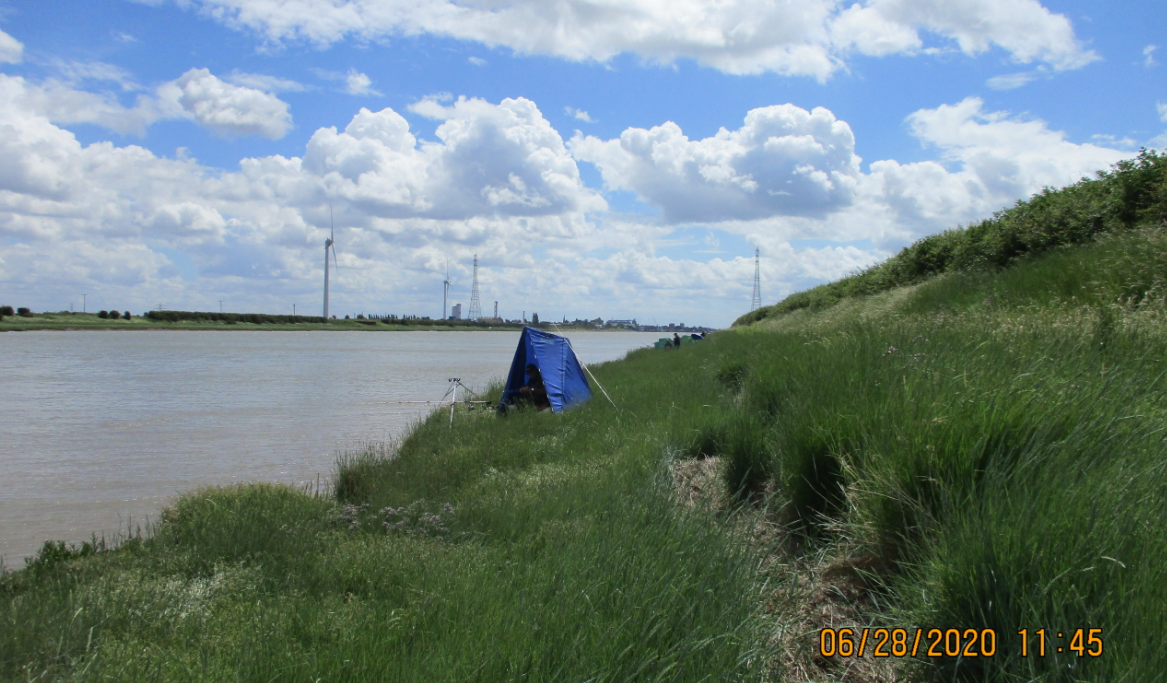 Holt SAC held the 1st Round of its 2020 West Norfolk Challenge Series and the 3rd Leg Club's Summer Accumulator on Sunday 28th June on the Ouse Estuary at Kings Lynn. This was the Club's first Open match under Covid-19 and the Club's now well established Covid-19 rules & procedures were used with a few adjustments. These all seemed to work well and our experience running matches under these conditions has enabled us to hone them into something practical for running our matches as well as finding out what members find difficult to adhere to. Many thanks to all who attended for in the main abided by the rules and procedures.
The venue for this one was the West Bank at the north end of Clockcase Lane near the Treatment Works. The match stretch was originally planned to be immediately south of the culvert but low water showed the bottom of the bank to be strewn with rocks, boulders and concrete so the stretch was moved further south to avoid them. The weather for the day was sunny periods with the occasional sharp shower and thankfully the wind although very breezy was off our backs from the south west with enough west in it to keep us away from the noxious Treatment Works fumes.
Even with an early 9:30 start, everyone was there nice and early, probably due to the McDonalds drive through being closed. A small turn out on par with Round 1 of other years but we did have a few newcomers to the Series including a Rumanian contingent. Many thanks to our Rumanian ace, Adrian, for this promotion and welcome aboard to a new Club member, Marian Spirea from London who has joined to give his countryman some competition, watch this space!
With pegs drawn under Covid-19 rules all were soon fighting their way through the long grass to try and find their peg and then pick an appropriate flat prominence on top of the bank without holes and cracks to trip into. By this time the tide had started to flood properly so at the whistle all had to work out exactly where to place their rigs, bottom of the bank, mid-stream or at distance. Some were being anti-social with some distance allowing everything to swing round on to neighbours gear raising a few bits of competitive tension along the stretch, won't mention who!
With a fair bit of flow, Eels were the target at the bottom of the bank but there was a lot of rubbish there and snoods were coming back hookless but that's where the majority of the Eels were residing. Eels was certainly the game plan of Adrian Bordianu (Peg 7) who was the first to mark his card at 9:57 with one of 34cm worth 17 points. His plan was working well with further Eels for the next hour including a double shot. Up until midday the tide was still racing through and only Eels were recorded during this period apart for a solitary 28cm Flounder to end peg man Albert Randlesome (Peg 6) and a 27cm Sole to George Smith (Peg 10).
Once the tide eased towards high water everyone had a better choice of where to place their baits including mid-stream along with distance and were starting to find some Flounders. Henry Randell (Peg 22) was the first to find one of 28cm at 12:08 and then Simon Drayton (Peg 25) with one of 29cm at 12:11. This now seems to be the pattern at Kings Lynn where the Flounders come on around high water and for the next couple of hours when you can get some distance and just about hold bottom. Targeting this species can bring big rewards demonstrated by Henry finding one of 40cm worth a whopping 74 points. Finding double shots of 30+cm Flounders can really boost ones scores and a few did just that. Once the ebb begins to pick up it's back to Eels.
That big Flounder along with one of 34cm and a double shot which included one of 35cm at the end enabled winner of the last two years England International HENRY RANDELL (Peg 22) to easily take victory with 7lb 2oz from 6 Eels and 6 Flounders. Runner-up on his favourite end peg position was Gainsborough's SIMON DRAYTON (Peg 25) with 6lb 1/3oz from 6 Eels and 4 Flounders and again a few quality Flounders here. Final Podium placing went to Eel man ADRIAN BORDIANU (Peg 7) with 4lb 11oz from 10 Eels and one small 21cm Flounder. He knew where to find the Eels at the beginning but didn't get his tactics right for those big Flounders towards the end.
Heaviest Flat was the 40cm (1lb 8 2/3oz) Flounder taken by HENRY RANDELL (Peg 22) and Heaviest Round a 55cm (12 2/3oz) Eel shared by ADRIAN BORDIANU (Peg 7), TONY THOMAS (Peg 9) and GEORGE SMITH (Peg 10). Altogether, 69 fish ( 45 Eels, 24 Flounders and 1 Sole) were recorded weighing 40lb 6oz.
In the Zones, Zone A was taken by ADRIAN BORDIANU (Peg 7) with 4lb 11oz from 11 fish followed by GEORGE SMITH (Peg 10) with 4lb 0oz from 6 fish which included that Sole. Zone B was taken by the top two winners, HENRY RANDELL (Peg 22) with 7lb 2oz from 12 fish followed by SIMON DRAYTON (Peg 25) with 6lb 1/3oz from 10 fish.
As usual this years Series has two Pairs competitions where the winners will be determined after the last match. The winners will be the pair with the highest accumulated Fish Points score over the 4 matches. In the Nominated Pairs current leaders are HENRY RANDELL & DAVE BURR with 522 points and 17 Fish, next is GEORGE SMITH & SIMON DRAYTON with 481 points and 16 fish, followed by MIKE WATS & TONY THOMAS with 326 points and 10 fish. In the Mystery Pairs current leaders are HENRY RANDELL & NEIL SMART with 371 points and 13 Fish, next is NEIL SMART & SIMON DRAYTON with 318 points and 11 fish, followed by MIKE WATS & ALBERT RANDLESOME with 257 points and 9 fish.
Another good competitive start to the 2020 Challenge with a few quality fish but fish numbers well down on previous years. Turn out was seriously impacted by the lack of crab and we could have had half as many again if peelers had been readily available. This was the Club's first Open under what is termed the New Normal and the procedures worked well. We do need to focus a bit on the use of Face masks at the start and end, it will be up to each Individual separately ensuring that he or she is 100% complying. If we all do this then we will collectively beat it. However, it was more like the Old Normal with the results as the usual contenders were back in the top spots. It will be up to us to change this at the next match.
The next Club match will be the West Norfolk Challenge Round 2 again at KINGS LYNN on the West Bank but this time just south of the Pylons and Treatment Works, wind permitting with access again at the top end of Clockcase Lane (PE34 4BZ). This will be on SUNDAY 19TH JULY fishing 2:30 – 7:30 on a 4.4m (Cromer) tide with high water 6:33 p.m. Usual text will be sent. This is also an Open match with bookings to Tony T on 07780793141. Hopefully by then crab will be more readily available allowing our Asian Ace to partake relieving me from having to conjure up all this boring stuff for him, sorry Pete! … Tony T
Top 10 Individuals (on the day) …
1…Henry Randell ………….7lb.2oz…….(12 Fish) (Peg 22)
2...Simon Drayton…….....6lb.1/3oz….(10 Fish) (Peg 25
3 …Adrian Bordianu…..….4lb.11oz…..(11 Fish) (Peg 7)
4...George Smith…………..4lb.0oz……..( 6 Fish) (Peg 10)
5...Dave Burr …………..…..3lb.12oz…...( 5 Fish) (Peg 21)
6…Mike Watts ……………....3lb.7 1/3oz.( 5 Fish) (Peg 18)
7…Tony Thomas…………....3lb 5 1/3oz…( 5 Fish) (Peg 9)
8…John Carter…………….....2lb 15 2/3oz ( 5 Fish) (Peg 13)
9...Albert Randlesome…...1lb.14 1/3oz ( 4 Fish) (Peg 6)
10. Alan Doy...................1lb.13 1/3oz.( 3 Fish) (Peg 12)
------..------