Holt SAC 2020 West Norfolk Challenge 2020 Round 2 (Report)
Sunday 19th July 2020 - Kings Lynn Estuary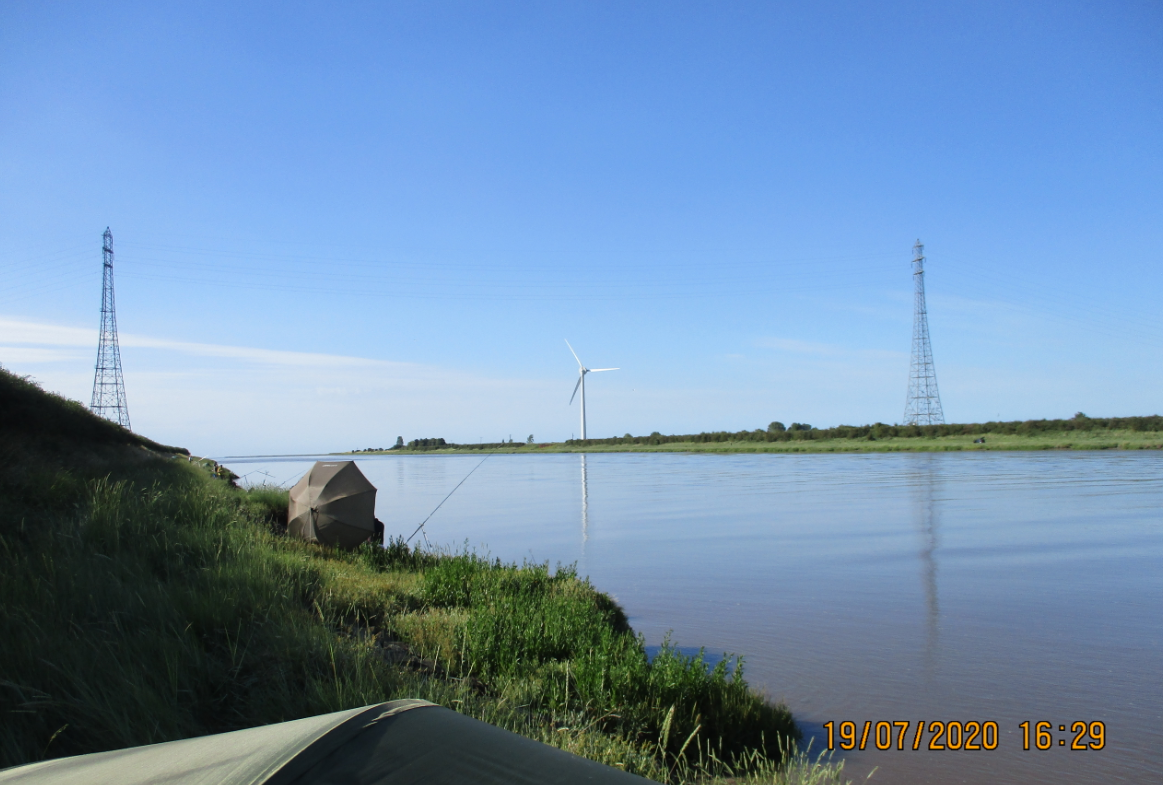 Holt SAC held the 2nd Round of its 2020 West Norfolk Challenge Series and the 4th Leg Club's Summer Accumulator on Sunday 19th July on the Ouse Estuary at Kings Lynn. This was under the Club's now well established Covid-19 rules & procedures and worked well although the wearing of masks needed to be a bit more apparent for some. Many thanks to all who attended for in the main abiding by the rules and procedures.
The venue for this one was the West Bank at the north end of Clockcase Lane near the Treatment Works. The match stretch was just south of the pylons and the Treatment Works. The weather for the day was sunny and warm which played havoc with the worm baits but with little or no wind it was a perfect day for the river. The next to no northerly switched north north easterly and then north easterly kept the Treatment Works noxious fumes well behind us providing a refreshing breeze to cool things down a bit.
A late 2:30 start meant that everyone could take a leisurely drive and partake in McDonalds drive through on their way. Unfortunately, a late start means traffic and there was certainly lots of this and of course it's caravan time again with Kings Lynn not being the place to hit when this builds up. A good turnout considering with 5 more than Round 1 including the Rumanian contingent still strong, the Suffolk Reads, Downham's Pearson, grandad Temple and the rejuvenated match fit Hipperson who had threatened to show the young Randell whippersnapper a thing or two. Many thanks to everyone who supported the Club in this one.
The pegs were located in the long grass on the boulder strewn bank with access down a steep, treacherous overgrown, although not so overgrown bank now through strategically placed gaps in the tall hedge. An obstacle that nearly resulted in our rather accident prone Mr Hipperson abandoning his threat to young Henry for a session on the sand. However, when reminded that there was plenty of scope for the Air Ambulance in the meadow behind and with help from others with his decent he continued his quest. With the difficult terrain on the bank a few were tempted by the flat dry mud at the top of the river bank although they were warned that this would not be as dry in 4 hours time at high water and this certainly was the case.
With pegs drawn under Covid-19 procedures everyone headed to their respective slots on the grassy outcrops or boulder strewn bank anxiously waiting for the whistle. All except Mr Organiser of course who had been on the patch an hour before everyone else ended up being one cast behind everyone else after the whistle, not good! At this venue it is usually Eels before High Water and Flounders and big Eels after. This was soon confirmed as the Rumanian Ace Adrian Bordianu on end peg 6 had an Eel on his card just 5 minutes after the start at 2:35. A good 47cm specimen worth 30 points and keeping up his Eel man reputation. However, others were soon into the Eels as in the 1st half hour up to 3:00 p.m. 10 managed to record 15 Eels with our Eel man only finding one of them.
At this early stage fishing mid-stream was allowed producing these Eels which were of a decent stamp, none of this really bootlace size of the past. Unfortunately, the flood started to pick-up and the tide became more serious meaning that all of the whacking had to cease. This was also not helped by that green marsh weed along with some rather late May weed and some frothy surface scum helping to push lines even further upstream. So, it was into the gutter for most until the tide eased resulting in just 12 more Eels being recorded by 4:00 p.m. However, such conditions did allow George Smith (Peg 24) to find a nice 38cm Bass at 3:25 p.m. putting a healthy 55 points on his card.
Just Eels up to 4:00 p.m. and then Richard Hipperson (Peg 12) found the first Flounder of the day at 4:00 p.m., a 30 cm version worth 32 points making his decision to stay a little more worthwhile. As the tide started to ease the fish took a while to start feeding again with next to none being recorded between 4:00 and 5:00 p.m. Slack water around 6:15 p.m. seemed to liven things up a bit as mid-stream came back as an option with more Flounders being found along with a few good Eels. To add to the species count on the day Simon Drayton (Peg 20) at 6:55 p.m. found a Smelt albeit small but still 6 points on his card.
With a 7:30 p.m. close the tide was beginning to pick up again and the last half hour saw the numbers of fish reduce with just 4 Flounders and 2 Eels recorded. Even so looks like the Eels won the day in this one with 5 anglers carding only Eels. It was one of them in DAVE BURR (Peg 9) who took the honours with 10 Eels for a total of 7lb 2oz. A cracking match for Dave with a card of all specimen Eels ranging from 42 to 63cm and no Flounders, well done Dave! Keeping up his charge to retain his title by being runner-up was HENRY RANDELL (Peg 15) also with 10 fish of slightly less quality comprising of 8 Eels and 2 Flounders for 5lb 6oz. Final podium place went to that man who is always in the hunt for the title and that is SIMON DRAYTON (Peg 20) with 7 fish for 4lb 11oz comprising 4 Eels, 2 Flounders and that Smelt.
Heaviest Flat was a 35cm (1lb 1 1/3oz) Flounder taken by MIKE WATTS (Peg 19) and Heaviest Round was that 55cm (1lb 2 2/3oz) Bass taken by GEORGE SMITH (Peg 24). Altogether, 85 fish ( 62 Eels, 21 Flounders, 1 Bass and 1 Smelt) were recorded weighing 50lb 0oz.
In the Zones, Zone A was taken by the winner DAVE BURR (Peg 9) with 7lb 2oz from 10 fish followed by HENRY RANDELL (Peg 15) with 5lb 6oz also from 10 fish. Zone B was taken by SIMON DRAYTON (Peg 20) with 4lb 11oz from 7 fish followed by end peg JOHN CARTER (Peg 26) with 3lb 8oz from 6 fish.
Current Challenge leader is HENRY RANDELL with 3 penalty points and 600 fish points followed by SIMON DRAYTON also on 3 penalty points and a slightly inferior fish points total of 514. In third place is DAVE BURR on 4 penalty points with 522 fish points closely followed by ADRIAN BORDINAU also on 4 penalty points with 393 fish points.
In the Pairs competitions the Nominated Pairs current leaders are still HENRY RANDELL & DAVE BURR with 1122 points and 37 Fish, next is GEORGE SMITH & SIMON DRAYTON with 848 points and 28 fish, followed by ADRIAN BORDIANU & MARIAN SPIREA with 538 points and 23 fish. In the Mystery Pairs current leaders are still HENRY RANDELL & NEIL SMART with 629 points and 23 Fish, next is RICHARD HIPPERSON & SIMON DRAYTON with 579 points and 19 fish, followed by ROGER CUNNINGTON & DAVE BURR with 539 points and 16 fish.
Yet another good competitive match with the majority of the contenders from Round 1 coming out near the top again. A better turn out than round 1 with the previous absentees being a bit more resourceful in acquiring crab. Yet again the number of Flounders was poor and the general quality was not the same as previous years. Biggest surprise is the number and quality of Eels which has been steadily getting better year on year. Whether this is due to the ban on taking Eels or not but we just don't catch the number of boot laces we used to. Probably we were fishing the wrong bank and should have been opposite on the East bank with everyone envious of its manicured banks and roadway where you could fish from your car instead of in the boulders and tall grass. Maybe we should be checking out that bank instead one day although a few commented that this stretch of the river seems to have had its day as it hasn't for some time fished like it used to do.
To address concerns about the performance of the river Ouse the next round 3 of the Challenge will be at SUTTON BRIDGE on the north end of the East Bank near the Light House (PE12 9QJ) on SUNDAY AUGUST 2ND fishing 2:30 – 7:30 HW 6:15 4.5m. Draw will be at the venue under the Club's Covid-19 rules and procedures from 1:00, PLEASE BRING & USE A MASK! This is also an Open match with bookings to Tony T on 07780793141. The Club's next match should have been the Annual Mackerel Bash at CLEY on Wednesday 29th July but Mr Thomas has screwed it up as the HW at 8:34 quoted in the fixture list should have been 22nd July last Wednesday, many apologies. No good fishing for Mackerel at low water so the Bash has been re-arranged at CLEY for TUESDAY 4TH AUGUST fishing 6:00-9:00 HW 8:24 4.6m. Usual text will be sent… Tony T
Top 10 Individuals (on the day) …
1...Dave Burr …………..7lb. 2oz…...(10 Fish) (Peg 9)
2…Henry Randell ……..5lb.6oz…….(10 Fish) (Peg 15)
3...Simon Drayton…….4lb.11oz….( 7 Fish) (Peg 20)
4 …Adrian Bordianu….3lb.8oz.…...( 5 Fish) (Peg 5)
5... John Carter ……….3lb.5oz……..( 6 Fish) (Peg 26)
6…Mike Watts ………....3lb.3 1/3oz.( 5 Fish) (Peg 19)
7…Marian Spirea……….3lb ..1/3oz….( 7 Fish) (Peg 6)
8…George Smith ………2lb 15 1/3oz ( 5 Fish) (Peg 23)
------..------