Holt SAC West Norfolk Challenge Round 1 and 2nd Leg Summer Accumulator 2021-22 (Report)
Saturday 8th May 2021 - Kings Lynn Estuary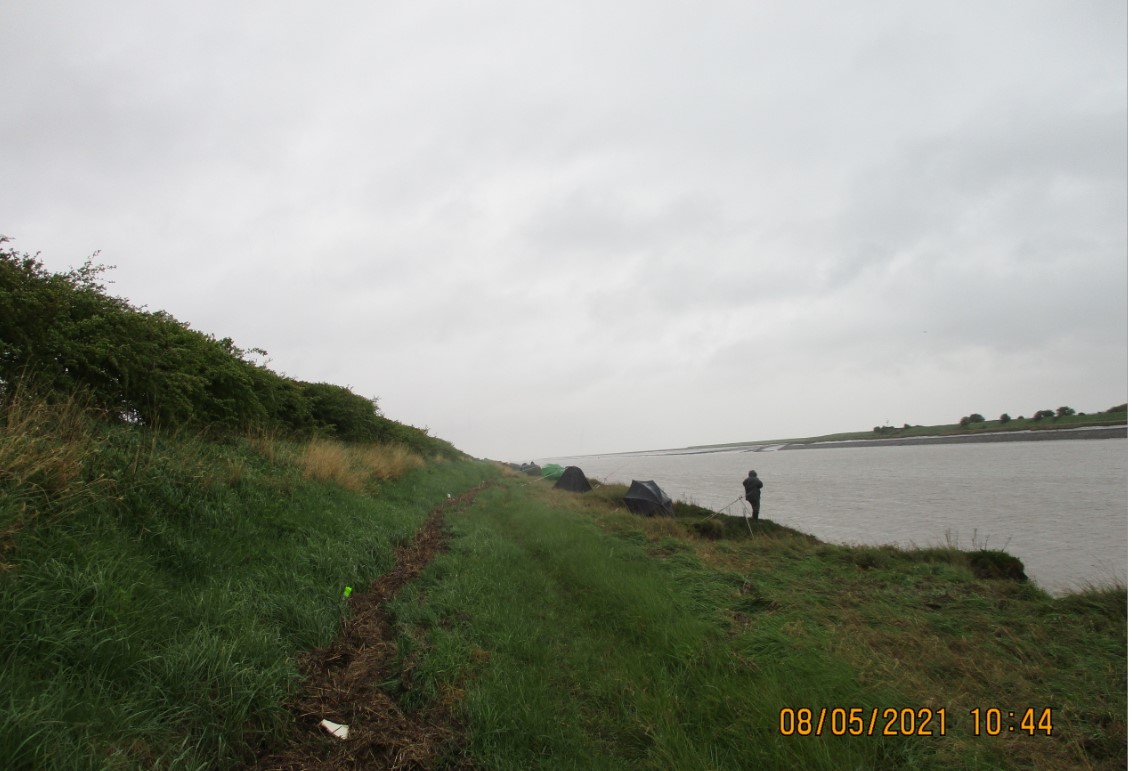 Holt SAC held the 1st Round of its 2020 West Norfolk Challenge Series and the 2nd Leg Club's Summer Accumulator on Saturday 8th May on the Ouse Estuary at Kings Lynn. Many apologies for this much delayed report but there was not a lot to say about this match except rain, rain, rain, wind and even more rain, rain and wind. 16 loyal challengers were booked in for this one and given the atrocious weather forecast everyone turned up and everyone stuck it out to the bitter end or should I say wet end. Credit must be given to all for remaining there until the final whistle as the forecast was spot on.
There were two zones with pegging for this one at the north end of the West Bank with each zone either side of the gap in the hedge to the river close to the gate access from Clockcase Lane. Thankfully the grass on the top of the river bank had been cut so none of this Serengeti slog just very, very wet. Thank you Environment Agency! Fishing for a change over the bottom meant plenty of mud and steep bank to bring the fish up but there weren't many of them so not a problem. However, facing east on a stiff wet south easterly was a problem and the incessant in your face rain really did test out your brollie or buddy and perseverance of everyone.
Not really much to report with 7 blanks out of the 16 fishing. First fish to be recorded was a monster Flounder of 37cm worth 60 points to Simon Drayton (Peg 5) just after the start at 10:19. In the first 2 hours just one more small Flounder was recorded by George Smith (Peg 16) at 11:30. Once midday was reached and the tide prepared to flood things livened up a bit for some if you can call it that. Another monstrous 36cm Flounder worth 56 points came to Billy Temple (Peg 4) at 12:15 and a double shot at that with a 22cm Flounder.
As the flood started things did improve for some in particular Ian Nelson (Peg 8) who found a 38cm Flounder worth 64 points at 2:12 his only fish of the day. On the round fish front Henry Randell (Peg 13) was out to retain his title finding 3 Eels around 1:00 which included a 54cm and 36cm double shot to keep his title challenge on course.
In the end it was the big Flounder man SIMON DRAYTON (Peg 5) who did the business (only just) with 2lb 3 2/3oz from 3 fish comprising 37cm & 26cm Flounder and 45cm Eel. Runner-up just ONE point (1/3oz) behind Simon was BILLY TEMPLE (Peg 4) with 2lb 3 1/3oz also from 3 fish comprising all Flounders 36cm, 30cm and 22cm. Final podium slot went to his grandson International HENRY RANDELL with 1lb 11 2/3oz from his 3 Eels (54cm, 44cm & 36cm).
Heaviest Flat fish was IAN NELSON's (Peg 8 ) 38cm (1lb 5oz) Flounder and Heaviest Round fish was a 54cm (12oz) Eel to HENRY RANDELL (Peg 13). Altogether just 19 fish (13 Flounders & 6 Eels) were recorded weighing 11lb 4oz.
In the Zones, Zone A was taken by SIMON DRAYTON (Peg 5) with 2lb 3 2/3oz from 3 fish followed by BILLY TEMPLE (Peg 4) with 2lb 3 1/3oz from 3 fish. Zone B was taken by HENRY RANDELL (Peg 13) with 1lb 11 2/3oz from 3 fish[TT1] followed by GEORGE SMITH (Peg 16) with 1lb 10oz from 4 fish.
As the weather was so atrocious the arranging of the Nominated and Mystery Pairs competitions was held over to Round 2. Current leader of the series is SIMON DRAYTON with 1 penalty point followed by HENRY RANDELL also on 1 penalty point but with inferior fish weight points. As the worst score of the 4 round series is dropped at the end of the league anyone who missed the first round will still be able to fish the remaining 3 matches and still be in contention to win the Challenge league.
Not a particularly exciting opening match for this year's Challenge given the atrocious conditions and lack of numbers of fish. Even so there were some quality Flounders recorded which looks promising for the remaining matches if the weather improves. This one didn't really give us chance to check out how fishing over the bottom performs although we should get a better judge of this in Round 2 which will be fishing a similar tide.
Next Round 2 and 4th Leg Summer Accumulator will be at KINGS LYNN East bank (P30 2HS) fishing 9:30-2:30 LW 11:51 4.3m. Draw from 8:00 at the venue, usual Covid-19 rules and procedures apply.
Please Take Care and Stay Safe! … Tony T
Top 10 Individuals (on the day) …
1…Simon Drayton …………2lb.3 2/3oz…….(3 Fish) (Peg 5)
2…Billy Temple………………2lb 3 1/3oz…….(3 Fish) (Peg..4)
3...Henry Randell …….....1lb.11 2/3oz…..(3 Fish) (Peg 13)
4…George Smith………..….1lb.7 2/3oz…….(4 Fish) (Peg 16)
5...Mark Sharman..…………1lb.7 2/3oz…….(2 Fish) (Peg 9)
6...Ian Nelson.…………..…..1lb.5 1/3oz…….(1 Fish) (Peg 8)
7…Jack Topping……………...0lb.5 1/3oz…….(1 Fish) (Peg 2)
7…Dave Burr……..……….…..0lb 3 1/3oz….…(1 Fish) (Peg 14)
8…Tony Thomas ………….….0lb 2 1/3oz…….(1 Fish) (Peg 15)
( No other weighers )
------..------