Holt SAC Rocket House Open (Report)
Saturday 30th December 2017 - Salthouse

As tradition dictates, Holt SAC's ROCKET HOUSE Open was held at SALTHOUSE on SATURDAY 30TH DECEMBER. A few days later than planned due to serious Seas on the actual date but everyone was more than pleased with result and that we did not cancel altogether. As seems to be the norm for this annual match attendance was low, maybe because it was length with every fish counting or probably due to difficulty getting bait in this holiday period. No matter, there were enough to make it a cracking match with those usual and not so usual participants from Suffolk, Cambs., Corby, Humber, mid-Norfolk , "round the corner" and surprisingly just ONE local man.
Weather for this one was forecast to be "warm" and was just that with clear blue skies plus a fresh to strong South Westerly. Rather chilly towards the end as its strength increased which started to whip up the flooding tide. It was a perfect chocolate sea with just a slight swell which in theory was just right for those stonking Whiting.
Parking at Salthouse is as usual on the Beach Road which is a pain with congestion and at times some distance to walk to the shingle. With such an ideal location for both anglers and walkers alike it is crazy that "All" those responsible have not reinstated the Car Park. However, do understand that they have their own selfish Agendas for this and it is going to take some political activity to get something done to change this.
Pegging for this one was west (left) from the Beach Road from what used to be called Geat Eye (now gone) towards and in front of Little Eye mound. Although no serious distance the Salthouse shingle is notorious for being strength sapping because of its softness and wrong size. Fishing from bottom up meant going to the peg was helped by the low water sand but the return journey so different as many struggled through the shingle including the trolley brigade.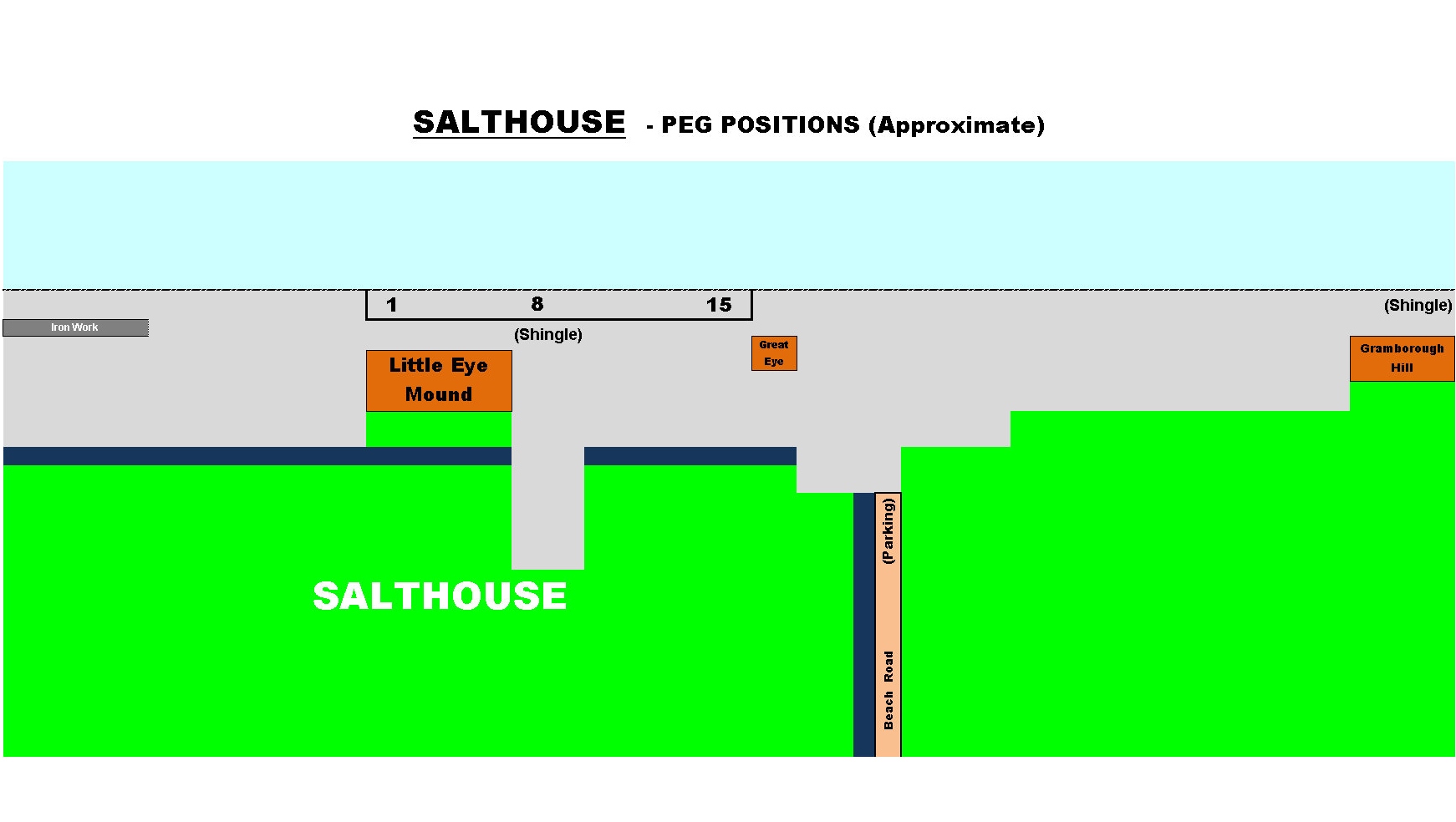 Fishing the Flood on a small tide meant "parking" on the HW bank and letting the water come to you, easy! Being a length match meant that tactics had to be different from the norm as in general it was numbers of fish that matter and not so much quality although this does help. At the whistle everyone was more than prepared with additional cards for more than 48 fish and plenty of traces baited up. It was soon apparent that we were not going to be disappointed as rods started to rattle immediately.
Doubles and trebles were soon being recorded as rafts of Dabs and some Whiting were coming ashore. The main thing was that those nearly stonking Whiting were there in contrast to the last match at Kelling a week earlier. The Whiting were really the target as they had superior length in the upper 20cm and above to the Dabs which seem to be in the lower 20cm and below. In the first hour some were only finding Dabs probably due to their rig, bait and distance techniques whereas others were finding some good Whiting and just the odd Dab which enabled them to pile on the points (cms).
However, as the match progressed everyone started to find Whiting and at mid-session and for some towards the end they became the dominant species. Catching multiple fish per cast was extremely important as a blank cast or a single fish would soon put you behind the guy next door if he was getting doubles of trebles particularly if they were stonking Whiting. With fish there through out it was flat out from start to finish, very exhausting and you still had the shingle to negotiate at the end.
In the end it was that man with the most fish in KEITH MORLEY (Peg 6)who did the business using the full extremities of his Peg to record 1503cm from 66 fish. Although he is not a fan of length matches because you can never catch up with a big fish, he showed how to rack up a big score to prevent the need for this. In 2nd place was MIKE WATTS (Peg 5) with 1318cm from 57 fish which included a lot of good Whiting towards the end. Final podium spot went to TONY THOMAS (Peg 13) with 1298cm from 52 fish just 20cm from 2nd place and with his only blanks on his last 2 cast demonstrating the need to record fish every cast.
Longest Flat fish was a 27cm Dab shared by KEITH MORLEY, NEIL SMART (Peg 11) and RUSSELL TAYLOR (Peg 10) and Longest Round a 37cm Whiting taken by ALAN WHITE (Peg 2). Altogether 571 fish (285 Dabs, 285 Whiting and 1 Bass) were recorded with a total length of 135m . This was also a SAMF Masters Qualifier and with three entries CHRIS SPALL Qualified.
This was also a Club match for the Janet Waller Cup and KEITH MORLEY took the trophy and the top three Club Members were the same as the Overall result.
Once again a very hectic match where for most it was continuous throughout and any hesitation was penalised. It was good to see some decent Whiting in daylight and let's hope they are still there for the North Norfolk National Sea League Round 4 at the same venue on SUNDAY 14TH JANUARY fishing 10:00-3:00 11:31 4.3m which is a similar tide to this match … Tony T
Top 5 Individuals (on the day) …
1...Keith Morley......... 66 Fish...1503cm
2...Mike Watts……….... 57 Fish...1318cm
3...Tony Thomas....... 52 Fish...1298cm
4...Adrian Bordianu... 56 Fish...1283cm
5...Neil Smart……….... 52 Fish...1245cm
------..------