Holt SAC North Norfolk National Sea League Round 4 (Report)
Sunday 14th January 2018 - Salthouse

The Holt SAC North Norfolk National Sea League Round 4 match was fished at Salthouse on Sunday 14th January fishing 10:00 to 3:00. With High pressure over the continent the weather was forecast to be settled and a south to south easterly meant wind over your right shoulder in contrast to in your face for the matches of late. As it happened they were spot on with a chilly slightly fresh south easterly which eased towards the end which helped to take off the wind chill. Surprisingly, the sea was calm but there was a 2-4ft swell rolling in from goodness knows where and in the westerly shallower Zones it was almost breaking some yards out. There was plenty of colour in the water and everyone was optimistic of some big bags of stonking whiting as in the Rocket House match after Christmas on a very similar tide.
The Sea League matches always attract a good turnout and this was no exception with match anglers from all quarters of the region participating. With such a turnout pegging had to be east and west of the beach road. Zones A, B & C were west from the now non-existent "Little Eye" mound to in front and just beyond "Great Eye" mound. Zones C & D was east from the beach road to just before "Gramborough" Hill. Whilst pegging there was whiffs of the aroma emulating from the "Cunnington" bacon butty van as it fired up its burners as far away as Zones A & B. Many thanks Roger & Russell for the sustenance on my return, much appreciated, particularly after walking on that wrong size too small Salthouse shingle. Not a vast stretch and an ebbing tide enabled easy access to the pegs but with the tide well in at the end it was a different story with having to negotiate this strength sapping Salthouse shingle all the way back. Particularly felt by the trolley brigade, many thanks Adrian for the tow. Pity the National Trust or whoever can't see fit to reinstate a car park to help everyone amongst other things to have less of this shingle to negotiate.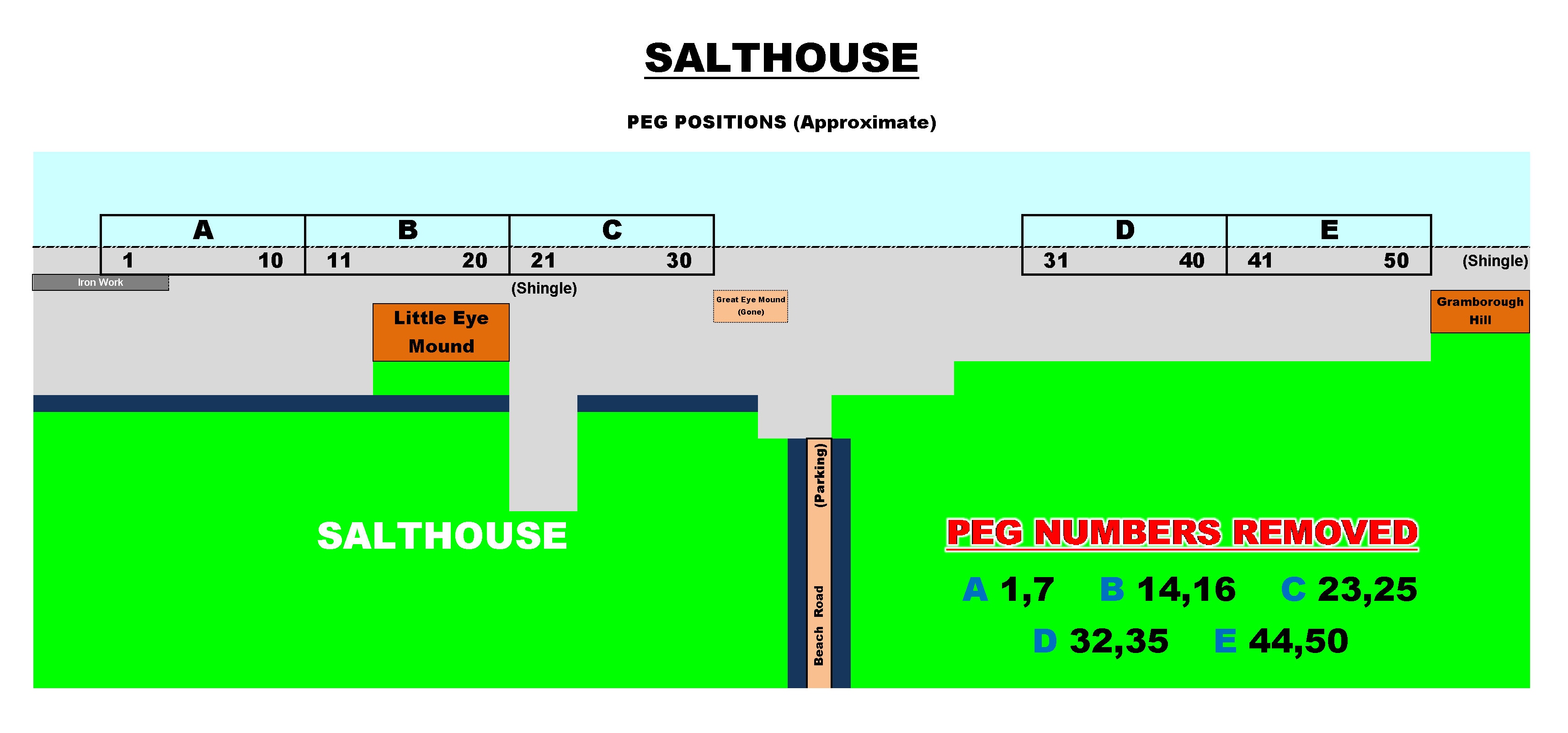 Everyone were soon on the match stretch and the immediate dilemma was where to park, on top of the low High Water bank or slightly lower to avoid hiking up and down the shingle to cast, return fish and have fish recorded. A few opted for the latter and were caught out in the last half hour as the flooding tide and swell pushed the surges well up the beach. At the whistle, although some are still deaf, everyone was in Salthouse mode and most using their experiences of this venue to know where to place the bait. At this point expectations were high for those stonking Whiting to start banging the rods after recent reports and December's match. Unfortunately, nature never really plays the game in our sport as rods remained motionless apart from the odd small rattle and lines slowly drifting left in the tide.
Those small rattles as expected turned out to be the usual small Dabs as found by young JACK TOPPING who came scurrying up the beach within 5 mins of the start with one attached. Probably the first fish on the beach and he repeated this again the next cast but it was downhill for him after that, well done anyway Jack. It was those reliable shingle Dabs that were going to save the day as those Whiting once again became elusive. Single, doubles and treble shots of small Dabs were coming ashore for most but even with the place apparently carpeted with them some struggled to find even a single fish. Not big fish around the 20cm mark with the odd specimen thrown in and once again a few of 14-17cm range but thankfully not as bad as the Christmas match at Kelling. There were of course the odd Whiting at this stage but they were the odd ones and not of the expected stonking variety. This was the pattern for the first couple of hours with fish going on the card but the points only creeping up slowing which described the size of the fish.
Then, as bottom was reached the surprise package arrived in the form of some stonking Flounders, not many but lucrative points earning specimens. A surprise, yes, as a species that has been very elusive at all the recent matches with them expected to be away having their annual "nucky" maybe some finished early. These were serious points earning fish well into the 30cms and with one of 39cm certainly catapulted their captors into contention on the day. This Flounder activity seemed to peter out as the tide began to flood but the odd decent fish was still being recorded even towards the end.
As the tide started to flood a few half decent Whiting started to show so some changed tactics to target these as they at least had good points to record. Big mistake as they never really materialised and at this stage the Dabs were still there albeit small. On the shingle a flooding small tide always takes time to switch flow and after a couple hours from bottom slack water arrived. A time renowned for being barren and this was no exception as pristine bait was being cast and retrieve untouched. Of course there was the odd fish but this was a major interruption to the match card's running total.
With just under an hour remaining the tide at last started to pick up again and for most the Dabs were back on the menu. Not many but enough to kick start that "Running Total" and for some they were joined by a few welcomed Whiting. Under match conditions this last flurry of fish can determine the outcome of a match and having 3 or 4 casts in the last half hour can sometimes do the business. As they say "it's not over until the fat lady sings" and those extra 1, 2 or even 3 fish can steal the match or zone and good points for the team, sorry Mike!
However, such tactics were not needed by the eventual Individual winner in RICHARD JACOBS (HAS BEENS) Peg 21 who had over 1lb in hand at the end and had done enough early on catching more sizeable Dabs than others at range plus a decent 33cm (44pts) Flounder and a few good Whiting towards the end for a total of 6lb 13oz from 31 fish. Runner-up was DAVE BURR (BIG CATCH TACKLE) Peg 42 who had that 39cm (68pts) Flounder along with one of 33cm (44pts) plus a Whiting of 31cm (22pts) and with fish like this was always destined for a podium slot recording 5lb 12oz from 24 fish. Final podium slot went to BEV SELF (GORLESTON TACKLE) Peg 12 who managed to find that bonus fish in a 36cm (56pts) Flounder along with a few good Dabs to record 5lb 9oz also from 24 fish.
With consistency back on their agenda, an outstanding performance gave BIG CATCH TACKLE victory with just 6 Penalty Points from 2 zones wins and 2 zone seconds, with their captain, young Henry Randell's dropped third place score giving the rest of the team something to think about. The remaining team podium slots were slightly closer with GORLESTON TACKLE runners-up with 10 Penalty Points from a zone win, 2 zone seconds and a zone fifth. HAS BEENS took the final podium place with 11 Penalty Points from a zone win, zone second, zone third and zone fifth.
Heaviest Flat on the day was that 39cm (1lb 6 2/3oz) Flounder taken by DAVE BURR (BIG CATCH TACKLE) Peg 42 which is now the heaviest flat in the League Series so far. Heaviest Round was a 33cm (9oz) Whiting taken by JOHN CARTER (ANGLING ADICTS) Peg 11 but not in contention for the League heaviest. Altogether 586 fish (472 Dabs, 97 Whiting and 17 Flounders) were recorded weighing 110lb 15oz.
The Zones were pretty even with the top 4 Individuals coming from 4 separate Zones with Zone D's winner being in 7th place. The Flounders in Zone E skewed the result slightly and without these Zones A,B &C west of beach road performed better than Zones D & E to the east. Zone A was taken by TONY THOMAS (NORTH NORFOLK LADS) (Peg 4) with 238 points from 23 fish followed by MIKE TOPPING (GORLESTON TACKLE) (Peg 5) with 217 points from 21 fish. Zone B was won by BEV SELF (GORLESTON TACKLE) (Peg 12) as in last round 3 with 266 points from 24 fish (must now really like the shingle) followed by PAUL MARSHALL (BIG CATCH TACKLE) (Peg 18) with 159 points from 21 fish.
Zone C went to RICHARD JACOBS (HAS BEENS) (Peg 21) with 326 points from 31 fish followed by BILLY TEMPLE (BIG CATCH TACKLE) (Peg 26) with 199 points from 25 fish. Zone D was won by BARRY STONE (INDIVIDUAL) (Peg 33) with 175 points from 19 fish followed by PHIL READ (BIG MATCH TACKLE) (Peg 34) with 172 points from 23fish. Final Zone E went to DAVE BURR (BIG CATCH TACKLE) (Peg 42) with 275 points from 24 fish followed by GARY MEDLER (HAS BEENS) (Peg 45) with 162 points from 16 fish.
In the Club match the Individual and Heaviest fish results for the Club League points were the same as detailed above and the results will also be the 2nd Leg of the Winter Accumulator. There were 4 participating in the SAMF Qualifier of which 1 qualified for the 2018 Masters who was BARRY STONE. As 1 in 3 qualify, 2nd place LUKE CHILDERHOUSE will get free entry into the next qualifier.
Another typical Salthouse shingle match where again Dabs were the dominant species and those good Whiting never appeared in numbers. Surprise package were the Flounders and if specimen versions appeared on your card you were bumped up the leader board. This was a good competitive match where you had to work hard for a result and for some it was ding dong all the way. Excellent venue, pity about the Shingle!
Next Round 5 is at KELLING on SUNDAY 4TH FEBRUARY fishing 10:00-3:00 HW 9:13 4.9m. Apologies for clashing with the ASSO Fountain Open but we had moved this forward a week because of the Joc Goudie Memorial match at same venue on the 2 days prior. This change was announced 6 weeks ago and no one mention the clash and I wasn't aware of the ASSO match.
Next Club match will be at TRIMINGHAM on SUNDAY 28TH JANUARY fishing 10:00-3:00 LW 9:54 4.3m. This will be for the Foreman Cup and is the 3rd Leg of the Winter Accumulator.
Finally, many apologies Clyde for missing you off the website results it has now been corrected … Tony T
Top 10 Individuals (on the day) …
1...Richard Jacobs....6lb.12 2/3oz..(31.Fish).(HAS BEENS)
2...Dave Burr..........5lb.11 2/3oz..(24.Fish).(BIG CATCH TACKLE)
3...Bevan Self.........5lb.8 2/3oz....(24.Fish).(GORLESON TACKLE)
4...Tony Thomas.....4lb.15 1/3oz..(23.Fish).(NORTH NORFOLK LADS)
5...Mike Topping.....4lb.8 1/3oz....(21.Fish).(GORLESTON TACKLE)
6...Billy Temple......4lb.2 1/3oz....(25.Fish).(BIG CATCH TAKLE)
7...Barry Stone......3lb.10 1/3oz...(19.Fish).(INDIVIDUAL)
8...Phil Read..........3lb.9 1/3oz.....(23.Fish).(BIG CATCH TACKLE)
9...Mark Colman....3lb.9oz………....(18.Fish).(INDIVIDUAL)
10.Jeff Stannard…..3lb.8 1/3oz.....(16.Fish).(GORLESTON TACKLE)
Teams (on the day) …
1...Big Catch Tackle…….6 penalty points
2...Gorleston Tackle....10 penalty points
3…Has Beens………..…….11 penalty points
4…North Norfolk Lads…12 penalty points
5...Norfolk Boi's……......16 penalty points
6…Angling Addicts ………21 penalty points
7…Charlies Angels..…….23 penalty points
8…Holt Crack Offs………..32 penalty points
Teams (todate) …
1...North Norfolk Lads….36 penalty points
2…Has Beens ………….....39 penalty points
3…Big Catch Tackle....…45 penalty points
4…Gorleston Tackle …….47 penalty points
5… Norfolk Boi's….……….72. penalty points
6... Charlies Angels s….88 penalty points
7…Angling Addicts..……..93 penalty points
8…Holt Crack Offs……..116 penalty points
------..------