Holt SAC 5th Leg Winter Accumulator and Cockaday Cup (Report)
Sunday 18th February 2018 - Salthouse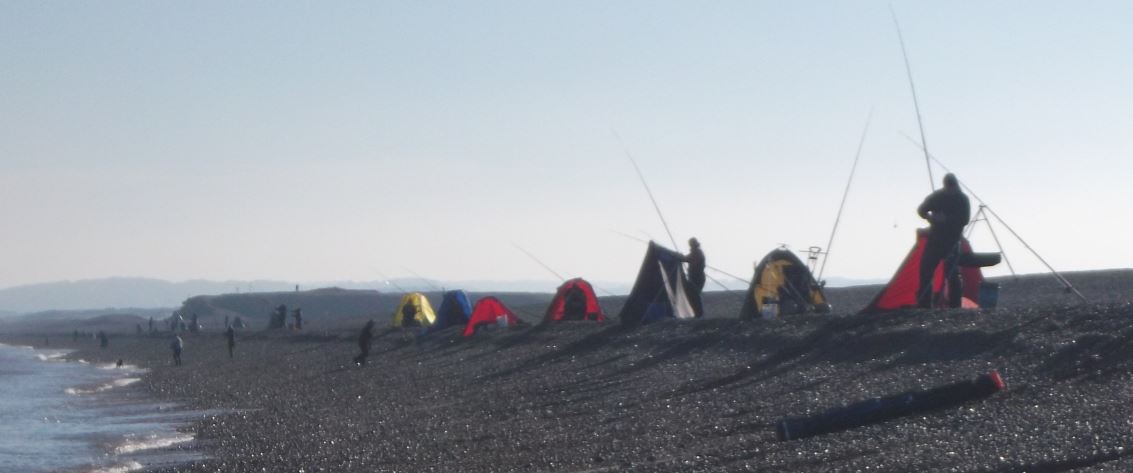 The Holt SAC 5th Leg Winter Accumulator & Cockaday Cup was fished at Salthouse on Sunday 18th February fishing 10:00 to 3:00 HW 8:06 4.7m. A favourite fishing venue for Club members but the wrong size shingle makes it an arduous challenge at the start and end of every match. The perennial parking problem at Salthouse leaves us having to traverse acres of the stuff but for this particular match we had a solution for some. Our taxi man Mr Paul (K) still had his taxi cap on when roaring up beach road on his quad and was soon ferrying some of the gear and members to their respective pegs, well done Paul it was much appreciated.
Not too many members for this one but a good number considering it was a pure Club match and a few of the regulars were away. Even so some had come some distance from Ely, the Humber, Kings Lynn and round the corner and bright blue sky morning had made their journeys easy. A chilly southerly breeze was forecast with plenty of sunshine and this persisted all day with the wind chill meant wrapping up, well all except our Bev who just likes his cut offs in whatever conditions. A flat sea with no swell and fishing the whole ebb meant at least we would see all the bites, well that's what we hoped.
Pegging for this one was supposed to be just left of the beach road towards and in front of Little Eye mound. However, "ex-bag lady" had set up in the middle of the start of the stretch after one of those elusive Rays so the stretch had to go further west than planned which did have an impact on the final result. With just a couple of hours after High Water everyone was able to easily park on top of the shingle bank. At the whistle there was no real urge to blast the lead and everyone found a good Salthouse chuck was sufficient.
After good results in the Joc Goudie Memorial the previous week on a much small tide everyone was expecting rods to rattle straight away and match cards to fill up. Unfortunately, repetition is not one of our sports strengths and most rods were rather static than bouncing around erratically. However, there were some fish there as buckets could be seen being filled and the odd Dab being recorded. The pace was slow but whilst there was a bit of tide these odd Dabs kept coming ashore and that's all there was just Dabs. Well not quite all as Tom (G) (Peg 3) was having a torrid start to his day with no fish but then locked into a double shot of Scorpion Fish but his whores continued as they were both under 18cm.
As the tide dropped on this biggish tide the water soon receded rapidly and everyone relocated on the flat shingle lower down the beach. The fast ebbing tide also reduced the amount of water in font which was particularly noticeable on the lower half pegs. This had a dramatic impact on the number of Dabs coming ashore at this end which was further impacted by the appearance of slack water. Fish on the lower order pegs virtually dried up whereas the high order pegs with slightly deeper water were producing. If we had been able to peg our normal stretch there would have been more water for everyone and a more even match but then it's the luck of the draw in this case.
The tide did start to pick up towards the end and more fish started to appear but for most it was far too late. In the end it was end peg man NEIL SMART (Peg 10) who did the business with 3lb 5oz from 18 fish which included a nice 29cm Flounder worth 28 points. Runner-up was his travelling partner BEVAN SELF (Peg 8) with 2lb 12oz from 17 fish who is becoming a regular on the podium on the shingle. Finally podium slot went to RICHARD LING (Peg 9) with 2lb 10oz also from 17 fish and his whoops of delight from hearing this would make you think he'd won the lottery although some local persons may have wished he had.
Heaviest Flat Fish on the day was that 29cm (9oz)Flounder taken by NEIL SMART (Peg 10). After 5 hours of fishing there was only one sizeable Round Fish recorded and that was a 22cm (3oz) Whiting taken by PAUL KENDRICK (Peg 1) an amazing situation after the numbers caught the previous week. Altogether 111 Fish (108 Dabs, 2 Flounders and 1 Whiting) were recorded weighing 18lb 2oz.
Not a particularly thrilling match but everyone seemed enjoy the competition and getting out in the air with the chilly sunshine. Finally, a match at Salthouse wouldn't be complete without that Coffee Man who gives a bit of atmosphere to the place along with good cheap coffee. Don't know who he is but thank you and thank you Mr Lokie for a dram+ of the stuff.
Next Club Match at Kelling on Sunday 25th February has been cancelled due to impending bitterly cold east wind and prospect of low turn. The Next Club match will be at BACTON on SUNDAY 4TH MARCH fishing 11:00-4:00 HW 8:06 5m. This match may also be in jeopardy as the long range forecast gives High Pressure settling over Siberia for at least 2 weeks or more and blasting some seriously cold air across the country. All will be informed accordingly … Tony T
Top 5 Individuals (on the day) …
1...Neil Smart.......3lb.5oz……..(18.Fish)
2...Bevan Self.......2lb.12oz…….(17.Fish)
3...Richard Ling....2lb.9 2/3oz..(17.Fish)
4...Tony Thomas..2lb.4oz……...(14.Fish)
5...John Carter…..2lb.1oz........(14.Fish)
------..------