Holt SAC 3rd Leg Summer Accumulator (Report)
Sunday 13th May 2018 - Salthouse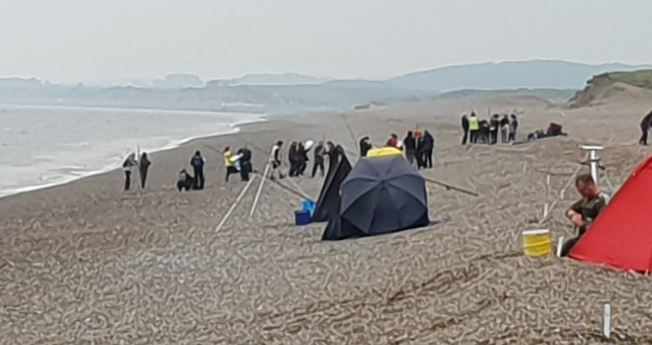 Holt SAC's penultimate match before the big one (Bass Festival) was 3rd Leg Summer Accumulator held at SALTHOUSE on SUNDAY 13TH MAY fishing 9-2 on a very small 3.9m tide with LW 12:29. An early start to catch as much as the ebb as possible which did not deter a healthy turn out from heading up Salthouse Beach Road for the 7:30 draw. Coming from as far afield as East, West & South Norfolk, North Suffolk, Cambs. with just a couple of local lads which seems to be the norm these days. Then there was our new Rookie Mark Miller who winged it all the way along the A14/A11 from Bury St Edmunds, welcome aboard Mark! Finally, there was guest of the day Zaharia Bordianu dad of our rising star Adrian who had come all the way from Romania well not this morning actually just from Taverham, was he going to show us some Eastern European style was the question.
As usual everyone was having difficulty negotiating the parking and even before we got to the draw we were all in a heated debate with one of the local twitches about vehicular access across the shingle for our disabled members and the car park. He relayed different stories about the different parties who had some sort of responsibility for it and then for some reason disappeared without coming to any sort of conclusion.
Forecast for the day was some damp stuff at the start but clearing later with just light westerlies and they just about got this spot on. The dampness duly arrived as the draw started but that didn't deter anyone although some silly sod thought he could get away without any salopettes, probably the same guy who thought he could get away without chesties on Banna Strand in Ireland. Anyway everyone was soon on their soggy way to the pegs with the rather "disabled" being ferried there by Mr Taxi Paul Kendrick, many thanks Paul! Pegging for this one was the usual stretch, west from the now defunct Great Eye to just past Little Eye.
Fishing the ebb on a small tide meant parking just below the small high bank and no following the tide, easy! With no real swell and the shearing water during the week giving way to some nice chocolate stuff everyone was a bit optimistic about a good flattie bash even on such a small tide. So at the whistle although some were using their own chronometers to override this, the majority opted for the flatties at close range with the odd caster deciding to bang it out with crab for an elusive Hound. For the Flattie guys and gal this paid off as Dabs started coming up the beach and onto the cards.
However, this quickly dramatically changed as the Bordianu's on pegs 2&3 started bringing in Hounds but they had been clever using a combination of lug and crab to target all species. They were soon joined on the Hounds list by John Harvey on peg 1 who found a couple on the early part of the tide. At the other end on peg 16 Paul Tovell found one at distance but as the tide ebbed found a couple more close in. Not big Hounds but with the biggest around 3lb 10oz tactics had to change and everyone had to switch to crab. This left Charlie Frary on peg 9 wondering if he had been too frugal by leaving half his crab at home for the Bass Festival as a Hound appeared on his card.
In the middle of the pack new member Mark Miller on peg 14 was into the Hounds at the start along with a good Schoolie towards the end. Hounds were also on the menu for Paul Kendrick peg 13 who also picked up a raft of decent flatties. "Smarty" on peg 12 eventually found a small Hound to go with his mixture of Dabs and Whiting. Tony Thomas on peg 7 was having a quiet day with just a few Dabs and a Whiting but did manage a Hound after switching to a good crab bait closer in. As for Peter Loke on peg 8 he was most despondent about the quality of his bait at the start but a Dog perked him up a bit and a Hound towards the end took him up a further notch, nice coffee Peter, thanks!.
Not wanting hubby to have it all his own way, June Frary found a very small Hound to record her only fish. Mike Watts peg 17 was up to his usual metronome tricks by stacking up a card full of Dabs and odd good whiting but needed a couple of good Hounds to do the business, unfortunately he could only find one right at the end and just a bit too late for more. Then there were the Houndless duo of Albert Randlesome peg 4 and John Carter peg who could not tempt a Hound with their juicy peelers so it will be back to the drawing board for them. Finally, it was also Houndless Richard Ling on end peg 18 who had nearly a card full of decent Flatties but no Hound.
As the match progressed the rain stopped and the wind switch to a slight North of West which gave a nice run on the sea but as low water approached this brought in the dreaded May weed which is such a pain to remove. Fortunately, this eased as slack water approached but unfortunately as normally happens the fish just switched off at this point. In the final hour the flooding tide picked up and with it brought a few more Hounds but far too late for some. This venue uncharacteristically threw up another problem of hefts on certain pegs of this stretch. It is obvious the scouring tides in March has unearthed what seems like blocks of concrete at various ranges and thankfully we will not be using this stretch in the Bass Festival.
In the end it was that Eastern European magic that gave our guest ZAHARIA BORDIANU victory with 7lb 12oz from 10 fish. Runner-up was JOHN HARVEY with 7lb from 14 fish with final podium place going to PAUL TOVELL with 6lb 15oz from just 6 fish. Heaviest Flat Club points went to CHARLIE FRARY with his 33cm (15oz) Flounder and Heaviest Round points to ADRIAN BORDIANU for his 72cm (3lb 10oz) Hound. Altogether 155 fish (108 Dabs, 20 Hounds, 18 Whiting, 4 Flounders, 3 Bass, 1 Pout and 1 Dog) were recorded weighing 70lb 7oz.
A good competitive match which bodes well for the Bass Festival on a much bigger tide but not too happy about the appearance of this May weed. Looks like we'll need plenty of crab but there we do have three separate categories in Bass only, Flatties only and All Fish so there is the option to target if needs be. We still have 6 pegs left if anyone wants to book in at this late stage. Will any Club Member fishing the Festival please bring along a raffle prize. See you all there!
Finally, the Club would like to pass on its condolences to the family of John Hardingham who sadly died a short while ago. John was Club President in the early 2000s and played a big part in running the Club in the 1980s and 1990s. He was a Club Member for some years prior to this and will always be remembered in the Club through the John Hardingham Summer Accumulator trophy, RIP John.
… Tony T
Top 5 Individuals (on the day) …
1...Zaharia Bordianu...7lb...12oz…….....(10 Fish)
2...John Harvey..........6lb...15 2/3oz....(14 Fish)
3...Paul Tovell............6lb...15oz .........(6 Fish)
4...Paul Kendrick........6lb...7 1/3oz......(15 Fish)
5...Adrian Bordianu…..6lb...4 2/3oz......(7 Fish)
------..------