Holt SAC North Norfolk National Sea League Round 4 and Lloyd Durham Shield (Report)
Sunday 12th January 2020 - Salthouse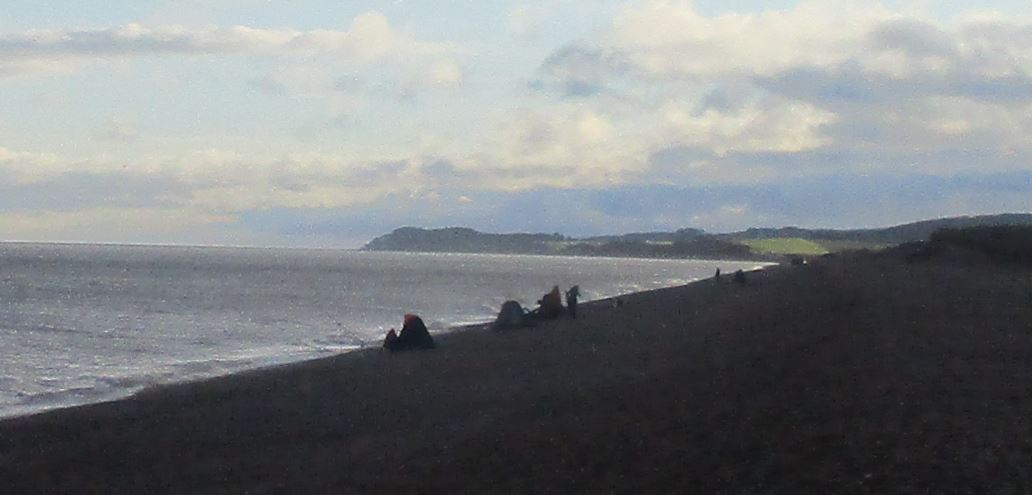 Holt SAC's Round 4 of the North Norfolk National Sea League & Club Lloyd Durham shield match was held at SALTHOUSE on SUNDAY 12TH JANUARY fishing 10:00-3:00 HW 7:25 4.8m. A good turnout of 32 for this one with a few of the Six teams short of regular members due either to some wanting to exercise against the big boys at the Asso two dayer or sadly having parental health situations. In the end some stand ins were recruited but one team was two short and another one and disappointingly there were 3 Individual no shows with man flu problems which did not help the numbers.
Weather for the day was thankfully dry, overcast at the start with broken cloud later and a stiff chilly west south west blow. Unlike the wind on the south coast and the deluge and fog/mist that some from the western extremities of our patch had to endure. Such situations didn't stop the usual lively pre-match banter on Salthouse Beach Road and the CCFC breakfast van was soon up and running. Bacon rolls for the team wafting the fresh noxious bacon aromas over the shingle bank towards Zone E.
Pegging for this one was Zone E right towards Kelling which unfortunately was very snaggy at distance, many apologies for the lost gear. Zones A,B,C & D were to the left towards Cley with Zone A some considerable distance on the horrible wrong size shingle. Energy sapping to walk on as demonstrated by our poor old (not really that old) England International Lady who was next to end peg in Zone A who was utterly exhausted as she trudged back. Mind you she did have a caddy in future hubby Henry who was cantering along the low water line festooned in rod holdalls and buddies. Good job she didn't beat him as she had done to a few of us in recent matches.
Sea state was good and almost flat with a little wind swell with a few white tops as the wind picked up at midday. Fishing from just after high water down meant that with no real sea running everyone could park on the shingle at the high water mark and slowly move down if need be as the tide ebbed, easy fishing!
At the whistle it was a matter of trying to find out where the fish were feeding although probably seeing if there were any fish was the initial challenge. For some the first few casts came in blank but for others the odd Dab and Whiting were coming up the beach. The fish were there but not as prolific and the quality as in previous years at this venue for some and for others a lot of fish with some quality Whiting.
In the first couple of hours it was difficult to get a pattern of where the fish were coming from with a real mixture of Dabs and Whiting in all Zones. One peg would be producing a raft of Dabs and next door Whiting and all generally small. A lot of this was due to each Individual doing his/her own thing with regard to range and bait. Blows, Blacks tipping off with any fish bait and or wrigglers seemed to work but those with sandeels hoping for big points from reported Doggies soon abandoned that bait. For most there was fish throughout and triple shots were coming ashore, generally Dabs but unfortunately resulting in only one or two in size
As the match progressed it was a matter of solidly casting, baiting up and retrieving. The fish were on to the bait as soon as it dropped in so the quicker this process the more casts and thus more recorded fish. These extra casts were important at the end because as the sun touched the top of the shingle and tide started to flood this woke up the Whiting and doubles and even trebles were coming ashore. Some of these were cracking fishing well into 30cms putting big points on the card. Casts of just a few minutes would produce fish so speed would produce lucrative results.
In the end it was CCFC's RUSSELL TAYLOR (Peg 40) who took the honours finding a few Whiting at the end but more importantly his first three fish were a 32cm, 34cm and 32cm Whiting followed by two 27cm versions giving him 8lb 11oz in total from 38 fish. Taking full advantage of his Zone D end peg to find the fish comprising of 20 Whiting and 18 Dabs. Runner-up was North Norfolk Lads' KEVIN GREEN (Peg 9) who had a fluctuating day finding it hard to locate the fish but once he did managed to overhaul those around him with 8lb 5oz from 38 fish. With a card of mainly Dabs he had to rely on numbers of fish as his biggest Whiting was just 27cm but did have a 25cm Dab amongst the 20 Dabs and 18 Whiting on his card. With this result Kevin also took the Club's Lloyd Durham Shield. Final podium slot went to Big Catch Tackle's England International HENRY RANDELL (Peg 6) who was nip and tuck with Kevin but a lost Whiting on his last cast cost him that tussle. His total weight was 7lb 12oz from 34 fish comprising 23 Whiting and 11 Dabs.
The team on the day was again for the 4th time NORTH NORFOLK LADS with a score of 6 penalty points from 2 zone wins and 2 zone 2nds.. Runners-up were ANGLING DIRECT NORWICH also for the 4th time even without their star captain,with 9 penalty points from 2 zone wins, a zone 3rd and a zone 4th. Final team podium was BIG CATCH TACKLE with 11 penalty points from a zone 2nd and 3 zone 3rds Heaviest Flat on the day was a 30cm (11oz) Dab taken by JEFF STANNARD (Gorleston Tackle) (Peg 25) and Heaviest Round a 35cm (10oz) Whiting to HENRY RANDELL (Big Catch Tackle) (Peg26). Altogether 739 fish (373 Whiting, 353 Dabs, 11 Rockling, 1 Flounder, and 1 Pout ) were recorded weighing 167lb 11oz.
In the Zones,Zone A was taken by KEVIN GREEN (North Norfolk Lads) (Peg 9) with 398 points from 38 fish followed by HENRY RANDELL (Big Catch Tackle) (Peg 6) with 371 points from 34 fish. Zone B went to DYLAN MORGAN (Angling Direct Norwich) (peg 12) with 298 points from 31 fish followed by JOE BETTINSON (Individual) (Peg 20) with 274 points from 26 fish. Zone C was taken by KEVIN WARNER (Angling Direct Norwich) (Peg 22) with 326 points from 27 fish followed by BILL BEETON (North Norfolk Lads) (Peg 21) with 322 points from 30 fish.
Zone D was taken by RUSSELL TAYLOR (CCFC) (Peg 40) with 418 points from 38 fish followed by TONY THOMAS (North Norfolk Lads) (Peg 32) with 345 points from 29 fish. MIKE WATTS (North Norfolk Lads) (Peg 47) took Zone E with 287 points from 26 fish followed by PAUL HARVEY (Angling Addicts) (Peg 49) with 278 points from 25 fish.
Yet another good competitive round of the North Norfolk NSL with plenty of fish for most and certainly more fish than previous round at Cley. A fair amount of good Whiting but these were all mixed up with a lot of small versions. As seems to be the norm these days on the shingle the numbers of Whiting and Dabs seem to be similar. Zone E seems to be a bit ropey with the snaggy ground at range, many apologies. Maybe next time at this venue we will peg all zones to the left towards Cley and either suffer the walk or park in Salthouse (Grouts Lane) or even at Iron Road and walk up. Many thanks to Henry Randell for helping with the pegging and Mike Watts with the results. Also it's good to see Bill Beeton back after 4 years to help his team (NNL) to victory, welcome back Bill!
Next Round 5 is at KELLING via Muckleburgh Collection on SUNDAY 9TH FEBRUARY fishing 10:00-3:00 HW 6:38 4.8m. The next Club match is for the Pairs Shield on SUNDAY 19TH JANUARY at BACTON via Castaways fishing 10:00-3:00 HW 1:48 4.0m … Tony T
Top 10 Individuals (on the day) …
1...Russell Taylor.....8lb.11 1/3oz.(35 Fish)(Peg 40)
2...Kevin Green.......8lb.4 2/3oz...(38 Fish)(Peg 9)
3...Henry Randell....7lb.11 2/3oz..(34 Fish)(Peg 6)
4...Tony Thomas.....7lb.3oz.........(29 Fish)(Peg 32)
5...Kevin Warner…..6lb.12 2/3oz..(27 Fish)(Peg 22)
6...Bill Beeton…......6lb.11 1/3oz..(30 Fish)(Peg 21)
7...Kimberley Lawn.6lb.7 oz.........(31 Fish)(Peg 4)
8...Dylan Morgan....6lb.3 1/3oz....(31 Fish)(Peg12)
9...John Harvey.......6lb.1 2/3oz...(27 Fish)(Peg 8)
10.Jeff Stannard...6lb.0oz ...........(24 Fish)(Peg 25
Teams on the Day …
1...NORTH NORFOLK LADS…………..6 Points
2...ANGLING DIRECT NORWICH….9 Points
3...BIG CATCH TACKLE……………….11 Points
4...GORLESTON TACKLE………………14 Points
5...CCFC…………………..…………………..15 Points
6...ANGLING ADDICTS…………………17 Points
Current Team Leader Board…
1...NORTH NORFOLK LADS…………..25 Points
2...ANGLING DIRECT NORWICH….40 Points
3...GORLESTON TACKLE……………….52 Points
4...ANGLING ADDICTS………………….55 Points
5...CCFC…………………..…………………...59 Points
6...BIG CATCH TACKLE………………..61 Points
------..------