Holt SAC North Norfolk NSL 2020-21 Round 4 and 1st Leg Winter Accumulator (Report)
Saturday 3rd April 2021 - Salthouse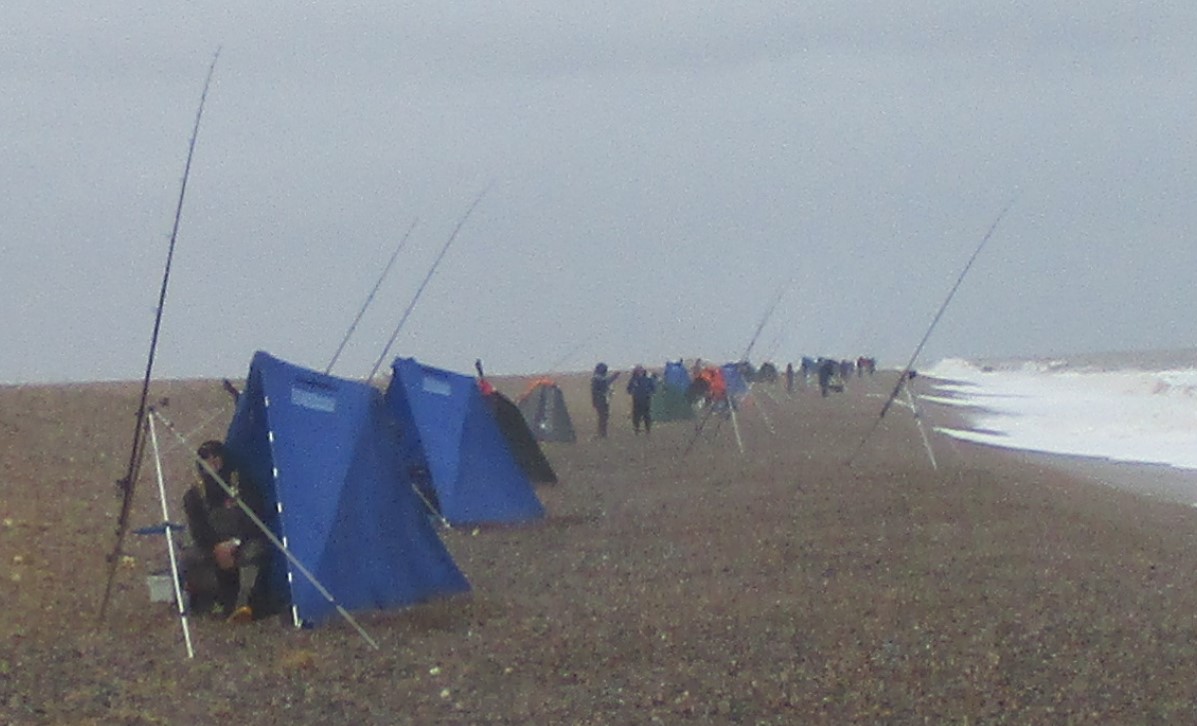 At last the rod could be seen at the end of that long North Norfolk shingle tunnel and our match scene was set loose again on 29th March. To this end the Club's first match of 2021 was the much planned delayed round 4 of the North Norfolk National Sea League & Open along with the 1st Leg of the Club's Winter Accumulation was held at Salthouse on Saturday 3rd April fishing 10:00 – 3:00 over high water (11:14) on a small 4.4m tide.
A switch from Sunday to Saturday because of it being Easter weekend to avoid the hordes beach watching and to give us some parking space. Even so there were still chunks of people promenading on the shingle bank but at least keeping Covid-19 well away from us. However, the switch of days hadn't been picked up by a couple of members in Andy (G) who didn't find out until that evening so bait was left in shed to mature, he'll make it next time. Then there was Luke (P) who nearly wasted his first excursion to dig 120 Morston lug but was woken up by his stand-in captain an hour from the start and decided to not waste all that effort, arriving an hour and half after the whistle and to actually record some fish and a result unlike some of us who were there from the crack of dawn, well done Luke!
As usual for Sea League matches a good turn out for this one with 5 full teams and 6 individuals. With the draw being done previous Thursday evening and with our well tested Covid-19 rules and procedures in place, all everyone had to do was be temperature checked, get registered, pay the fees with enveloped monies placed in box and canter off to their drawn peg where match card and any previous winnings were attached. Many thanks to Tom Gibbs and Kevin Green for managing this efficiently and to everyone else, well nearly all who are beginning to get this Covid-19 message of masking and social distancing.
Pegging for this one was all 32 pegs to the left, west of the car park although you wouldn't say the road was a car park. Maybe one day they'll decided to give us some form of car park or reinstate the old one buried under the shingle. With that many pegs Zone A was well past "Little Eye" and well into the iron works but for the Zone A'ers they knew it could be worthwhile and they weren't wrong. The trouble with Salthouse is that the shingle is the wrong size so that canter to the pegs is more of a drudge especially near the parking. To avoid some of the shingle a few of the Zone A'ers" took the scenic route over "Little Eye" whilst reminiscing of how easy the marsh route used to be at Salthouse until December 2013.
Thankfully weather for the day was to be dry and it certainly was as was the strong cold northerly but there historically we are all used to this in winter when snow used to pile up against your buddy. With such a wind there was of course a good 8-10ft swell pounding in and with it plenty of colour. This had flattened off the shingle giving a low high water bank on which everyone parked with most way back from the crest of the bank. All except England International George Smith who was at the west end of zone D who always likes to get as close to the water as possible. With over an hour to high water a few in zone D who had water surging up to their buddies were having bets on whether he would remain unscathed and dry. Well as always happens with George he had judged it to perfection and not a drop hit him. In contrast Mr Lokie (Asian Ace) on next peg parked way up the bank got caught out by a surge whilst filling his bucket producing wet wellies, more than a drop hit him even before the whistle.
Surprisingly, at the whistle there was none of this urgency to get started. Maybe it was the effect of lockdown or the pounding of the waves or even the chilly very fresh northerly that had taken the edge of the usual enthusiasm. Some were able to get some range at the start but most had to be satisfied with the gutter the other side of the back of the waves because of that stiff head wind. With this type of sea everyone at the start was holding bottom but the tide was not that strong and all were able to remain out albeit with a little drifting for the duration of a cast.
Even in such conditions there were fish there and first to register on his first cast at 10:10 was Richard Hipperson (Peg 22) with a 24cm Coalie. Next to record at 10:15 were Dave Read (Peg 9) with a 26cm Whiting and Kevin Green (Peg 10) with a 58cm Dog worth a whopping 74 points. Well that was it for them for a while and in the first hour just 6 more fish were recorded which included a 43cm Bass to Adrian Bordianu (Peg 4) at 10:45 worth a massive 80 points and a 42cm Bass to Tom Gibbs (Peg 7) at 11:00 worth a useful 74 points, even with these fish it was going to be a tough day for some.
The next hour saw some improvement over the top of the water (11:14) with 14 more fish being recorded but it was still hard for everyone. Amongst these fish was another specimen to Adrian Bordinanu (Peg 4) in a 60cm Dog worth 84 points which put him well in contention to take the match but events later in the match were to influence this. As we always say "it's not over until the fat lady sings". Other serious fish in this period were a 58cm (74 points) Dog to Mike Watts (Peg 1), a 35cm (43 points) Codling to Paul Marshall (Peg 2), a 42cm (74 points) Bass to young Jack Topping (Peg 11), well done lad! and a 57cm (70 points) Dog to Simon Drayton (Peg 13). Then there was of course that 42cm (74 points) Codling to our Asian Ace Peter Loke (Peg 30) who managed to get his hands warm enough to unhook this prize, well done Lokie!
As the ebb started to pick up in 3rd hour the number of fish was just as poor as previous hour with the same number (14) recorded. Unfortunately, they were not of the same quality with just two serious fish, a 38cm (55 points) Bass to Mike Topping (Peg 3) and a 34cm (40 points) Bass to Mike Watts (Peg 1). It was pretty obvious that Zone A was performing the best with a raft of Bass and Dogs not to forget the Codling whereas the rest of the field were all small stuff apart from the odd Dog and Codling.
The west Salthouse beach is generally not renowned for being rough or hefty but in this match there were such problems. With a little distance the bottom felt sticky and very marly as if the sand and mud had been swept away. Some got caught out by this when retrieving and a number of sets were lost. In addition with the pounding waves a deep gully was created just under the breaking waves and with rods way up the beach lines were being brought down and covered creating further loss. The weather had produced a little weed which created a leader knot situation and therefore exaggerated things allowing lines to drop in that gutter on retrieve. This was particularly felt by Carl Eves (Peg 14) who after losing 6 sets and the remainder of his leads had to pack it in as he had no traces left. Offers of gear from others would have gone the same way so he gratefully declined, there'll always be another day Carl!
The penultimate hour of the match saw the ebb pick up and the number of fish recorded jump to 28 but the majority were small with the exception of a 35cm (43 points) Bass to Marian Spirea (Peg 17) and a 36cm (47 points) Bass to Mike Topping (Peg 3). The final hour was when the outcome of the match was decided and it's never over until it's over was so right in this match. Less fish in the last hour than during the match with just 12 found but 4 of them were important points earning Bass. With a 38cm (55 points) Bass to George Smith (Peg 29), a 35cm (43 points) to Simon Drayton (Peg 13) and importantly a 26cm (18 points) along with a 35cm (43 points) to Mike Watts (Peg 1) on his last two casts.
At the whistle it was those last two Bass that did the business for North Norfolk Lads' MIKE WATTS (Peg 1) who took the match with 4lb 11oz from 8 fish including 3 Bass, a Dog, 3 Whiting up to 30cm and solitary Dab, well done Mike! After being well in contention after the first hour and half Team Manik's ADRIAN BORDIANU (Peg 4) became most frustrated as he saw those around him slowly erode his lead. After finding his last fish at 1:35 he became more exasperated, stomping around trying everything in his arsenal to find another fish to no avail. Even worse was being beaten by Mike on his very last cast with that 35cm Bass. However, he still produced a worthy runners-up score of 4lb 6oz from 6 fish which included a Dog, Bass, Rockling and 3 Whiting, well done Adrian! Final podium slot went to another Zone A contender in Gorleston Tackle's MIKE TOPPING (Peg 3) with 3lb 8oz from 6 fish which include 3 Bass and 3 Whiting, well done Mike!
In the Teams, it was TEAM MANIK who took the honours with just 8 penalty points from 2 x Zone wins, a Zone 2nd, a Zone 4th with a 4th place dropped. Runners up with 9 points apiece were NORTH NORFOLK LADS & GORLESTON TACKLE with 2 x Zone wins, a Zone 3rd, a Zone 4th with a Zone 5th dropped and 3 x Zone 2nds, a Zone 3rd and 4th place dropped respectively. This has left the league delicately poised with just 6 points between the top 4, the last two rounds will be interesting.
The Heaviest Flat fish was a 26cm (6oz) Flounder shared by KEVIN GREEN (Peg 10) and LUKE PERSON (Peg 21) and Heaviest Round a 60cm (1lb 12oz) Dog taken by ADRIAN BORDIANU(Peg 4). Altogether there were just 89 fish (22 Whiting, 17 Pout, 14 Bass, 11 Rockling, 10 Dabs, 5 Dogs, 5 Flounders, 3 Codling and 2 Coalie) recorded weighing only 38lb 5oz.
In the Zones, MIKE WATTS(Peg 1) of "North Norfolk Lads" took Zone A with 226 points from 8 fish followed by ADRIAN BORDIANU (Peg 4) of "Team Manik" with 209 points from 6 fish. Zone B was taken by KEVIN GREEN (Peg 10) of "North Norfolk Lads" with 140 points from 6 fish followed by SIMON DRAYTON (Peg 13) "Individual" with 126 points from 3 fish.
Zone C went to CHRIS SPALL (Peg 16) "Individual" with 59 points from 5 fish followed by MARIAN SPIREA (Peg 17) of "Team Manik" with 54 points from 2 fish. Zone D was taken by RICHARD HIPPERSON (Peg 22) of "Team Manik" with 40 points from 4 fish followed by ALAN DOY (Peg 28) of "Gorleston Tackle" and HENRY RANDELL (Peg 27) "Individual" with 20 points from 2 fish. Zone E was taken by GEORGE SMITH (Peg 29) "Individual" with 114 points from 7 fish followed by PETER LOKE (Peg 30) of "Angling Addicts" with 74 points from 1 fish.
An interesting match but seriously spoilt by the weather which also spoilt the enthusiasm of everyone coming out of this part of lockdown. The match also illustrated how peggy Salthouse could be with Zone A the furthest westerly pegs in front of the old sea defence iron work providing some decent fish compared to the rest of the stretch. Even so this threw up some excellent competition in that Zone which is what it's all about. The weather helped to produce a good range of 9 species probably due to the Dabs and Whiting being pushed off as they just don't like the pounding of the waves and the stir up that generates. Surprising how many Pout were recorded giving the conditions. Let's hope fish numbers improve in the next round.
Next Round 5 will be at GORLESTON on SUNDAY 11TH APRIL weather permitting fishing 10:00 – 3:00 with registration from 8:00 in MARINE PARADE CAR PARK (NR31 6EZ) GORLESTON. Draw will be live on facebook at 8:00 on FRIDAY 9th APRIL. Club's Covid-19 rules and procedures will apply throughout the match.
Please Stay Safe!!! … Tony T
Top 10 Individuals (on the day) …
1...Mike Watts...........4lb.11 1/3oz …(8 Fish) (Peg 1)
2…Adrian Bordianu.....4lb 5 2/3oz…..(6 Fish) (Peg 4)
3...Mike Topping..….….3lb.8 1/3oz....(6 Fish) (Peg 3)
4...Kevin Green..........2lb.14 2/3oz..(6 Fish) (Peg 10)
5...Paul Marshall….......2lb.11 1/3oz..(9 Fish) (Peg 2)
6...Simon Drayton.….…2lb.10oz………(3 Fish) (Peg 13)
7...George Smith.........2lb.6oz……....(7 Fish) (Peg 29)
8...Jack Topping……...….2lb.4oz……….(4 Fish) (Peg 11)
9…Tom Gibbs...............2lb.1 2/3oz....(3 Fish) (Peg 7)
9…Peter Loke….............1lb.8 2/3oz….(1 Fish) (Peg 30)
Teams on the Day …
1...TEAM MANIK ………….……………...8 Points
2=.NORTH NORFOLK LADS.………...9 Points
2=.GORLESTON TACKLE ……………..9 Points
4…BIG CATCH TACKLE …………….…12 Points
5...ANGLING ADDICTS ……………….14 Points
Teams to date after 4 Rounds …
1...BIG CATCH TACKLE ………….……34 Points
2…TEAM MANIK………………………..….37 Points
3…NORTH NORFOLK LADS.………….38 Points
4…GORLESTON TACKLE ……………...40 Points
5...ANGLING ADDICTS …………..…….59 Points
------..------