Holt SAC West Norfolk Challenge 2018 Round 3 (Report)
Saturday 4th August 2018 - Sutton Bridge
The Final Round 3 of the Club's West Norfolk Challenge Series and 9th Leg Summer Accumulator was fished at SUTTON BRIDGE on SATURDAY 4TH AUGUST. A new venue for this Challenge Series although a number had fished here in previous matches so there was some experience in the field.
High Pressure had reinstated its dominance for the weekend so it was yet again one of those sweltering matches trying to duck away from the sun. Unlike Kings Lynn the Nene is somewhat sheltered and there was only just a hint of breeze to help keep things comfortable, not good!
Pegging for this one was from 200 yards south of south of the bridge on the west bank of the River Nene. Conveniently the local farmer had mowed the grass and thankfully taken the fodder away for his moos, he certainly needed it this summer. This meant an easy drive on the grass for some to lazily fish out of the motor, could not have been better!
For a change fishing 2½ up and 2½ down which meant plenty of water there through out. Normally we fish the rivers on small tides and this one was not particularly small and one reason to doing Sutton Bridge instead of Kings Lynn as it is easier at former on a bigger tide. Unfortunately, Mr Organiser hadn't realised that at the start the water was tearing through like a train and the Kings Lynn 25 peg paces by the short legged Organiser was not enough, should have been 35, many apologies.
An early 9:00 start which didn't deter a good turnout of 20 anglers appearing well on time. Particularly as the majority had come from far afield including the regular from Dover (thanks for the crab Nathan), the Ely set, the mid and north west Suffolk contingent, the Humber riders , a splattering from North Norfolk, Norwich and Kings Lynn plus of course the man from Corby. Many thanks for your support this year!
As usual plenty of banter at the draw and with pegs quickly drawn and bait dished out well before the start leaving Mr Organiser at a loss, he had never been on his peg with more than 30 mins to go, thank-you! There were 6 in contention for the Challenge trophy and the top 3 had drawn in same zone so it was going to be an interesting competitive match.
At the whistle the water was really hossing through leaving a few pondering exactly where to fish on what for most was a strange venue. Unfortunately, all along the stretch the bottom of the bank was strewn with boulders and soon became strewn with hooks as well and traces came back with bare snoods. For those that persevered there was the reward of a few reasonably Eels but it was slow. Mid-stream had the problem of holding fast and traces forced upstream by the strength of the tide particularly early on.
Eels were the dominant species early on but the Flounders were certainly there as the tide started to ease slightly. The species caught was wholly dependent on the techniques and bait used by the angler along with where he was placing his rig. For some it was a steady flow of Eels and others a few decent Flounders but then there was Richard Hipperson who could only find Bass. Two in totally with nothing else fishing off the bottom with a 3 up rig and others were also picking up a few Bass.
Just before the tide eased there was this omen of what was to happen in the match as this barge chugged upstream aptly named "Henri".
As the tide eased the options of where to fish increased and a few opted on the opposite bank, well almost literally and then realising it was not the beach or Kings Lynn. Slack water tends to wake up the Flounders and they certainly started to appear as the tide started to flow again. For some the far bank was productive as was mid-stream but close in seemed to be the place to be if you had a wallet full of hooks.
The vermin were active throughout but not as much as expected as some fish definitely came on worm which has sown some thoughts for next year. It was a match that tested the techniques of everyone and those that had a big variety of these certainly had the advantage. One of these was that aptly named HENRY RANDELL (Peg 21) who caught fish if he went short , mid-stream and even on the far bank whilst all around him failed to find fish in exactly the same spots. He easily took the match with 7lb 2oz from 10 Eels, 5 Flounders and 2 Bass with a Flounder of 1lb and a Bass over 1lb. He was closely followed by his partner in crime DAVID READ who took full advantage of his end peg 6 with 6lb 11oz from 6 Eels and 8 Flounders. Final podium slot went to MARK SHARMAN (Peg 23) who was the best of the rest with 4lb 11oz from 3 Eels, 8 Flounders and a Sole.
In the Sections, A was taken By DAVID READ (Peg 6) and the runner up was MARK GOOCH (Peg 14) with 4lb 1oz from 6 Eels and 5 Flounders. Section B was taken by HENRY RANDELL (Peg 21) followed by MARK SHARMAN with (Peg 23). Heaviest Flat Fish was a 39cm (1lb 7oz) Flounder caught by GEORGE SMITH (Peg 12) and Heaviest Round a 51cm (1lb 1oz) Bass taken by HENRY RANDELL (Peg 21). Altogether 131 Fish (75 Flounders, 47 Eels, 7 Bass and 2 Sole) were recorded weighing 52lb 14oz.
In the Club's 9th Leg Summer Accumulator HENRY RANDELL (Peg 21) again took the honours with DAVID READ (Peg 6) second and MIKE WATTS (Peg 7) third with 3lb 14oz from 2 Eels and 7 Flounders.
This was the final round of the West Norfolk Challenge and with six in contention for the title on the day it was superior skill from the ever improving HENRY RANDELL that did the business with a perfect score after worst is dropped of 2 penalty points. A lacklustre day by previous leader PAUL MARSHALL meant he had to rely on his previous two scores to take the runners-up slot with 3 penalty points. Final podium slot in the league went to the ever apparent SIMON DRAYTON with 4 penalty points who could not quite match his performance of 2016 when he took the title.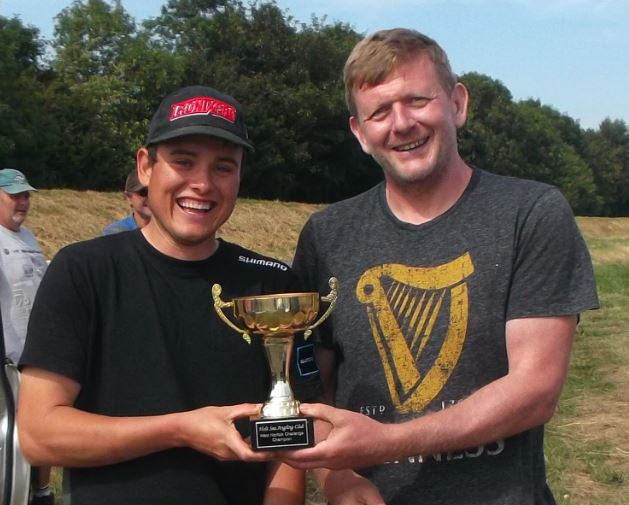 This meant that HENRY RANDELL was crowned West Norfolk Challenge Champion for the third time after taking the title in 2013 and 2015, well done Henry! That "Henri" barge at the start was therefore a real prophetic omen.
The Challenge also included two Pairs competitions where the best two weights of each partner over the three matches are added together.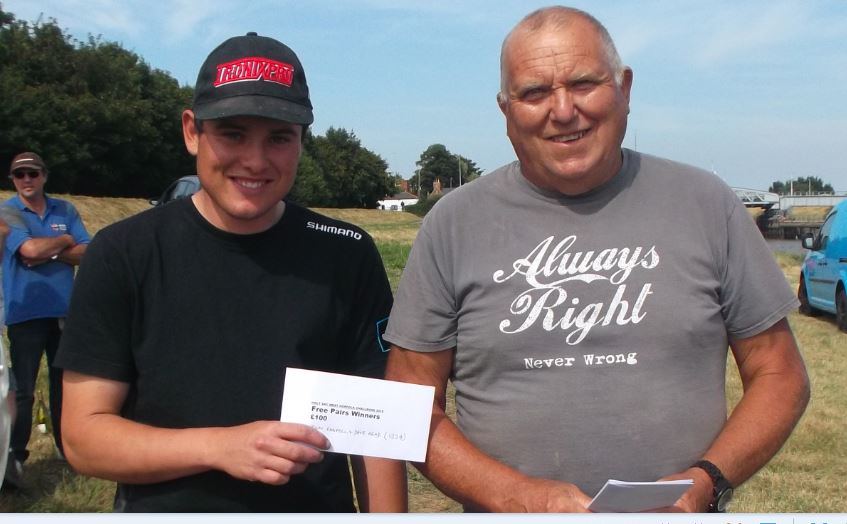 The FREE Pairs where each competitor nominates his own partner was taken by HENRY RANDELL & DAVID READ with 1334 points from DAVE BURR & PAUL MARSHALL with 1152 points and TONY THOMAS & MIKE WATTS with 903 points.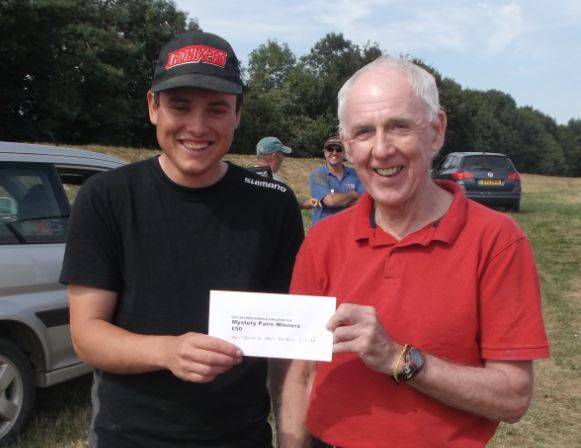 The MYSTERY Pairs were decided at the first match from the result of that match where the pairs are decided by randomly pairing those in the top half of the results with the bottom half. The winners here were HENRY RANDELL & TONY THOMAS with 1214 points from PAUL MARSHALL & BILLY TEMPLE with 968 points and DAVID READ & JOHN CARTER with 872 points.
That completes another successful West Norfolk Challenge where attendance was slightly up on previous years. Many thanks to all who supported the Series who in some cases came some considerable distances to participate, thank you again! This year for the first time we ventured just out of Norfolk to Sutton Bridge which was a success and would be considered as a venue for 2019 if the Series continues. The continuation really depends on numbers and there is plenty of scope for that to improve. There is also suggestions to have four matches with one a month and also worm only for one or two of the matches. We shall have to see for all of this.
Next Club Match is the Charity Open and 10th and final Leg Summer Accumulator on SUNDAY 2ND SEPTEMBER at KELLING via Muckleburgh Collection fishing 10:00-­3:00 HW 11:15 4.7m. The proceeds from the raffle will be donated to Mundesley Independent Lifeboat and the Draw will take place from 8:00 in the Muckleburgh Café where breakfasts will be served from 7:00. Further announcement will be made closer to the date and please note the match will accrue Penn Points.
Finally, this Summer the Club participated in the Sheringham Carnival's 40-60 Raffle where the Club was allocated a match of £1 tickets. The winner would take 40% of the takings with the Club taking 60% of which half was being donated to Mundesley Independent Lifeboat. The draw was made at the Lobster Pub in Sheringham on the evening of 5th August and the winner from the Club's batch was DAVE HUTCHINSON from Blackpool winning £57.20, well done Hutch! Mundesley Independent Lifeboat will also receive 30% which was £42.90 and will be added to the raffle takings at the Charity Open. Many thanks to Sheringham Carnival for organising the raffle! … Tony T
Top 10 Individuals on the day …
1...Henry Randell….…7lb.2oz.........(17 Fish)
2...David Read.........6lb.10 2/3oz.(14 Fish)
3...Mark Sharman…..4lb.11oz.......(12 Fish)
4...Mark Gooch……....4lb.1oz………..(11 Fish)
5...Mike Watts…….....3lb.13 2/3oz..(11 Fish)
6...Tony Thomas......3lb.6 1/3oz....( 8 Fish)
7...George Smith…...3lb. 1/3oz......( 5 Fish)
8...Adrian Bordianu..2lb.5 1/3oz....( 8 Fish)
9...Simon Drayton....2lb.3 2/3oz....( 5 Fish)
10.John Carter…….....2lb.2 2/3oz....( 4 Fish)
------..------