Holt SAC 2020 West Norfolk Challenge Round 3 (Report)
Sunday 2nd August 2020 - Sutton Bridge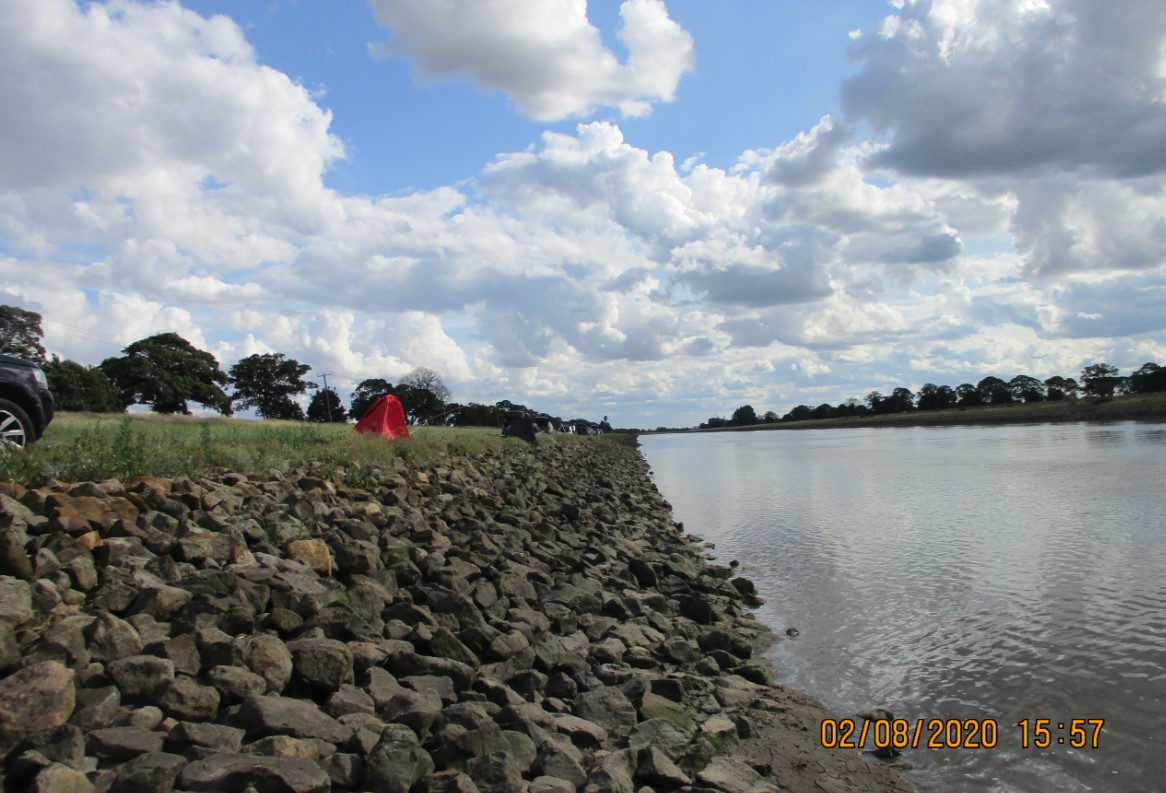 The 3rd Round of Holt SAC's 2020 West Norfolk Challenge Series and 5th Leg Club's Summer Accumulator was held on the NENE Estuary at SUTTON BRIDGE on SUNDAY 2ND AUGUST. Venue for this one was the north end of East Bank Road just before the Peter Scott East Lighthouse. A location not used for some moons by the Club so plenty to learn about. We all knew it would be snaggy with the abundance of rocks and so it was. Many apologies to Phil Read (Peg 10) who ran out of rigs and Docker Drayton (Peg 13) who had to cadge some leads from the other Dave Read (Peg 14) but as Phil said you can't get it perfect every time.
A usual good turnout of the regulars and a few others, including a good clutch of Humberites, a few Suffolkites and others from round the corner, the Norfolk Sand & Shingle brigade, the Cam & Ouse express bunch, the Heacham flyer and the now well hooked Purfleet Romanian. The majority were there nice and early taking the opportunity to partake in some social distancing banter and inspecting the rather rocky challenge ahead. Pegging for this one was from the lighthouse end of the meadow south with the benefit of parking right beside your peg. With such easy access everyone was soon off to their assigned peg ready for the whistle.
Forecast for the day was broken sunshine with a fresh in your face south westerly with very little chance of a shower which was spot on and thankfully none of this dampness. All were more than prepared for the whistle keeping their peelers and odd bit of worm nice and cool. At the whistle the ebb had almost finished so the whole width of the river could be used and pyramids and other spikeless shapes could be seen soaring to mid-stream and beyond. At this state of the tide Eels were the target and it was Dave Read (Peg 14) who was first to record one after just 4 minutes at 2:34. One of 44cm so not a boot lace and 27 points on his card.
For the first 2 hours Eels were the main species but Neil Smart (Peg 8) managed to find the first Flounder , one of just 22cm at 2:50 but worth just 10 points but with Smarty's record a much appreciated fish. Within an half hour of the start the tide really started to push through although even though it was a relatively big tide it didn't hoss through like a train. Even so rigs were still being pushed to the bottom of the rocky bank where the majority of them remained. At this point the fish switched off or could not be found and scorecards were untouched.
With the river filling up this brought out some of the water sports craft with a relatively powerful machine taking wakeboarders on the seaward side of our stretch much to the disappointment of Andy Gallacher on end peg 25. Then there was the jet skier who launched dead opposite end peg 6 with Adrian Bordianu on board (the peg) and proceeded to do doughnuts in front of him. However, a few choice words from the Humber International who has lots of experience of this on the Lincolnshire coast soon sent them packing. Adrian's day soon brightened up as he locked into a nice silver bar and potentially a match winning fish. Unfortunately, his woes continued as the 45cm+ fish was not a Bass but a beautiful Shad, a protected species and therefore not allowed to be recorded, it was returned alive and kicking.
With the river quietening down and the tide easing up slightly the Flounder species start to show their face for some along with a few very small schoolie Bass. Most of these came in the hour up to high water around 6:30 but as soon as slack water came and the ebb started up the fish again switched off with not one fish recorded in the last ¾ hour up to the end at 7:30.
Eels at the beginning and some good Flounders towards the end enabled England International GEORGE SMITH (Peg 9) to do the business with 5lb 3 2/3oz from 4 Eels and 6 Flounders which included a 35cm specimen worth 52 points. Plus an undersize sizeable Flounder of 17 1/2cm (rounding up in this one) which just enabled him to pip MIKE WATTS (Peg 11) who was runner-up with 5lb 3oz also with 10 fish. These consisted of 2 Eels and 8 Flounders and like George a 35cm specimen for 52 points. Final podium position was shared by ADRIAN BORDIANU (Peg 6) with 8 Eels and 4 Bass (12 fish) and SIMON DRAYTON (Peg 13) with 6 Flounders and 5 Eels (11 fish) both with 4lb 5oz (No count back in this one).
Heaviest Flat was a 35cm (1lb 1 1/3oz) Flounder shared by MIKE WATTS (Peg 11) and GEORGE SMITH (Peg 9). Heaviest Round was a 56cm (13oz) Eel shared by IAN CHILDERHOUSE (Peg 19) and CHARLIE NEEDHAM (Peg 21). Altogether, 101 fish ( 55 Eels, 37 Flounders and 9 Bass) were recorded weighing 42lb 13oz.
In the Zones, Zone A was taken by the winner GEORGE SMITH (Peg 9) with 5lb 3 2/3oz from 10 fish followed by MIKE WATTS (Peg 11) with 5lb 3oz also from 10 fish. Zone B was taken by HENRY RANDELL (Peg 17) with 4lb 1 2/3oz from 12 fish followed by BILLY TEMPLE (Peg 20) with 2lb 0oz from 5 fish.
Current Challenge leader is HENRY RANDELL with 4 penalty points and 797 fish points looking set to retain the title he has held for the last 2 years. He is followed by a raft of members on 7 penalty points with SIMON DRAYTON top of the list with 721 fish points and currently in the runners-up slot. In third place is DAVE BURR also on 7 penalty points with 614 fish points closely followed by ADRIAN BORDINAU also on 7 penalty points with 614 fish points and GEORGE SMITH with 585 fish points.
In the Pairs competitions the Nominated Pairs current leaders are still HENRY RANDELL & DAVE BURR with 1411 points and 54 Fish, next is GEORGE SMITH & SIMON DRAYTON with 1306 points and 49 fish, followed by TONY THOMAS & MIKE WATTS with 875 points and 32 fish. In the Mystery Pairs current leaders has changed to RICHARD HIPPERSON & SIMON DRAYTON with 861 points and 34 Fish, next now is HENRY RANDELL & NEIL SMART with 857 points and 37 fish, followed by ADRIAN BORDINAU & MARIAN SPIREA with 833 points and 39 fish.
Another good competitive match with all the Challenge contenders performing again. Even after dropping the worst score it looks like previous years' champion will retain his title. Not quite the same in the two pairs events where in the Mystery Pairs just 33 fish points covers the top 3 and with no dropped scores, stops are all out in the final round. Not quite the same in the Nominated Pairs where there is 105 fish points between the top two pairs but anything can happen in these matches.
The venue lived up to expectation with being rather snaggy but it needs a bit of skill to know exactly how to fish it. Surprising how the pattern of fishing was similar to Kings Lynn with Eels on the flood and Flounders around high water. Slightly smaller Eels and even Flounders here but the heaviest flat did manage to equal that in the last round at Kings Lynn. A venue which the Club has not used for some considerable years and maybe that will remain the same in the future.
For some more River fishing with Sea Bait, the Final West Norfolk Challenge Round 4 will again be on the NENE Estuary at SUTTON BRIDGE on the West Bank just South of the A17 bridge (PE12 9XE) on SUNDAY 16TH AUGUST fishing 12:30 – 5:30 HW 5:39 4.2m. (Please note 2 hours earlier than advertised). Draw will be at the venue under the Club's Covid-19 rules and procedures from 11:00, PLEASE BRING & USE A MASK! This is also an Open match with bookings to Tony T on 07780793141. … Tony T
Top 10 Individuals (on the day) …
1...George Smith ……5lb. 3 2/3oz.(10 Fish) (Peg 9)
2…Mike Watts ………...5lb.3oz………(10 Fish) (Peg 11)
3=.Adrian Bordianu…4lb 5oz……...(12 Fish) (Peg 6)
3=.Simon Drayton ….4lb.5oz.……..(11 Fish) (Peg 13)
5...Henry Randell……..4lb.1 2/3oz..(12 Fish) (Peg 17)
6…Billy Temple………...2lb.0oz………..( 5 Fish) (Peg 20)
7…Dave Burr …………...1lb.14 2/3oz.( 5 Fish) (Peg 23)
8…Tony Thomas……….1lb.14 1/3oz .( 5 Fish) (Peg 15)
9...Marian Spirea……..1lb.13.1/3oz ( 4 Fish) (Peg 18)
10.Ian Cilderhouse....1lb.12 1/3oz.( 3 Fish) (Peg 19)
------..------