TronixPro National Sea League Final 2016 - Report
Saturday and Sunday 26th/27th November 2016 - North Norfolk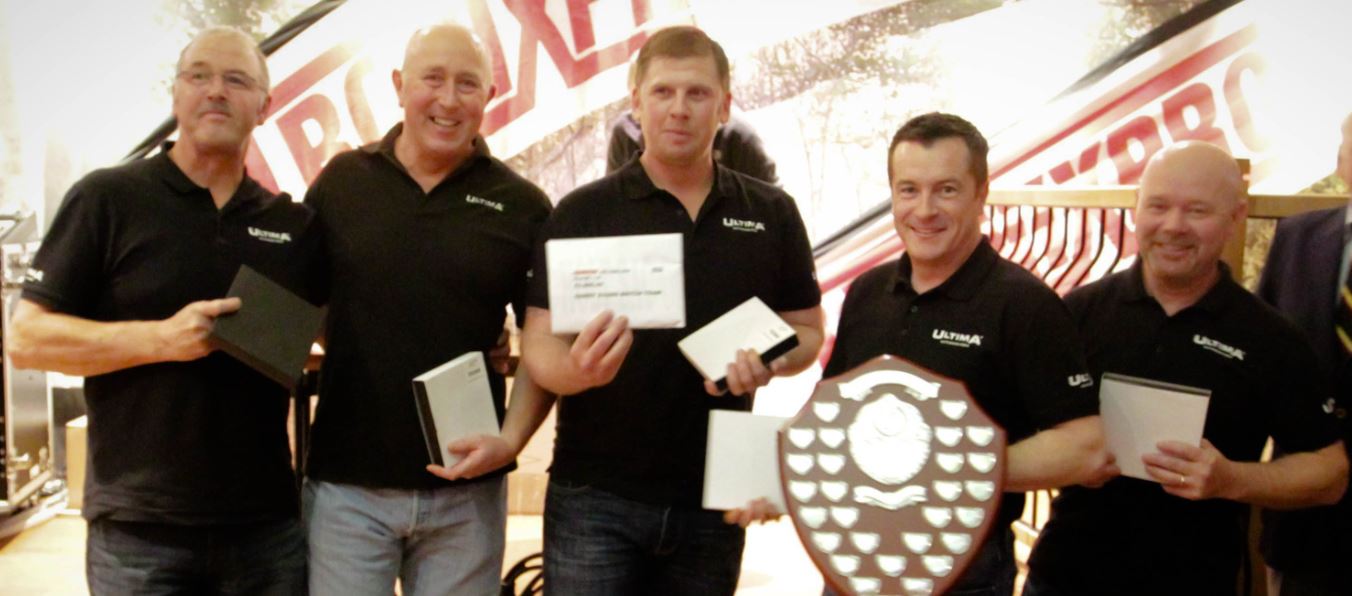 The 2016 National Sea League Final sponsored by TronixPro was held on the North Norfolk Shingle Ridge over the weekend of 26th/27th November fishing the beaches of Cley, Salthouse and Kelling. Head Quarters for the event was Kelling Heath Holiday Park which was a short distance from these three venues. An excellent turnout of 30 teams from around the UK participated in this event which was the same number as last year in Eastbourne. The Final was again sponsored by TronixPro with all 150 team members receiving a TronixPro National Sea League Final 2016 commemorative Cap and stickers along with TronixPro tackle prizes for the top ten Individuals of the event. The league would again like to thank George Cunningham CEO of TronixPro for his continued generous support of this well established event.
With so many quality teams participating it was always going to be a closely fought event and we were not disappointed with the weather conditions playing a big part in testing the teams abilities. After being close in previous years it was the South Wales set-up of GARRY EVANS MATCH TEAM who at last got their hands on the John Amery Shield. A healthy score of 73 penalty points secured their victory winning £2000, 1st place trophies and the perpetual John Amery National Sea League Shield. This success followed that of the Welsh National Mens and Ladies Shore teams who took Gold in the Home Internationals in July on the North Norfolk Shingle Ridge. Runners-up were last year's winners in Suffolk based TEAM BREAKAWAY who fought hard to retaine the title but ending up 7 penalty points adrift on 80 penalty points winning for them £1000 and 2nd place trophies. Final podium place went to Hastings based ZZIPLEX MATCH SQUAD who could not match their leading Day 1 performance on Day 2 ending up with 96 points winning £600 and 3rd place trophies.
Weather conditions leading up to the weekend were not particularly favourable with some strong North Easterlies later in the week but thankfully these abated and the back-up venue of Gt. Yarmouth did not have to be considered. In the two weeks prior to the event the bags of fish particularly day time dabs and whiting had uncharacteristically for the venue dramatically reduced. In addition, High Pressure was building with continued stiff North Easterlies which are always a bad omen for this stretch of coast and this was certainly the case in this event.
Pegging for the event was between Cley in the west to Kelling and Weybourne in the East. Zone A was at Cley to the left of the car park from the boats west towards Blakeney Point. Zone B was also at Cley to the right of the car park from the wreck east towards Salthouse. Zone C was at Salthouse to left of Beach Road west towards Cley. Zone D was at Kelling from the boundary of the radar and UEA building west past the block house on Kelling beach towards Salthouse. Zone E was also at Kelling from the above boundary east towards Weybourne finishing just short of the wreck. Both days were fished 10:00-3:00 with LW 11:18 a.m. on Day 1 and 11:53 a.m. on Day 2 and a medium sized tide.
Overnight, the wind had abated slightly so Day 1 kicked off with a gentle chilly North Easterly which turned more northerly as the match progressed. A slight 2 to 3ft swell put a little movement into the water but it was surprisingly shear given the wind of the previous days but a typical Autumn High Pressure sea. Not good for this stretch of coast although the slightly overcast sky did help to improve conditions. For the first 2 hours there was a little tide and a few fish were being recorded although the majority were small dabs a lot undersize and a few very small whiting with again a lot undersize. However, there were a few big flounders around over 30cm and the odd good Bass over 40cm so those finding these were scoring heavily. Once the tide slackened so did the fish and many had a barren 2 hours but things did improve in the final hour as the tide pushed through again. This produced a lot of just sizeable whiting but those usual stonking specimens were non-existent.
There was no real pattern to all 3 venues with one peg producing fish whereas next peg or group of pegs producing nothing. This situation was testing particularly the top angler to use all techniques in their armoury to find fish. Zone E at Kelling was the best zone with 386 fish recorded weighing 68lb with Zone D also at Kelling recording 305 fish for 59lb. Zone C at Salthouse recorded 263 fish for 61lb which was helped by a nice 51cm bass. Cley was certainly the poorest of the 3 venues with 181 fish for 31lb from Zone A and 154 fish for 42lb from Zone B. In total 1288 fish were recorded weighing 273lb. Heaviest round fish a Bass of 2lb 11oz (51cm) came to Stephen Smyth of GARRY EVANS MATCH TEAM on peg C62 at Salthouse and heaviest Flat fish a Flounder of 1lb 5oz (38cm) to Colin Provins of STUART GUNS & TACKLE on peg C85 at Salthouse.
Winning team on the day was ZZIPLEX MATCH SQUAD with 35 points from TEAM BREAKAWAY with 44 points and GARRY EVANS MATCH TEAM with 45 points. Zone winners on the day were Zone A (Peg 28) Ralf Crosby (HASTINGS ANGLING CENTRE) 174 fish points (3lb 10oz) from 10 fish, Zone B (Peg 31) Luke Pearson (HOLT CRACK OFFS) 241 fish points ( 5lb 0oz) from 12 fish, Zone C (Peg 62) Stephen Smyth (GARRY EVANS MATCH TEAM) 189 fish points (3lb 15oz) from 9 fish, Zone D (peg 91) Jamie Morgan (ANGLERS DEN) 252 fish points (5lb 4oz) from 30 fish and Zone E (peg 122) Brett Green (ZZIPLEX MATCH SQUAD) 231 fish points (4lb 13oz) from 27 fish. Jamie Morgan's 30 fish was the most fish of the day and there were no blanks.
Overnight the wind backed to North Easterly and increased as predicted. Day 2 started with this moderate wind which lasted the whole match increasing the swell height to between 3 and 5ft giving a little white water close in particularly at Cley. This extra lump on the sea certainly had an effect on the number of fish particular the Dabs who certainly had pushed off shore. Overnight drizzle had left a damp dank morning and again left a slightly overcast sky which should have helped the Whiting numbers. However, as with the previous day these did not appear and the locating of these big Flounders and odd Bass that was the challenge. In theory after Day 1 there should have been an extra hour of tide at the beginning when fish should have been there but for most this period was barren and right through slack water. Fortunately, the tide came with 30 minutes to go and many picked up their only fish in their last few casts.
Again there was no real pattern to where the fish were but the majority of the Dabs had disappeared and certain groups of pegs were finding no fish at all. Zone E was again the best zone with 131 fish weighing just 27lb with Zone D 2nd best with 86 weighing 22lb. Zone C was next with 71 fish weighing 21lb, then Zone A with 64 fish weighing 21lb and then Zone B with just 44 fish weighing 17lb. In total 396 fish were recorded weighing 107lb. Heaviest round fish was a Bass of 2lb 3oz (47cm) taken by Justin Rouland of SLO TEAM LOCKSTOCK on Peg D105 at Kelling and heaviest Flounder of 1lb 3oz (36cm) taken by Russell Taylor of CHARLIES ANGELS on Peg 92 at Kelling.
Winning team on the day was GARRY EVANS MATCH TEAM with 28 points from CHARLIES ANGELS with 33 points and TEAM BREAKAWAY with 36 points. Zone winners on the day were Zone A (peg 26) Paul Mann (SLO TEAM LOCKSTOCK) 108 fish points (2lb 4oz) from 2 fish Zone B (Peg 60) Arran Aghili (ASSO MATCH SQUAD) 124 fish points (2lb 11oz) from 4 fish, Zone C (Peg 66) Dave Shorthouse (NORTH NORFOLK LADS) 116 fish points (2lb 7oz) from 5 fish, Zone D (peg 105) Justin Rouland (SLO TEAM LOCKSTOCK) 123 fish points (2lb 9oz) from 3 fish and Zone E Colin Crosby (HASTINGS ANGLING CENTRE) 127 fish points (2lb 10oz) from 9 fish. Most fish on the day was 14 to Ben Arnold of ASSO MATCH SQUAD on D115 at Kelling and there were 22 blanks.
With a day win and day third GARRY EVANS MATCH TEAM the team of Andrew Hutchins (captain), Phil George, Gerald John, Chris Read and Stephen Smyth took the title with a margin of 8 points on 73 points. A consistent performance on Day 2 by TEAM BREAKAWAY enabled them to finish runners up on 80 points. After an excellent Day 1 ZZIPLEX MATCH SQUAD failed to capitalise on this on Day 2 ending up with 96 points and the third place spot.
This year team payout was down to 10th place and the top ten teams who received prizes were …
1st GARRY EVANS MATCH TEAM…………………...73 Pts
2nd TEAM BREAKAWY……………………………………..80 Pts
3rd ZZIPLEX MATCH SQUAD ………………………...96 Pts
4th ANGLERS DEN…………………………………………..106 Pts
5th ASSO MATCH SQUAD…………………………..….107 Pts
6th TRIPLETS……………………………………………………115 Pts
7th PRIME ANGLING…………………………………….….116 Pts
8th SLO TEAM LOCKSTOCK ……………………….….126 Pts
9th HASTINGS ANGLING CENTRE………………..…127 Pts
10th CHARLIES ANGELS…………………………………..131 Pts
This year the top 10 Individuals over the 2 days were rewarded with TronixPro Tackle and the top four also received cash prices. The best Individual over the two days was Colin Crosby (HASTINGS ANGLING CENTRE) on just 3 points with runner up Ben Arnold (ASSO MATCH SQUAD) on 5 points with Stephen Adams (TEAM BREAKAWAY) third also on 5 points but with inferior fish points.
The top 10 Individuals were …
1st COLIN CROSBY…………………………………………...3 Pts….(335 total fish points)
2nd BEN ARNOLD……………………………………………….5 Pts….(313)
3rd STEPHEN ADAMS…………………………………………5 Pts….(265)
4th GERALD JOHN……………………………………………..6 Pts….(234)
5th JUSTIN ROULAND………………………………………..6 Pts….(231)
6th HENRY RANDELL…………………………………………..6 Pts….(214)
7th DARREN BOND……………………………………………..7 Pts….(277)
8th JAMIE MORGAN……………………………………………..8 Pts….(301)
9th IAN HOPPER…………………………………………………..8 Pts….(250)
10th NICK MAY……………………………………………………..8 Pts….(198)
The Organising team would like to thank Kelling Heath Holiday Park for use of their facilities and Holt SAC members for assistance with pegging and the running of the event. Also thanks must go to all league organisers and all team members without whom the event would not happen.
This was a very tough Final exercising all the skills of team members making it extremely competitive but a cracking competition. Unlike last year when it was triple shots of whiting every cast you had to find the fish and it was those big flounders that were the differentiator, get one and you were up there. Next year it is back to Eastbourne and the fishing will again be totally different. For next year we have secured the MARTELLO BEACH HOLIDAY PARK as the Head Quarters and Accommodation which is situated between Eastbourne and Pevensey Bay. This will be a similar set up to Kelling Heath where those in the middle Zones could even walk to their pegs. The provisional date for the 2017 Final is the weekend of 18th/19th November fishing both days 10:00-3:00. The date to be confirmed early in the New Year. The 2017 National Sea League Final is also expected again to be sponsored by TronixPro. With the current numbers in the qualifying leagues there is potential to more than exceed the 30 teams of this year and could reach near 40 for yet another highly competitive event.
------..------