Holt SAC West Norfolk Challenge 2017 Round 3 (Report)
Saturday 17th June 2017 - Kings Lynn Estuary

The Holt SAC Final Round 3 of this year's West Norfolk Challenge and 7th Leg of the Club's Summer Accumulator was fished at Kings Lynn on Saturday 17th June. A Saturday for a change to accommodate those participating in the Humber Summer League the following day which included both locals and the Humber contingent. Unfortunately, as 2 years ago we had selected the same weekend as the Hanseatic Ski racing league round at Kings Lynn but fortunately we had chosen the stretch at the north end of Clockcase Lane. This took us well away from the action except for the odd straggling training boat and Jet Ski Marshalls who always seem to make their presence heard.
Forecast for the day was a typical very hot Kings Lynn summer's day and it certainly obliged and with the refreshing westerly breeze hidden from the contenders by the steep bank it certainly meant that it got rather warm. A surprisingly slow flooding tide meant easy fishing at all distances but in contrast the start of the ebb was more like a train. Not a particularly large turnout although that seems to be the norm for Kings Lynn these days but there were the usual East Norfolk, Suffolk, Essex ,Cambs. and Northants contingents along with of course the Humberites. A keen bunch of top match anglers who regularly support this Annual Challenge at this cracking Kings Lynn venue but will this be enough to enable this competition to survive in 2018 without some new blood, we shall have to see! At least it was good to see two more members joining the Club, so welcome aboard Adrian Bordianu from Taverham and Dave Burr from Croxford in North Lincolnshire.
Pegging for this one was from the small culvert, a renowned hot spot, at the north end of the stretch and then south with a very short pegging distance making it very tight to get as many as possible at the better end of this venue. Such closeness did not create any problems even with some tide but there was still plenty of "stick" from an anonymous Humberite. Anyway from the off there were a few fish from all distances, not many but enough to see the rods twitching away. The Eels normally seem to dominate at the early state of the tide in the run up to High Water but this time although they were there the numbers were considerably reduced. With our various experiences here there does seem to be a pattern emerging where the Eels are more prolific in the centre of the match stretch just south of the Treatment Works than at the north end of the stretch towards the culvert. Maybe the Sewage Works is the clue but we don't seem to be getting the big Eels we used to get a few years back.
Slack water as usual slowed down the fish rate but the odd one continued to be recorded to keep the thought of the heat of the day at bay. As the water switched on again this livened up the action but not like in previous matches but at least the Flounders started to get more lively. Not great numbers but a variety of sizes which at least enabled some cards to be bumped up. However, the action in the latter stages of the match became rather lethargic so it needed something to stir it up and get the fish feeding again. Surprisingly, this came as a consequence of those Ski Racers down in the Old Town quay who were holding up a fishing boat from returning home. This meant it had to hold station just off the culvert on our stretch and proceeded to do "doughnuts" for ½ hour and really stirring up the water.
This activity didn't help the whole stretch but it certainly did help Peg 1 man PAUL DENHOLM from Grimsby who was having difficulty keeping up with next peg. For most of the match he had been fishing close to where the fishing boat was "doughnutting" and shortly after this action started he found a raft of Flounders with four over 30cm and big points on his card. This sudden change of fortune secured him top honours on the day with 7lb 14oz from 14 fish which included 12 Flounders and just 2 Eels. Runner-up was next Peg 2 who was heading for victory until the boat incident in DAVE BURR from Croxford with 7lb 1oz from 17 fish which also included 12 Flounders and 5 Eels. Final podium slot went to Grimsby's GEORGE SMITH on Peg 8 with 6lb 3oz from 13 fish with a single Eel and again 12 Flounders of which his last 3 fish were 30cm, 33cm and 34cm, big points!
In the Zones, Paul and Dave easily took Zone A. Zone B was snatched by ALBERT RANDLESOME from Oulton on Peg 18 with 4lb 5oz from 7 fish with 6 Flounders and an Eel securing zone top spot with a 28cm and 35cm double short on his last cast. Runner-up was Ely's MIKE WATTS on Peg 21 with 4lb 3oz from 10 fish which included 5 Flounders and 5 Eels. Heaviest Fish on the day was a Flounder of 36cm (1lb 3oz) shared by Corby's PAUL MARSHALL on Peg 5 and Sheringham's TONY THOMAS on Peg 6.
In the 7th Leg Summer Accumulator Club match, DAVE BURR was top man followed by ALBERT RANDLESOME and MIKE WATTS. Heaviest Club Flat was PAUL MARSHAL's and TONY THOMAS's Flounder and Heaviest Round MIKE WATT's 52cm (12oz) Eel. Altogether there were 122 fish (94 Flounders and 28 Eels) recorded weighing 56lb.
This was the final round of the West Norfolk Challenge and with a steady performance of a Zone win and two Zone seconds MIKE WATTS was declared the 2018 Challenge Champion with just 5 penalty points. Runner-up was Debenham's DAVE READ with 8 penalty points. Final podium slot went to Clacton's RICHARD BURT who uncharacteristically struggled in this final match finishing with 9 penalty points.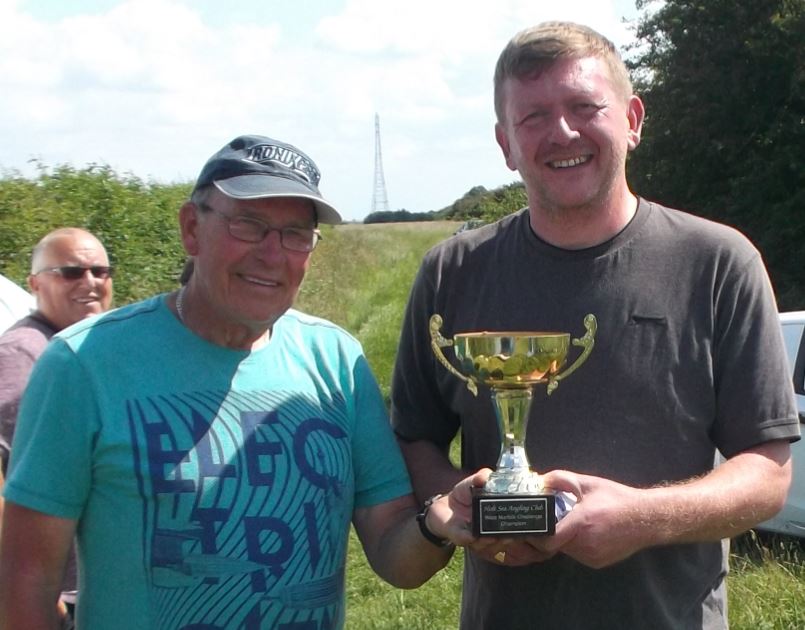 Holt SAC West Norfolk Challenge 2018 Champion
Mike Watts

The Mystery Pairs was taken by DAVE READ & DAVE BURR with a combined weight of 30lb 4oz over the three rounds. Second place was RICHARD BURT & JOHN CARTER with 22lb 14oz and third was MIKE WATTS & MARK GOOCH with 19lb 10oz. The Free Pairs went to MIKE WATTS & TONY THOMAS with 32lb 14oz, followed by RICHARD BURT & DAVE READ with 31lb 12oz and SIMON DRAYTON & GEORGE SMITH with 25lb 7oz.
Another interesting Series on the river Ouse where the numbers of fish again did not come up to expectation as in previous years. Turn out was again disappointingly low although the Series does attract some top quality match anglers. In view of this the Club will determine at the 2018 AGM if it is to continue running the Series in 2018 … Tony T
Top 5 Individuals (on the day) …

1…Paul Denholm.………...7lb..13 2/3oz…..(14 fish)
2…Dave Burr.………….……7lb..1oz..…….…..(17 fish)
3…George Smith……….….6lb..2 2/3oz…….(13 fish)
4…Simon Drayton………..4lb..9 1/3oz…….(13 fish)
5…Albert Randlesome...4lb..7oz…………..( 7 fish)
Top 5 League Positions (Final) …

1...Mike.Watts...................5.Penalty.Points…..42.Fish…..943.Fish.Points
2...Dave.Read ..................8.Penalty.Points…..32.Fish…..752.Fish.Points
3...Richard.Burt.................9.Penalty.Points…..28.Fish…..771.Fish.Points
4...Dave.Burrs.................11.Penalty.Points…..35.Fish…..700.Fish.Points
5...Albert Randlesome......12.Penalty.Points…..15 Fish…..357.Fish.Points
------..------